AnalytixInsight Recap

In our AnalytixInsight AI/ML Financial Services Platform  report, we highlighted:
Capital markets regulations forcing the separation of "sell-side" investment research costs from trading fees is massively disrupting the business model for producing traditional equity research;
Regulations requiring financial services firms to provide research to investors to aid their trading decisions, and;
Sophic Capital client AnalytixInsight Inc. ("AnalytixInsight" or the "

Company

") [TSXV:ALY; OTC:ATIXF] is a pure play AI/ML firm with solutions in the financial services sector.
This report is about how AnalytixInsight can unlock value from its artificial intelligence ("AI") powered FinTech subsidiary, MarketWall, which may not be readily apparent in the Company's financials. As well, MarketWall could be poised to benefit from a confluence of regulatory factors and secular industry changes in the European discount brokerage space.
Capital Markets Regulations Pressure Traditional Business Models For Producing Investment Research
In 2007, the European Union set standards of conduct and transparency for financial firms in its Markets in Financial Instruments Directive ("MiFID"). In 2018, the EU overhauled MiFID with MiFID II, which targeted disclosure of information for investors in order to strengthen protection. Part of this investor protection included requirements on product governance and the distinction between independent and non-independent investment advice. Under some circumstances, some firms were completely banned from receiving payments or other forms of non-monetary third-party benefits.
Across the board, MiFID II required the separation of research costs and trading commissions. This resulted in less research spending on traditional sell-side (broker dealers) from the buy-side (investors). While this appears counterintuitive considering increasing trading volumes, these changes reduce economic incentives for research analysts at investment banks to provide analysis on companies, especially small- and micro- cap issuers. Reduced research spending has also led to a decline in the number of research analysts (BlackRock slashes spending on investment research by 60%) putting them on the endangered species list. To compensate for reduced spending, research analysts have moved away from small- and micro-cap issuers, since many institutions cannot invest in them and they generate fewer trading commissions and investment banking fees.
Machine-generated research could be an attractive alternative across the broker dealer spectrum. While, we are unaware of any existing regulatory obligations for discount brokers to provide research (human or machine produced), recent uncontrolled and improper trading by inexperienced Robinhood traders has led to tragic consequences. Part of these consequences resulted from trading options and levered instruments without proper knowledge and risk management.
This could lead regulators to act in the coming years. Regulators could potentially mandate that discount brokers deploy some sort of a "fundamental score" or "research", which differentiates stock-trading from video games. Additionally, even for full-service brokerages, our industry contacts suggest bank-owned firms are prohibiting brokers from conducting client trades on small- and micro- cap stocks unless research is available. Combined with the declining number of research analysts and consequent decrease in small- and micro- cap stocks with research coverage, the end result is that brokers (even at larger firms) are impeded from buying small- and micro- cap stocks for their clients.
Europe's Growing Discount Broker Business Provides A Compelling Opportunity
North Americans have used discount brokers since E-Trade pioneered the online service in 1992. For Europeans, discount brokers are new. As Exhibit 1 shows, there are several trading platforms available in Europe. Most, however, don't provide research, which is a differentiator. And for those that do offer research, the breadth, quality, and consistency of coverage may not be sufficient to help European investors make informed trading decisions across the available investing universe.
Exhibit 1: Comparison of Some Broker Fees and Services Available in Europe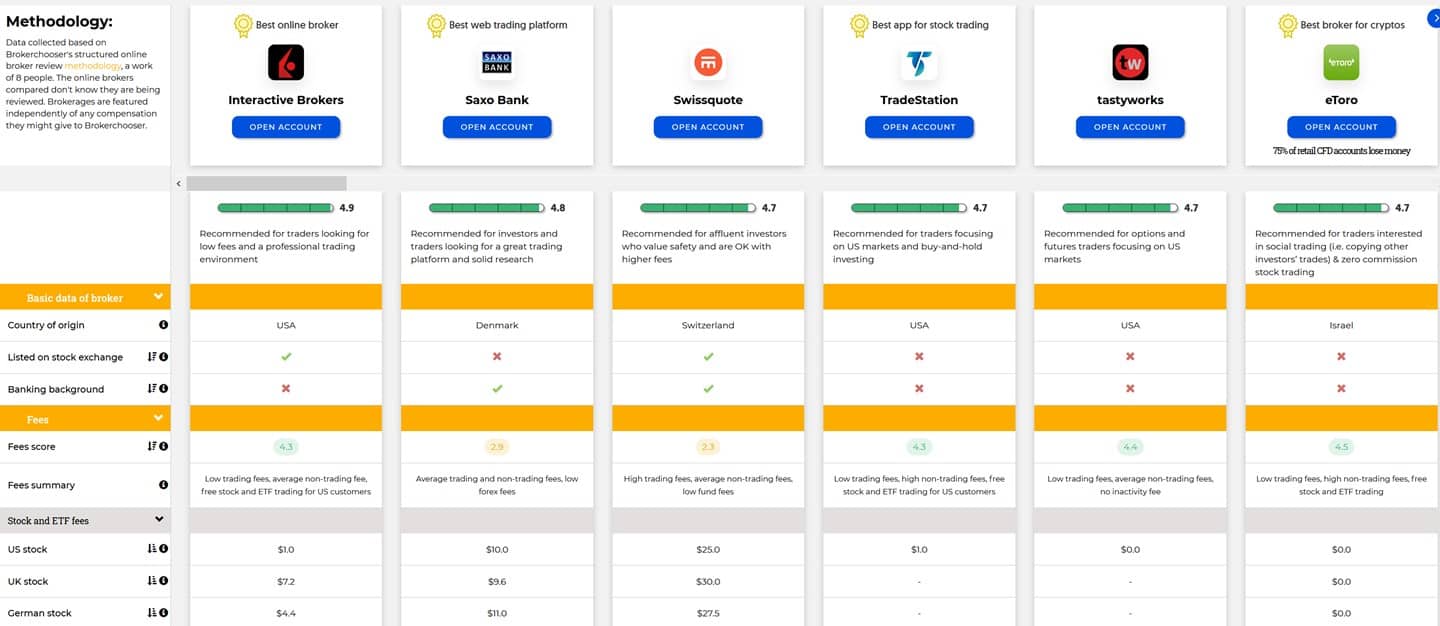 MarketWall Highlights Research as Key Differentiator for its European Online Brokerage
To address Europe's emerging discount broker industry and the declining research analyst universe, AnalytixInsight established a stock trading and financial apps subsidiary in Milan, Italy called MarketWall. MarketWall created MarketWall.com, a financial portal that receives over 3 million monthly views from numerous digital channels. Key features provided by MarketWall, include:
Financial content, where the company's editorial team creates financial research reports, economic analysis, financial video content;
Trading ideas, where the team researches and creates content on topical investment themes such as 'AI & Robotics';
News feed, which includes live, global financial news feeds, and real-time quotes for EU and US stocks, bonds, options, commodities, currencies;
Peer group comparisons based on fundamental analysis, ratings reporting, target prices, etc.
Within a year of establishing MarketWall, AnalytixInsight signed Intesa Sanpaolo [MILAN:ISP] to a multi-year licensing agreement in exchange for a 33% stake in MarketWall (AnalytixInsight maintains a 49% stake in MarketWall). Intesa Sanpaolo is a Tier 1 European bank with 11.8 million customers and about 3,700 branches throughout Italy, commanding at least 12% market share where it operates. The bank is considered Italy's first digital bank, based on its announced investment of €2.8 billion over three years to increase digitized business to 70% of its total business. In addition to Intesa Sanpaolo, the MarketWall.com app is pre-loaded on certain Samsung Electronics [KSE:005930] devices in Europe. This contributes meaningfully to MarketWall's consumer brand awareness in Europe, which should support future product launches.
MarketWall successfully developed and deployed Investo, a mobile stock trading app that Intesa Sanpaolo added to its family of mobile banking apps currently used by six million mobile customers. The app, developed by MarketWall, allows customers to trade securities in a simple, fast, and informed way. It is integrated within Intesa Sanpaolo's "App Constellation" which was ranked the top fourth app in Europe by Forrester Digital Wave (an industry consultant). Launched in Q4 for 2018, the app provides quotes and fundamental analysis of over 50,000 financial instruments, news, and multimedia content. The Investo app executes stock trades through Market Hub, Intesa Sanpaolo's trading platform, which is processing 70,000 trade orders per day on average.
MarketWall's reach extends beyond Intesa Sanpaolo; MarketWall has also built GlobalMarket, a trading and research platform in partnership with Morningstar (Europe) that allows professional users to read Morningstar research and trade stocks in one common enterprise digital platform. This product is marketed and sold by Morningstar and has already been installed by a leading bank in Western Europe for their approximately 4,000 professional users. It's another example of how MarketWall is developing cutting edge FinTech solutions for leading financial institutions.
MarketWall Provides Multiple Means to Crystallize Value for AnalytixInsight
AnalytixInsight's reported financials do not reflect MarketWall's value. First and foremost, it's important to note that since AnalytixInsight owns a 49% interest in MarketWall, AnalytixInsight's financial results do not consolidate MarketWall's reported revenues. When AnalytixInsight established the joint venture with Intesa Sanpaolo, it knew that MarketWall could grow larger than the parent company – in H1 2020, MarketWall generated $2.9 million in revenue, compared to AnalytixInsight at $1.4 million. This would have likely required deconsolidating MarketWall at some point during its growth, so management decided to deconsolidate MarketWall early in its lifecycle.
MarketWall's InvestoPro launch in Europe in the coming months provides a key valuation catalyst. Under a strategic plan announced July 2019, MarketWall has made an application to become a European online financial broker through its new subsidiary branded 'InvestoPro', which is 100%-owned by MarketWall. InvestoPro will offer online stock, options and derivatives trading on a multi-device (mobile, wearables, smart-TV, etc.) trading platform, combining research and financial education. The platform will use Intesa Sanpaolo's Market Hub as its execution broker. The application is awaiting final regulatory approvals. In anticipation, MarketWall recently appointed a seven-member board of directors for InvestoPro, including three representatives by Intesa Sanpaolo. InvestoPro could become to Intesa Sanpaolo what iTrade is to Scotiabank or WellsTrade is to Wells Fargo. The initial InvestoPro launch is expected to be in Italy, with expansion to additional European countries. The Company has indicated that it is exploring strategies for a North American version of InvestoPro after it successfully launches in Europe.
The MarketWall platform is being enhanced in preparation of the InvestoPro launch in Europe. On November 17, 2020, AnalytixInsight announced several new updates to MarketWall.com as MarketWall prepares its European online financial broker, InvestoPro. MarketWall Lite has been launched as a Progressive Web Application (PWA) for MarketWall. PWAs require less memory space and data usage than native apps and increase user engagement. For example, Twitter witnessed a 75% increase in Tweets sent following deployment of their Twitter Lite PWA. Virtual trading is a virtual account to practice and test trading. Other features include price alerts (push notifications or email alerts), stock and bond selectors (sliding-scale dynamic criteria selectors for securities), company profiles (comprehensive investor- related information), and Academy (investor education center).
Following the European launch of InvestoPro, MarketWall expects to unlock value via a few possible routes. The Company expects to initiate a formal valuation process and raise funds to enable global MarketWall expansion. This could also take the form of a spinout of some or all AnalytixInsight's MarketWall holdings in an IPO or another such strategy. We note AnalytixInsight's carries its 49% ownership in MarketWall on its balance sheet at its simple investment book value of approximately $2.2 million. As a profitable FinTech company partnered with a world-leading bank, MarketWall's actual value could likely be multiples higher. For example, Exhibit 3, highlights MarketWall against some of its VC-backed FinTech comparables.
AnalytixInsight has a Significant FinTech Future as well as the AI/ML Platform to Analyze Big Data Across Multiple Verticals
Well-designed, flexible solutions that are portable to several verticals are often attractive investments. AnalytixInsight's AI/ML platform has already penetrated two markets – financial services and workforce solutions. There are many big data sets across many industries that would benefit from AnalytixInsight's expertise and solutions. In Sophic Capital's AnalytixInsight – Meet the CEO of Sophic Capital's Newest Client report, CEO Prakash Hariharan noted the healthcare and sports markets "look very promising" and there are opportunities to expand into those segments either organically or via M&A.
For investors who believe (as Sophic Capital believes) that AI/ML will become more important and prominent across multiple industries, we recommend further investigation of AnalytixInsight [TSXV:ALY; OTC:ATIXF].
Disclaimer
The information and recommendations made available through our emails, newsletters, website and press releases (collectively referred to as the "Material") by Sophic Capital Inc. ("Sophic" or "Company") is for informational purposes only and shall not be used or construed as an offer to sell or be used as a solicitation of an offer to buy any services or securities. In accessing or consuming the Materials, you hereby acknowledge that any reliance upon any Materials shall be at your sole risk. In particular, none of the information provided in our monthly newsletter and emails or any other Material should be viewed as an invite, and/or induce or encourage any person to make any kind of investment decision. The recommendations and information provided in our Material are not tailored to the needs of particular persons and may not be appropriate for you depending on your financial position or investment goals or needs. You should apply your own judgment in making any use of the information provided in the Company's Material, especially as the basis for any investment decisions. Securities or other investments referred to in the Materials may not be suitable for you and you should not make any kind of investment decision in relation to them without first obtaining independent investment advice from a qualified and registered investment advisor. You further agree that neither Sophic, its, directors, officers, shareholders, employees, affiliates consultants, and/or clients will be liable for any losses or liabilities that may be occasioned as a result of the information provided in any of the Material. By accessing Sophic's website and signing up to receive the Company's monthly newsletter or any other Material, you accept and agree to be bound by and comply with the terms and conditions set out herein. If you do not accept and agree to the terms, you should not use the Company's website or accept the terms and conditions associated to the newsletter signup. Sophic is not registered as an adviser or dealer under the securities legislation of any jurisdiction of Canada or elsewhere and provides Material on behalf of its clients pursuant to an exemption from the registration requirements that is available in respect of generic advice. In no event will Sophic be responsible or liable to you or any other party for any damages of any kind arising out of or relating to the use of, misuse of and/or inability to use the Company's website or Material. The information is directed only at persons resident in Canada. The Company's Material or the information provided in the Material shall not in any form constitute as an offer or solicitation to anyone in the United States of America or any jurisdiction where such offer or solicitation is not authorized or to any person to whom it is unlawful to make such a solicitation. If you choose to access Sophic's website and/or have signed up to receive the Company's monthly newsletter or any other Material, you acknowledge that the information in the Material is intended for use by persons resident in Canada only. Sophic is not an investment advisor nor does it maintain any registrations as such, and Material provided by Sophic shall not be used to make investment decisions. Information provided in the Company's Material is often opinionated and should be considered for information purposes only. No stock exchange or securities regulatory authority anywhere has approved or disapproved of the information contained herein. There is no express or implied solicitation to buy or sell securities. Sophic and/or its principals and employees may have positions in the stocks mentioned in the Company's Material and may trade in the stocks mentioned in the Material. Do not consider buying or selling any stock without conducting your own due diligence and/or without obtaining independent investment advice from a qualified and registered investment advisor. The Company has not independently verified any of the data from third party sources referred to in the Material, including information provided by Sophic clients that are the subject of the report, or ascertained the underlying assumptions relied upon by such sources. The Company does not assume any responsibility for the accuracy or completeness of this information or for any failure by any such other persons to disclose events which may have occurred or may affect the significance or accuracy of any such information.
The Material may contain forward looking information. Forward-looking statements are frequently, but not always, identified by words such as "expects," "anticipates," "believes," "intends," "estimates," "potential," "possible," "projects," "plans," and similar expressions, or statements that events, conditions or results "will," "may," "could," or "should" occur or be achieved or their negatives or other comparable words and include, without limitation, statements regarding, projected revenue, income or earnings or other results of operations, strategy, plans, objectives, goals and targets, plans to increase market share or with respect to anticipated performance compared to competitors, product development and adoption by potential customers. These statements relate to future events and future performance. Forward-looking statements are based on opinions and assumptions as of the date made, and are subject to a variety of risks and other factors that could cause actual events/results to differ materially from these forward looking statements. There can be no assurance that such expectations will prove to be correct; these statements are no guarantee of future performance and involve known and unknown risks, uncertainties and other factors. Sophic provides no assurance as to future results, performance, or achievements and no representations are made that actual results achieved will be as indicated in the forward looking information. Nothing herein can be assumed or predicted, and you are strongly encouraged to learn more and seek independent advice before relying on any information presented.