Sophic's newest client is GameSquare Esports Inc. [CSE: GSQ], a global media company bridging the gap between global brands and the gaming and esports communities. CEO Justin Kenna was formerly the CFO of the professional esports and entertainment company FaZe Clan. We caught up with Justin to learn about the esports media market and how GameSquare is positioning itself to take advantage of a rapidly growing sector.

Q: Justin, our readers have become somewhat familiar with the esports market in recent months. But give us your perspective on the size of the market and opportunity that lies ahead for GameSquare?
A: Everyone talks about how big the video game market is – it's expected to be about US$190 billion by 2022. In 2018, esports revenues were about US$856 million and forecasted to grow to US$1.79 billion by 2022. The growth has been amazing. The total market has grown by more than 30% per year in the last two years, and we expect this trend to continue and could see an acceleration. Esports gaming is now in the spotlight, and we have only just scratched the surface of what this could become. Grand View Research estimates the total market size could reach US$6.8 billion by 2027, a CAGR of 24%. We are well positioned to take significant share of the market we are going after.
Q:  We've seen a number of esports related business models over the past few years, and GameSquare stood out. Talk to us about the agency business. Why is that a vertical you have chosen to focus on?
A: We really like the agency business. We currently have two – one is Code Red, which is based in Europe; the other is Gaming Community Network ("GCN") in North America. The agencies act as a bridge between global brands and the gaming and esports communities. Think of them like a digital marketing agency or, in the case of Code Red, a marketing and influencer agency with a focus on esports. Both companies bring experience and professionalism that major brands demand, and we have the distribution network to give brands tremendous exposure to the gaming community.  And that's really the most important part – the community. You need to speak their language, be authentic, and be part of that community to have an impact. That is where our agencies differentiate themselves and provide a valuable service to global brands.

GameSquare's esports reach
Q: Why is esports relevant to advertisers and brands?
A: There is an entire generation (Gen Z) today that consumes media in ways that are dramatically different than the generations that came before them. Today, streaming platforms like Netflix, Disney, Amazon Prime Video, and DAZN offer on-demand programming without advertising. Think about that compared to linear television which has 16 minutes of advertising every hour. On top of that, Gen Z is consuming more snackable content through Instagram, TikTok, SnapChat and new apps that rise and fall in popularity very quickly. Brands are having more difficulty reaching this generation of unreachables. That's where companies like GCN and Code Red can bring massive value. Understanding the brand message and crafting bespoke activations which are pushed out across our distribution network can create real value for brands. We create authentic connections for brands with this large and loyal cohort of esports enthusiasts. Esports is a new form of entertainment, and GCN and Code Red do a great job of understanding what is important to the gaming community and create effective strategies for brands seeking to connect with a really affluent end audience that loves gaming.
Q: I once heard you say that Code Red is an influencer agency. Are you talking about actual gamers?
A: It's a mix of influencers, broadcast talent, and players with social followings across a number of platforms. These are leading personalities in the esports gaming community. Some of the talent that we represent are professional gamers, but many are people that are followed because of what they have to say about esports. In total, we represent 75 influencers, players, and on-screen talent, and Code Red was shortlisted by the ESPORTS Awards for the Esports Supporting Agency of the Year in 2018 and 2019 ESPORTS. Our focus is connecting these influencers, players, personalities, and content creators with global and regional brands that want exposure to the influencer audiences and target end consumers in the attractive, tough to reach 18 to35 year old demographic.
Q: And how is GCN, the digital media group you acquired through the Reciprocity deal, different from Code Red? What allows it to stay ahead of a typical digital marketing group?
A: GCN is focused on building bespoke solutions that target hardcore gamers, largely through websites versus streaming platforms. Our very talented team there create content, produce and promote tournaments and events, create stunning graphics, and can amplifying those events to generate a lot of attention for as short or long a time period as necessary. Brands come to us because they want to tap into this fast growing, highly influential, and affluent segment. Our expertise helps them to bridge the gap and reach the unreachables. We think the combination of Code Red and GCN is powerful, and we are excited about the natural revenue synergies that exist by cross-selling brands between the two.
Q: The industry view appears to be that the pandemic was a positive for esports. What did the GameSquare experience look like, and how has it changed your business longer-term?
A: COVID has been a global tragedy. It's changed how people live, how people do business, and how people stay healthy and connected. However, at the pandemic's onset in 2020 as traditional sports matches were suspended, many live esports competitions transitioned online. As a result, more people gravitated towards esports, and gaming in general, as a form of entertainment. In fact, gaming was, and is a tremendous way for people to stay connected with players and enthusiasts around the world. We saw really healthy growth in our influencer segment which was a combination of the increased focus we committed to the business at the end of 2019 and part of the growth came organically from bigger audiences engaging with esports during the pandemic. Our broadcast talent segment was flat year-over-year, a direct impact of a migration from live events to online. We think the engagement with esports is here to stay and we are continuing to invest in the influencer segment. We also expect that the broadcast talent segment will likely see a rebound as live events return.
Q: How were the two teams you acquired in the Reciprocity deal impacted by the loss of live events?
A: We announced the Reciprocity transaction in late November 2020 and closed the transaction in March. As a result, we own interests in two professional esports teams – one in Asia and the other in Latin America. In China, we own a 49% interest in a CrossFire franchise with our partner LGD Gaming, and in Latin America we have a 40% in R7, a League of Legends team. Both teams have shown great success within their leagues, both of which were champions in their respective competitions in 2020. What we like about both teams is that they don't require additional funding and they provide another distribution network for brands seeking to access Latin America and China. Further, our expertise in Europe and North America means that brands based in China looking to access new markets can leverage our expertise to do so.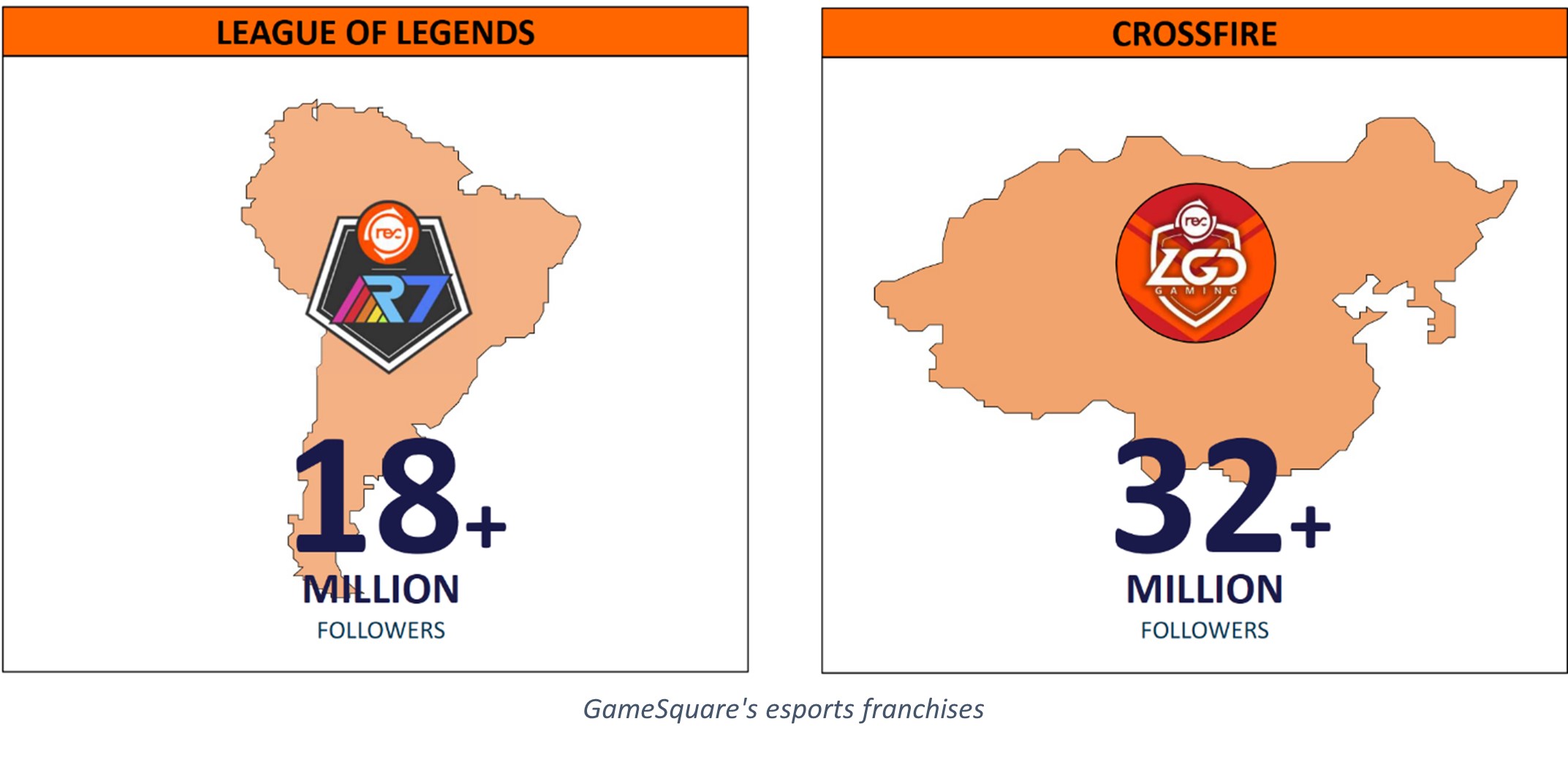 Q: Did the COVID-19 pandemic impact the Code Red business?
A: We reported our first quarter of fully consolidated results with Code Red on April 28, 2021. Revenues within that business doubled year-over-year, driven by influencer promotion fees (+44%) and the consulting business increased its revenue by 12.5x. Talent management was essentially flat because of the pandemic but like I said earlier, as live events return, we should see a rebound in that part of the business.
Q: Your press release mentioned that "Reciprocity management expects to receive the full earn out payment."  What would that imply from a valuation perspective and what drives that confidence?
A: In a nutshell, that implies we have lots of room to reward investors as we execute on our strategy. Let me elaborate: we structured the transaction as an all-stock deal with two tranches of earnouts based on performance and also paid in shares. It provides incentives for the sellers to perform and gives us great upside on the deal. In addition to the base consideration, Reciprocity shareholders will receive 1) 5.255 million additional GameSquare shares if the Reciprocity business generates US$5+ million of revenue and US$1 million of EBITDA within 12 months of closing, and; 2) An additional 9 million shares if the Reciprocity business generates a minimum of US$7 million of revenue and US$1.4 million of EBITDA within 12 months of closing. In addition, certain additional options and shares may be issued to Reciprocity shareholders if certain performance milestones are achieved up to 24 months following closing. When we signed the definitive agreement and agreed on terms, the stock was at $0.35, which represents a 2.2x EV/Sales multiple and 11x EBITDA. For context, on how investors value highly regarded companies at scale, in this space, esports related digital media and betting companies are trading at an average of 18x C2021 Sales, while high growth consumer internet companies with advertising driven business models trade around 10x. Almost all these companies are valued in the market today at least 7x C2021 Sales, with the high end above 20x C2021 Sales. This, despite these companies operating at large scale, signaling these stories have resonated well with investors, who are optimistic about future growth prospects even though they are already large! Against this backdrop, our subsidiary businesses are generating EBITDA, which means we do not have to raise cash to operate them, which gives us room to execute on additional acquisitions. Given the growth in the Reciprocity business and the revenue synergies that exist between Code Red and GCN, we are excited about the where we can take the combined business. The sales pipeline at GCN is especially strong and we have confidence in the long-term potential.
Q: Will you be integrating GCN with Code Red or do they operate independently?
A: There wasn't much to do in terms of integration. Both businesses are really about the people, their relationships, and both have their own client list and expertise. The real opportunity there is cross-selling from one to the other. For instance, we might work with Bud Light at Code Red in the UK and now we can offer them a full digital solution with a highly targeted audience of US esports enthusiasts. We think there is a significant opportunity. We added Jan Neumeister as our Head of Europe, and he's been doing a great job. He came to us from FaZe Clan, and prior to that he was with City Football Group which owns and operates football clubs around the world including Manchester City Football Club. He's been working with GCN and Code Red to streamline how they can work together and his experience alongside Jeff Griffith, Ceo Wimmer and Chris Kindt at GCN has been a tremendous partnership that we are seeing real results come out of.
Coming up…
In Sophic Capital's next GameSquare Esports Inc. [CSE: GSQ] report, we'll delve into the company's M&A strategy, financials, and future growth plans.