—Kontrol BioCloud is a Safe Space Technology™—
COVID-19 Mortality in Children is Low, But Long-Term Health Issues Can Persist
The coronavirus pandemic has wreaked havoc on our lives, livelihoods, and economies. Worse, one million people have died from COVID-19, and millions more – families, friends, and co-workers – are mourning. The threat is far from over, and with children heading back to schools and the oncoming flu season upon us, the coming months could see more disruption.
The mortality rate of children under 19-years who contracted COVID-19 averages less than 1% (Table 1 –in a study across seven countries). Furthermore, a Centers for Disease Control and Prevention ("CDC") study of pediatric COVID-19 hospitalization data in 14 U.S. states found that the cumulative rate of COVID-19–associated hospitalization among children (8.0 per 100,000 population) is low compared with that in adults (164.5). However, the same study also found that one in three hospitalized children was admitted to an intensive care unit.
Perhaps more concerning and less discussed are the long-term health consequences for those who have suffered from COVID-19, regardless of age group. The CDC notes that many children who had the virus causing COVID-19 suffer from Multisystem Inflammatory Syndrome ("MIS"). MIS is a condition where different body parts can become inflamed, including the heart, lungs, kidneys, brain, skin, eyes, or gastrointestinal organs. Post COVID-19 health issues in adults can also include blood clots, blood vessel issues, mood swings, and chronic fatigue. Although anecdotal and not verified, this Twitter feed of COVID-19 survivors (adults and their children) details elevated heart rates, problems with nervous systems, stress, breathing issues, and severe weight loss as ongoing problems months after treatment.  It is too early to really know the long-term effects of being infected by COVID-19.
Table 1: COVID-19 Mortality for Children Aged Under 19 Years Across Seven Countries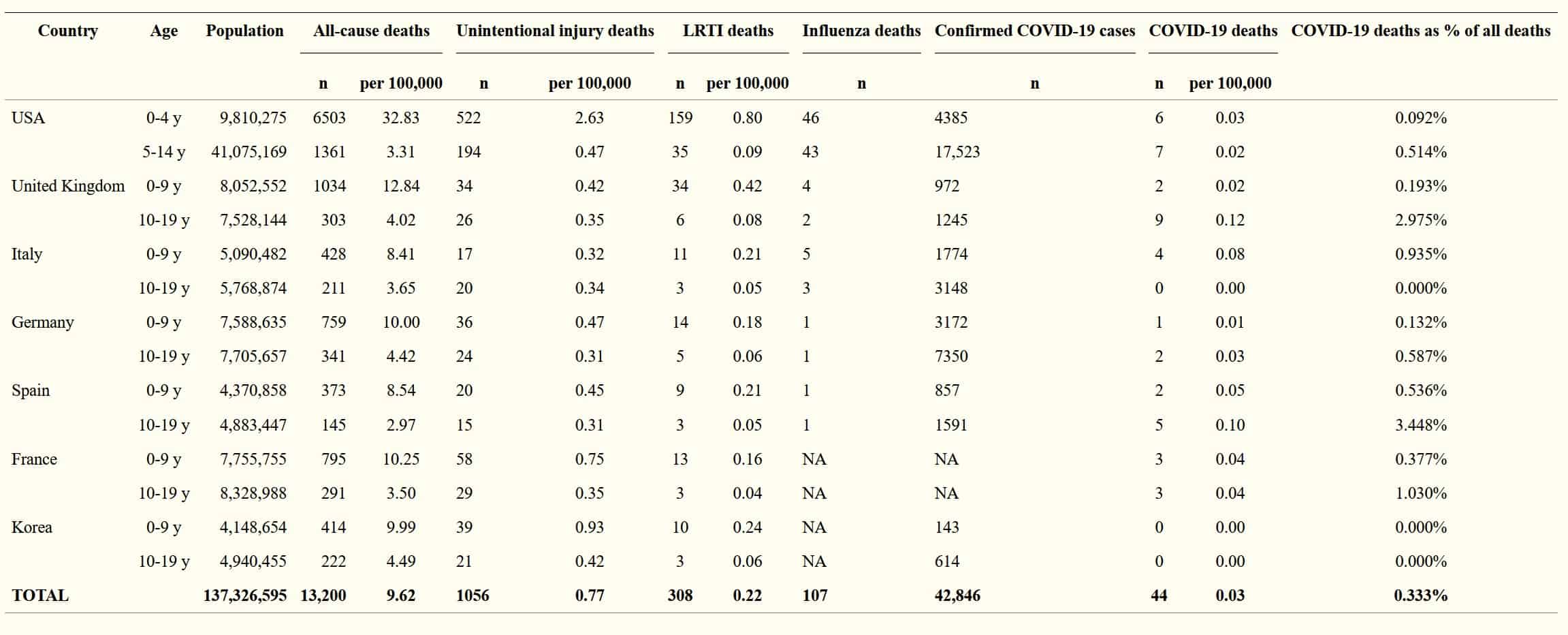 Teachers and Parents are Naturally Concerned About Back-to-School
For many teachers and parents, back-to-school moved too quickly, and President Trump's threat to "cut off funding" for schools that do not open before the November 2020 election elevated the stress. To help alleviate the stress, the CDC issued guidelines for reopening schools. That said, parents are still struggling with whether they should send their children back to the classroom. Teachers too are struggling – in the Province of Ontario, for example, 4 unions representing 190,000 teachers filed labour board complaints stating the Province's plan to reopen schools violates workplace health and safety laws.
Lack of Reliable COVID Related Safety Information is a Real Issue Concerning Schools
We believe that the real issue concerning parents and teachers is the need for a safe space to teach children. We are completely aligned with governments offering financial support to ensure classroom safety. The Health, Economic Assistance, Liability Protection and Schools ("HEALS") Act introduced July 27, 2020 by the U.S. Senate is a US$1 trillion economic stimulus bill to supplement the earlier CARES Act. As Senate Majority Whip John Thune stated, part of the reason for the Bill is to make "sure that we get our schools open in a safe way this fall."
The Canadian federal government allocated C$2 billion to help schools open safely in the Fall, with funds allocated based upon the number of children between the ages of 4 and 18 in each province. The Province of Ontario plans to invest C$50 million of its C$763 million share to improving air ventilation across its 3,948 elementary and 880 secondary schools (2018 data).
Improving air quality in schools is a priority. In fact, the U.S. needs to upgrade heating, ventilation, and air conditioning ("HVAC") systems across the nation. U.S. Government Accountability Office estimated that 41% of school districts needed to update or replace HVAC systems in at least half of their schools, representing about 36,000 schools nationwide. Allocating government COVID-19 funds to improving HVAC systems may help reduce some parent and teacher concerns. However, if the goal is to keep children, teachers and staff safe from COVID-19, there is still a big problem.
Filtering Air Won't Necessarily Eliminate COVID-19
Although upgrading HVAC systems in schools can improve air quality, it won't necessarily eliminate COVID-19 from circulating through classrooms. This is the big problem – there is currently no reliable way to detect in real-time if COVID-19 is in the classroom. Even if the best HVAC systems did trap COVID-19 and prevent its circulation through classrooms, these existing systems still cannot detect COVID-19. In this context, imagine a student infected with COVID-19, who does not show symptoms. HVAC may filter the COVID-19 virus from the classroom, but there is currently no way of knowing if other students or teachers in the classroom may have been exposed to the virus until they begin showing symptoms and get positively tested.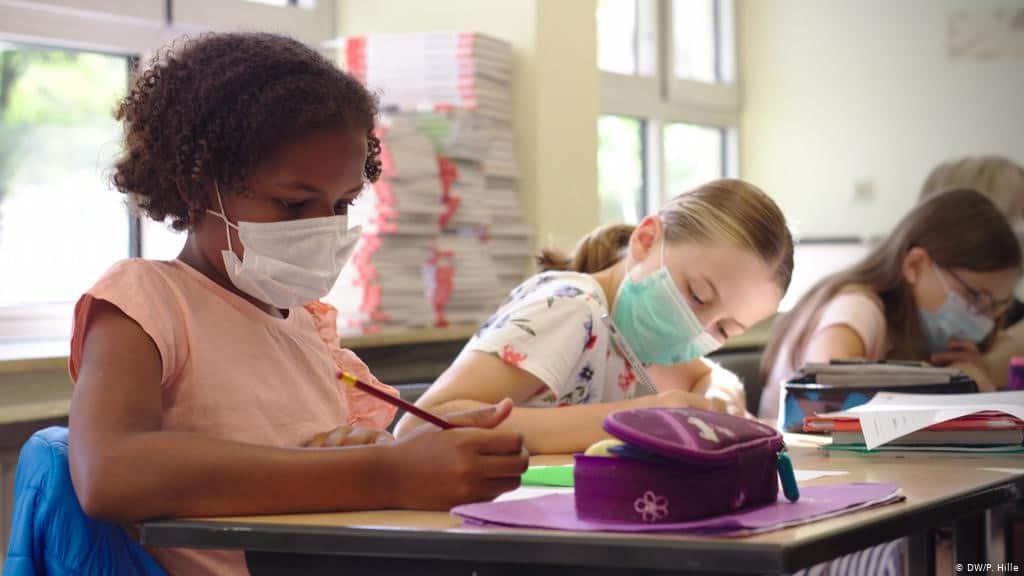 If a student is infected, it could be weeks before the school knows. By this time, its possible that the infected student has passed along the virus to other students, teachers and other school staff who could then bring the virus home to their families. Improved HVAC systems clearly are not a complete measure in preventing the spread of COVID-19. What is needed is a real-time detection mechanism
Kontrol Energy is Developing a COVID-19 Detection Mechanism
Kontrol Energy (CSE:KNR, OTCQB:KNRLF), a Sophic Capital client and an emerging leader in the Smart Buildings industry, is developing new technology called BioCloud® that detects and alerts for COVID-19 in real-time. In the prior section, we discussed that even though the best HVAC system may filter COVID-19 from a school's air, the lack of COVID-19 detection could cause an infected student to pass the virus to other students, teachers and staff for weeks before the infected student tests positive and goes into quarantine. While Kontrol's BioCloud cannot prevent an infected student from passing the virus to other students, it can limit the number of persons infected by aiding early detection and, can, thus play a significant role in initiating early contact tracing.
Imagine a student who is infected with COVID-19 but doesn't show symptoms. BioCloud could detect the presence of COVID-19 in the classroom, resulting in the isolation of the teacher and students in the classroom while the rest of the school is evacuated and cleaned. Although we wouldn't know who carries the virus, the students and teacher in the infected classroom could get tested immediately rather than weeks later when there is an outbreak and someone shows symptoms. This rapid feedback should help control the spread of the virus in the school and increase students', teachers' and staffs' comfort in spending time in school. BioCloud is not a medical device. It is designed to sample air continuously and based on volume of air over-time detect for the virus which causes COVID-19.
BioCloud on September 10 announced that it received positive testing results, in a level 4 lab, against the live SARS-CoV-2 virus. Two of Canada's leading virology labs were part of the independent testing regime. As testament to BioCloud, the two leading independent virology labs observed, "This technology can improve our surveillance of SARS-CoV-2 by monitoring air quality in multiple settings," according to Dr. Jimmy D. Dikeakos, Ph.D and "This technology will allow for measurement of many different viruses, bacteria, and fungi beyond the immediate need for the virus that causes COVID-19," according to Dr. David Heinrichs, Ph.D. This positive result follows two successful tests against dormant SARS-CoV-2 virus, which were announced on August 10 and August 27, 2020).
"This technology can improve our surveillance of SARS-CoV-2 by monitoring air quality in multiple settings."
Dr. Jimmy D. Dikeakos, Ph.D
"This technology will allow for measurement of many different viruses, bacteria, and fungi beyond the immediate need for the virus that causes COVID-19."

Dr. David Heinrichs, Ph.D
Commercialization of BioCloud can now be expected by November. This estimate is based upon Kontrol initiating an application to the CSA Group, a leader in Standards Development and in Testing, Inspection and Certification around the world. This certification establishes that a product has been independently tested and certified to meet recognized standards for safety or performance. The Company expects that a CSA approval should take 30 to 45 days to complete, based on Kontrol's prior experience working with the CSA on other products. Certification will also entail Kontrol establishing lower detection limits of the SARS-CoV-2 virus, which is a part of the specifications that Kontrol will deliver for a fully commercialized product. Kontrol Technologies, a leader in smart buildings and cities through IoT, Cloud and SaaS technology is run by CEO Paul Ghezzi.
Kontrol Will Look To Solidify a Large Government Order
Installing BioCloud just in schools is a large opportunity for Kontrol. According to 2018 data provided by the National Center for Education Statistics, there were 98,158 public schools in the United States. The Council of Ministers of Education, Canada quotes 15,500 schools in Canada; however, this figure comes from 2009 Stats Canada data, and we could not source more recent data. For now, let's assume that the number of schools in the USA and Canada has remained stagnant. Let's further assume that each school has 10 classrooms, representing about1,000,000 classrooms in the USA and 155,000 in Canada. Kontrol Energy anticipates selling BioCloud for US$12,000 which translates to a US$12 billion market opportunity in the USA and ~US$2 billion in Canada.
Schools are not the only market opportunity for BioCloud. The potential is limitless. Consider the devastation COVID-19 has wreaked upon the travel industry. BioCloud could be installed in hotels, airplanes, airports, restaurants, and public transportation. All these markets could be multiples of BioCloud's school market.
Kontrol has secured the supply chain. Kontrol has commenced discussions with two global outsourced contract manufacturers who can provide Kontrol with external manufacturing capacity. Kontrol is planning for up to 20,000 BioCloud units per month as manufacturing capacity. This is part of Kontrol's prudent overall planning and access to manufacturing capability.
Kontrol's Low Share Count Supports Potential Rapid Share Price Appreciation
Given that we do not yet have a COVID-19 vaccine or effective treatment, Sophic Capital believes COVID-19 detection is the best option to create safe environments for students and teachers. Investors who also believe this tenet should consider Kontrol. Kontrol has a low share count that will be attractive to investors who want EPS to scale quickly, which typically leads to higher valuation multiples. Insiders own 44% of the issued and outstanding basic shares outstanding, meaning that management's interests are aligned with shareholder interests. Scarcity of shares matters when a management team executes and earnings scale — tight equity capital structures like Kontrol haves typically rewarded patient equity investors. To put this another way, every C$1 per share change in Kontrol's stock translates to C$40 million of equity value, which is miniscule compared to the opportunity in front of the company. With the stock just now getting a large enough market capitalization (around US$100 million) to pass institutional investor screens, we believe investors have not missed the opportunity in the stock despite the seemingly rapid appreciation in Kontrol's stock price.