Q. Why the focus on COVID-19 with the BioCloud technology and more importantly, how does it relate to your existing business?
A. In March 2020 we began to ask the question, "Could me measure for COVID like we do air quality?" Kontrol, through its operating subsidiaries, has a long track-record of using smart technology to monitor for air quality and emissions in real-time. We are using our proven technology as the basis to seek and detect COVID in the air. This is an extension of our existing business and while it's a new opportunity we feel it's a viable opportunity that deserves our time and effort as it is very relevant to existing and potentially new customer base.
Q. What have you accomplished to date?
A. Part of our DNA at Kontrol is innovation with urgency. A good example of that is establishing a partnership with Toyota Tsusho Canada for a Smart Factory platform developed as an extension of our Smart Building platform. The approach we are taking with COVID is similar. We are moving very quickly and over the past six months, we secured government funding, established partnerships with virology experts, and developed a proprietary COVID-19 detection chamber. Our initial lab results and interest from potential customers and prospects gives us confidence that we are developing a solution, which has market demand.
Q. Why the BioCloud approach versus individual testing?
A. Canada is in good shape for individual COVID testing, and both Federal and Provincial Governments have allocated significant resources for individual testing. However individual testing cannot answer the question, "Am I in a safe space right now?" This question is very relevant to help restore a semblance of normalcy for indoor person to person interactions. If we play out a scenario, imagine a public-school classroom where 4 of 18 students have COVID, however it takes a few days of being sick to initiate a request for a test. Then it takes a day to get the result and now its 3 days later for any potential to contact trace. BioCloud has been designed as a potential detection system to pre-emptively create safe spaces.
Q. Okay, so can you walk us through how they same scenario now looks with BioCloud in place?
A. In a classroom setting, BioCloud would sit on a wall close to the ventilation system and would draw in air over time. As air is recycled over time we would anticipate that in a regular sized classroom BioCloud would be able to detect for COVID-19 after approximately 1 hour of operating time. As BioCloud is designed to continuously sample air there is a certain amount of air over time volume that must be sampled in order to reach detection status. Variables can include the size of the classroom, the number of students and the type of HVAC system in operation. If COVID is detected an alert is produced and can be sent to either the class teacher or the principal via the internal intranet or cloud. The alert would create a process where children are removed the classroom and individual testing would be required for each student. The classroom would then be thoroughly cleaned. If we compare that to the previous example, the detection process closes the gap for a safe space and for contact tracing.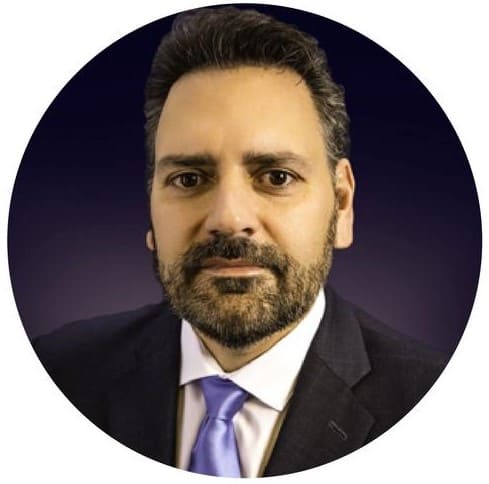 Kontrol Energy CEO Paul Ghezzi
Q. How does the detection mechanism work?
A. We are drawing on our extensive experience in air quality and emission monitoring for specific particulate analysis and measurement and using similar technology to detect for COVID-19 in the air. Using a specific reagent and a unique process we plan to patent the detection mechanism has been able to identify COVID in the lab under controlled conditions. We've designed BioCloud with a replaceable detection mechanism that we plan to patent after the next stage of testing. Detection is only one step – we also have to analyze the best method of replacing and disposing of the detection mechanism after it comes into contact with COVID-19. A replaceable detection mechanism also allows for the system to be adapted to new strains of the virus or new viruses that may emerge in the future.
Q. We keep hearing and reading about all the money flowing into improving HVAC systems and filters. What do you think about this?
A. There is no way to know at this time if improving filters, adding Ultraviolet (UV) systems or spending capital on HVAC improvements provides a meaningful impact on slowing down COVID or stopping spread. That's because there is no measurement of performance. Yet hundreds of millions of dollars have recently been announced provincially, and more funds are being added Federally. Furthermore, the private sector seems to be in a race to add these types of systems. For example, JetBlue recently announced a deal with Honeywell to add UV systems on its planes.
My view is if companies and Governments are willing to allocate hundreds of millions and perhaps billions to unknown HVAC improvements, then it is also incumbent to have detection technology such as BioCloud to determine the effectiveness of these solutions. 
Q. What's next for BioCloud?
A. We are in the lab currently testing against the live COVID virus. That testing will drive where we go with the technology over the coming weeks. We are building five proto-types, so we have ample testing product and can identify and source all components we require to fulfill our supply chain. We remain in ongoing discussions with the Government, and they are tracking along with us in terms of testing and pre-commercialization. We will seek to update the market at the end of August.
Disclaimer
The information and recommendations made available through our emails, newsletters, website and press releases (collectively referred to as the "Material") by Sophic Capital Inc. ("Sophic" or "Company") is for informational purposes only and shall not be used or construed as an offer to sell or be used as a solicitation of an offer to buy any services or securities. In accessing or consuming the Materials, you hereby acknowledge that any reliance upon any Materials shall be at your sole risk. In particular, none of the information provided in our monthly newsletter and emails or any other Material should be viewed as an invite, and/or induce or encourage any person to make any kind of investment decision. The recommendations and information provided in our Material are not tailored to the needs of particular persons and may not be appropriate for you depending on your financial position or investment goals or needs. You should apply your own judgment in making any use of the information provided in the Company's Material, especially as the basis for any investment decisions. Securities or other investments referred to in the Materials may not be suitable for you and you should not make any kind of investment decision in relation to them without first obtaining independent investment advice from a qualified and registered investment advisor. You further agree that neither Sophic, its, directors, officers, shareholders, employees, affiliates consultants, and/or clients will be liable for any losses or liabilities that may be occasioned as a result of the information provided in any of the Material. By accessing Sophic's website and signing up to receive the Company's monthly newsletter or any other Material, you accept and agree to be bound by and comply with the terms and conditions set out herein. If you do not accept and agree to the terms, you should not use the Company's website or accept the terms and conditions associated to the newsletter signup. Sophic is not registered as an adviser or dealer under the securities legislation of any jurisdiction of Canada or elsewhere and provides Material on behalf of its clients pursuant to an exemption from the registration requirements that is available in respect of generic advice. In no event will Sophic be responsible or liable to you or any other party for any damages of any kind arising out of or relating to the use of, misuse of and/or inability to use the Company's website or Material. The information is directed only at persons resident in Canada. The Company's Material or the information provided in the Material shall not in any form constitute as an offer or solicitation to anyone in the United States of America or any jurisdiction where such offer or solicitation is not authorized or to any person to whom it is unlawful to make such a solicitation. If you choose to access Sophic's website and/or have signed up to receive the Company's monthly newsletter or any other Material, you acknowledge that the information in the Material is intended for use by persons resident in Canada only. Sophic is not an investment advisor nor does it maintain any registrations as such, and Material provided by Sophic shall not be used to make investment decisions. Information provided in the Company's Material is often opinionated and should be considered for information purposes only. No stock exchange or securities regulatory authority anywhere has approved or disapproved of the information contained herein. There is no express or implied solicitation to buy or sell securities. Sophic and/or its principals and employees may have positions in the stocks mentioned in the Company's Material and may trade in the stocks mentioned in the Material. Do not consider buying or selling any stock without conducting your own due diligence and/or without obtaining independent investment advice from a qualified and registered investment advisor. The Company has not independently verified any of the data from third party sources referred to in the Material, including information provided by Sophic clients that are the subject of the report, or ascertained the underlying assumptions relied upon by such sources. The Company does not assume any responsibility for the accuracy or completeness of this information or for any failure by any such other persons to disclose events which may have occurred or may affect the significance or accuracy of any such information.
The Material may contain forward looking information. Forward-looking statements are frequently, but not always, identified by words such as "expects," "anticipates," "believes," "intends," "estimates," "potential," "possible," "projects," "plans," and similar expressions, or statements that events, conditions or results "will," "may," "could," or "should" occur or be achieved or their negatives or other comparable words and include, without limitation, statements regarding, projected revenue, income or earnings or other results of operations, strategy, plans, objectives, goals and targets, plans to increase market share or with respect to anticipated performance compared to competitors, product development and adoption by potential customers. These statements relate to future events and future performance. Forward-looking statements are based on opinions and assumptions as of the date made, and are subject to a variety of risks and other factors that could cause actual events/results to differ materially from these forward looking statements. There can be no assurance that such expectations will prove to be correct; these statements are no guarantee of future performance and involve known and unknown risks, uncertainties and other factors. Sophic provides no assurance as to future results, performance, or achievements and no representations are made that actual results achieved will be as indicated in the forward looking information. Nothing herein can be assumed or predicted, and you are strongly encouraged to learn more and seek independent advice before relying on any information presented.