A Conversation with General Assembly's CEO
Sophic Capital client General Assembly Holdings Limited (GA Pizza) [TSXV:GA, OTC:GASMF] is a restaurant company with a fast growing, premium frozen pizza business. While the business started as a fast-casual restaurant, it quickly evolved to become a brand-focused consumer packaged goods (CPG) play that makes delicious pizza available to everyone, everywhere. GA Pizza currently operates through three main distribution channels: 
Direct-To-Consumer (

DTC

): GA Pizza Club, the Company's premium frozen pizza subscription and direct-to-consumer offering, has shipped over 65,000 boxes since its September 2020 launch. The pizza gifting platform allows consumers to send chef-curated pizza boxes and gift cards to friends and family.

Wholesale/CPG: Focusing on premium and multi-unit grocers as well as securing national distributor relationships to scale the Company's grocery presence as production increases.

Restaurant & Experiences: The birthplace of the Company's signature naturally leavened personal pizzas continues to be a culinary destination for customers and a strong revenue generator.

We caught up with GA Pizza's CEO Ali Khan Lalani to learn more about the Company and the long-term opportunities that exist in disrupting the frozen pizza category at retail.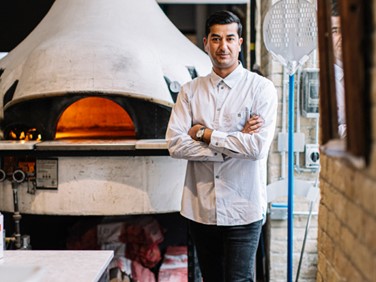 GA Pizza CEO Ali Khan Lalani
Ali, tell us about why you founded a pizza business, and what business experience you bring?
I would consider myself a lifelong student and someone who learns best through experience. My passion for food and hands-on-learning has taken me across the globe, including a trip to Italy in 2016, where I was fortunate enough to experience the art of pizza-making in two of the most historic cities: Rome and Naples. During that trip, I had a bit of an epiphany on pizza dough: I believed I could bring a Neapolitan style sourdough to the Canadian masses. This wasn't just a dream: I had spent almost a decade managing and owning franchise restaurants. At 26, I started off as one of the youngest franchisees in Swiss Chalet history; I owned two locations, which I transformed into model operations in a pretty short period of time. After that success, I was asked to advise other franchisees on national media campaigns and franchise restaurant designs. So, I knew the business well enough to know there was real potential in this new pizza concept. That was, essentially, the genesis of GA Pizza.
So, what happened with GA Pizza following that epiphany, and what drove you to move towards a more CPG focused business model?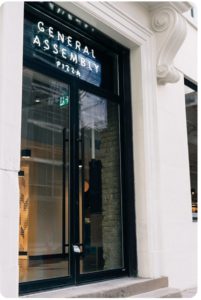 General Assembly Pizza opened in 2017 as a fast-casual pizza restaurant in the heart of Toronto with a mission to bring people together over pizza. And I can proudly say we've held steadfast to that mission in our restaurant, winning numerous accolades along the way. People love our pizza; it is clear both in our communications with our customers and the strong repeat business our restaurant sees.
Nearly three years after opening, we decided to leverage our product strength into developing a freezer-to-table consumer packaged goods line. It was not without its challenges, as moving a restaurant-quality pizza recipe into a frozen product requires significant trial and error (not to mention launching an entire new direct-to-consumer business is not without its challenges). But we finally figured it out, and our direct-to-consumer business was born.
And as our frozen pizzas began gaining in popularity, we looked to further growth by raising $13 million in February of 2021, ahead of our direct listing in June 2021. The main goal of the financing was to help construct a state-of-the-art frozen pizza facility in Vaughan (just outside Toronto). We feel like we are raising the bar on frozen pizzas with GA Pizza's sustainably-forward, freezer-to-table consumer packaged goods, revolutionizing our relationship with frozen pizza. Our CPG line currently includes eight different pizzas, six of which are meat-free or plant-based.
How has the strategy shifted since going public?
When we started down this path, we were quite new to the CPG side. We thought we could sell subscriptions at a reasonable cost of acquisition, and it would come with a sticky recurring revenue stream. And at the start of the pandemic, this was mostly true. However, we quickly realized that consumers in this new world like to experiment with flavours, and their tastes are ever changing.
So, while we were acquiring customers at a reasonable level, we weren't first-order profitable, and the consumers weren't as sticky as we had hoped. The biggest issue was we had a lot of people who signed up for subscriptions and then immediately cancelled. We have since added one-time purchase, which has curbed this behaviour considerably. Now the average subscriber stays for about six months in total. However, despite this change, as we have scaled the cost of acquisition kept rising and the low-hanging fruit of long-term monthly subscribers started to wane. And we kept receiving feedback that consumers wanted to grab a pizza from their local store; or they only wanted one and wanted it to be a convenience purchase. So, we pivoted, and now we're evolving into a full omnichannel brand.
We see a large opportunity in the premium frozen pizza category and have seen great success in broadening our distribution footprint. We still offer direct-to-consumer pizza, but now we understand this channel as a best-in-class brand awareness and product discovery tool—not to mention a valuable feedback loop for product innovation. We give more pizzas away than we might have at the start, but it leads to a lot of brand affinity, and with the pizzas now available in local grocery stores, where consumers can get them whenever they want.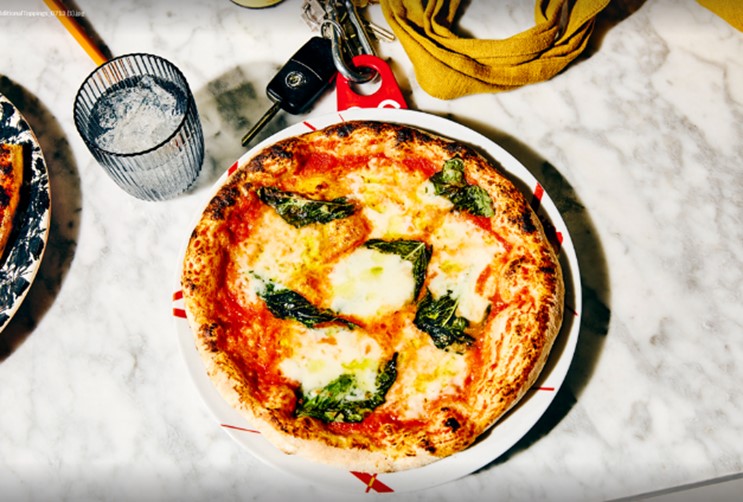 And you mentioned you see a big opportunity in premium frozen pizza. Can you please elaborate?
 Frozen foods is a massive market and is expected to increase by over 40% from 2018 to 2026, reaching over US$360 billion. Within frozen foods is a growing market for at-home pizza experiences, with the global frozen pizza market expected to exceed US$25 billion.
There has been rising demand for ready-to-eat food coupling with the growing popularity of pizza among the young food-focused generation and the working-class population. Traditional, cheap frozen pizzas, or what we refer to as "Big Pizza", will always have a market; however, we're seeing a lot of consumers who want premium pizzas; pizzas made from high-quality ingredients like our plant-based pies. 
I feel that the pizza community we have built is only going to get stronger. I say this because e-commerce sales almost doubled in order volume from 2020 to 2021, because of COVID-19, and we are well positioned to capitalize on this growing trend with our new website and online offerings.  
How is the retail business going so far?   
So far so good. As we mentioned, retail is quickly becoming the most important sales channel for GA Pizza. Our pizzas are now available in more than 100 stores, and we expect that number to increase significantly in 2022. We're supporting this channel with our new master production facility in Vaughan, Ontario, which currently has a peak capacity for 200,000 pizzas per month – which could support up to 400 total retail stores. We expect to ramp to 150,000 pizzas per month by the end of Q2 2022. Longer-term there are opportunities to expand capacity further as the business grows.  
We recently announced a new wholesale distribution agreement with UNFI Canada, which is the Canadian subsidiary of the largest publicly traded grocery distributor in North America. The arrangement will see UNFI Canada list GA Pizza's premium pizzas to buyers across its network of more than 5,000 Canadian stores. 
We also formed a sales partnership with Propel Natural Foods, a national CPG food broker. This partnership gives us the infrastructure and expertise to sell into natural, grocery, mass merchandise and club retail channels. This is key in helping us scale our retail footprint.

Lastly, we are also in a five-store pilot program with Fortinos Supermarket, a grocery chain owned by Loblaw Companies. We expect to expand to all 23 stores in the coming months.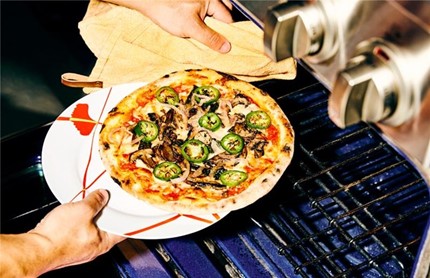 You seem confident about the growth potential here. When can our readers look forward to buying General Assembly pizzas at their local grocery store? 
In the Greater Toronto Area, they are pretty easy to find in stores now, and will become easier very soon. Keep in mind that our first and only restaurant is in downtown Toronto, and until recently we only delivered within the GTA, so that's why we've built our initial retail channels there. Now that our new facility has opened, we are starting to expand our footprint, including launching direct-to-consumer in British Columbia at the start of December, with retail launching in early 2022. 
But what really gets us excited is that our pipeline for future retail expansion is growing every day. We are in talks with one of Canada's largest grocers about online delivery. That would bolster our direct-to-consumer sales and could launch in a few months. We are also in discussions with that same grocer on mainline retail, about the possibility of adding four of our SKUs to 80 of their retail locations. We have already started to build a relationship with Loblaws through Fortinos, and the initial results are quite positive. Right now, they are selling over 30 units per week/SKU, and this is providing us (and them) with the confidence to look at expanding our presence.  
In terms of our geographical footprint, we are actively looking for opportunities to expand across Canada. As mentioned, we launched in British Columbia in December, and we are also in conversations with several large grocery stores in the province. We expect continued retail wins in the coming months across the country and will be putting out more formal projections on retail door expansion in the coming weeks. 
Coming Up… 
In part 2 of our interview with General Assembly Pizza [TSXV:GA, OTC:GASMF] CEO Ali Khan Lalani, we will learn about the Company's: 
Direct-to-consumer model as it relates to building brand awareness;
Strategic initiatives, and;
Long-term growth plans.

Disclaimer
The information and recommendations made available through our emails, newsletters, website and press releases (collectively referred to as the "Material") by Sophic Capital Inc. ("Sophic" or "Company") is for informational purposes only and shall not be used or construed as an offer to sell or be used as a solicitation of an offer to buy any services or securities. In accessing or consuming the Materials, you hereby acknowledge that any reliance upon any Materials shall be at your sole risk. In particular, none of the information provided in our monthly newsletter and emails or any other Material should be viewed as an invite, and/or induce or encourage any person to make any kind of investment decision. The recommendations and information provided in our Material are not tailored to the needs of particular persons and may not be appropriate for you depending on your financial position or investment goals or needs. You should apply your own judgment in making any use of the information provided in the Company's Material, especially as the basis for any investment decisions. Securities or other investments referred to in the Materials may not be suitable for you and you should not make any kind of investment decision in relation to them without first obtaining independent investment advice from a qualified and registered investment advisor. You further agree that neither Sophic, its, directors, officers, shareholders, employees, affiliates consultants, and/or clients will be liable for any losses or liabilities that may be occasioned as a result of the information provided in any of the Material. By accessing Sophic's website and signing up to receive the Company's monthly newsletter or any other Material, you accept and agree to be bound by and comply with the terms and conditions set out herein. If you do not accept and agree to the terms, you should not use the Company's website or accept the terms and conditions associated to the newsletter signup. Sophic is not registered as an adviser or dealer under the securities legislation of any jurisdiction of Canada or elsewhere and provides Material on behalf of its clients pursuant to an exemption from the registration requirements that is available in respect of generic advice. In no event will Sophic be responsible or liable to you or any other party for any damages of any kind arising out of or relating to the use of, misuse of and/or inability to use the Company's website or Material. The information is directed only at persons resident in Canada. The Company's Material or the information provided in the Material shall not in any form constitute as an offer or solicitation to anyone in the United States of America or any jurisdiction where such offer or solicitation is not authorized or to any person to whom it is unlawful to make such a solicitation. If you choose to access Sophic's website and/or have signed up to receive the Company's monthly newsletter or any other Material, you acknowledge that the information in the Material is intended for use by persons resident in Canada only. Sophic is not an investment advisor nor does it maintain any registrations as such, and Material provided by Sophic shall not be used to make investment decisions. Information provided in the Company's Material is often opinionated and should be considered for information purposes only. No stock exchange or securities regulatory authority anywhere has approved or disapproved of the information contained herein. There is no express or implied solicitation to buy or sell securities. Sophic and/or its principals and employees may have positions in the stocks mentioned in the Company's Material and may trade in the stocks mentioned in the Material. Do not consider buying or selling any stock without conducting your own due diligence and/or without obtaining independent investment advice from a qualified and registered investment advisor. The Company has not independently verified any of the data from third party sources referred to in the Material, including information provided by Sophic clients that are the subject of the report, or ascertained the underlying assumptions relied upon by such sources. The Company does not assume any responsibility for the accuracy or completeness of this information or for any failure by any such other persons to disclose events which may have occurred or may affect the significance or accuracy of any such information.
The Material may contain forward looking information. Forward-looking statements are frequently, but not always, identified by words such as "expects," "anticipates," "believes," "intends," "estimates," "potential," "possible," "projects," "plans," and similar expressions, or statements that events, conditions or results "will," "may," "could," or "should" occur or be achieved or their negatives or other comparable words and include, without limitation, statements regarding, projected revenue, income or earnings or other results of operations, strategy, plans, objectives, goals and targets, plans to increase market share or with respect to anticipated performance compared to competitors, product development and adoption by potential customers. These statements relate to future events and future performance. Forward-looking statements are based on opinions and assumptions as of the date made, and are subject to a variety of risks and other factors that could cause actual events/results to differ materially from these forward looking statements. There can be no assurance that such expectations will prove to be correct; these statements are no guarantee of future performance and involve known and unknown risks, uncertainties and other factors. Sophic provides no assurance as to future results, performance, or achievements and no representations are made that actual results achieved will be as indicated in the forward looking information. Nothing herein can be assumed or predicted, and you are strongly encouraged to learn more and seek independent advice before relying on any information presented.