Product Information Management Makes eCommerce Less Puzzling
Siloed Product Data in eCommerce Systems is Very Difficult to Manage
Retail and eCommerce merchants have faced significant challenges in managing their product information for years.  Bad product data is inaccurate, obsolete, inadequate, and duplicated. Using bad data has widespread consequences throughout businesses. Bad customer contact information can result in lost revenue. Although dated, a 2017 Gartner study found that the average cost to enterprises due to poor product data was US$15 million. Analyzing bad product data can lead to the formulation of inaccurate strategies, wasting time, talent and resources. Submitting incompliant data to regulators can result in fines from authorities.
The lack of or missing data can also negatively impact businesses in similar ways. Lack of, or missing data can be a prevalent issue in large enterprises since these businesses have more data inputs, data inputters, and data processes than smaller firms. Larger enterprises can also suffer from data silos, where data isn't shared across departments.
Bad product data can result in lost revenue, brand strength, and bad decisions. There are vast amounts of data associated with a single product, including inventory, bill of materials, marketing photos and videos, SEO, safety data, shipping options, and often thousands of product attributes or unique data points. Bad product information from any of these datasets can adversely affect a company.  Now consider that many large enterprises have hundreds and even thousands of different products, and the scale of keeping product data accurate amplifies.  Adding more complexity to keeping good product data is that data is often siloed across multiple departments, physical locations, and different storage options (cloud, disc drive, USB key, etc.).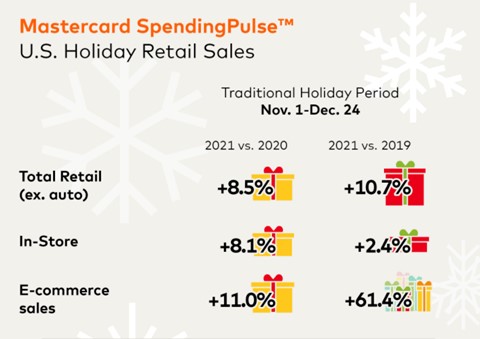 eCommerce Continues to Grow
Adobe estimated that global eCommerce sales could reach US$4.2 trillion in 2021 with the U.S. generating one quarter of that. Globally, eCommerce sales continue to grow and are forecasted to do so through 2025 (Exhibit 1) and eCommerce could take an increasing share of total retail sales through the period.
Exhibit 1: Global eCommerce Forecasted to Grow Total Retail Sales Share Through 2025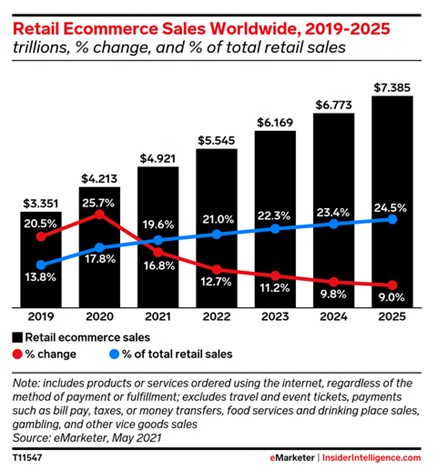 U.S. consumers continue to rely upon eCommerce to purchase products. Exhibit 2 shows that U.S. eCommerce sales as a percent of total retail sales had steady growth, spiked during the pandemic, and now is trending to its prior growth trajectory. During the third quarter of 2021, U.S. eCommerce sales were US$214.6 billion.
Exhibit 2: Estimated Quarterly U.S. Retail eCommerce Sales as a Percentage of Total Quarterly Retail Sales


Exhibit 3: Problems Europeans Encountered When Buying Over the Internet in 2021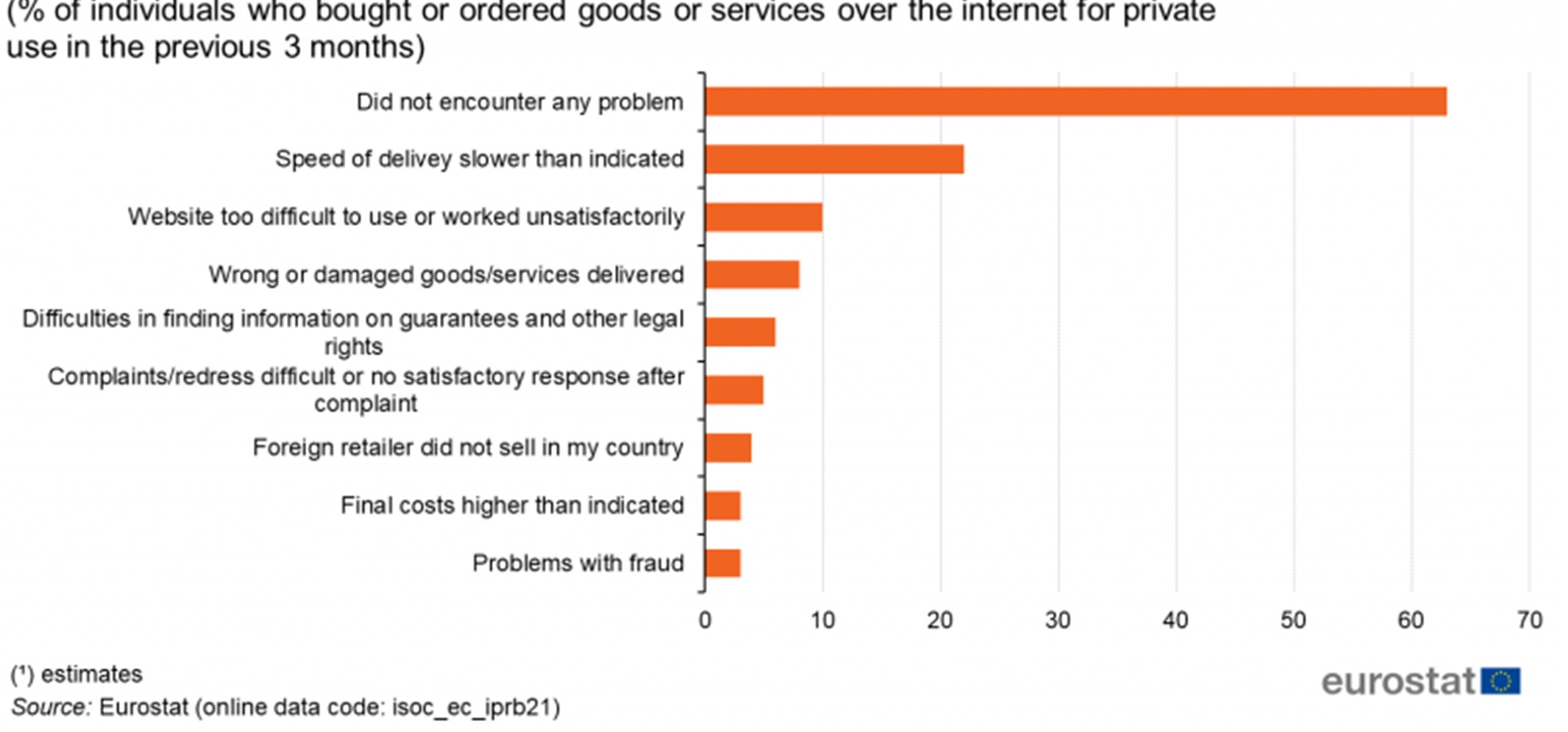 PIM is the Solution
Managing product data seems overwhelming, given the complexities of collecting, validating, enhancing, and propagating data especially across multiple eCommerce channels. "Propagating" or syndicating data not only applies to making data accessible throughout the enterprise but also pushing product data across multiple online channels for marketing and sales purposes. This is very different from the early days of eCommerce when most online businesses had only a single web store front. In today's world, many shoppers can complete online purchases across a variety of online, mobile, app and social media platforms.
Fortunately, tools called Product Information Management (PIM) systems now exist. PIM manages complexity, brings products to market faster across multiple channels, and improves customer experiences. Companies using PIM typically see 23% fewer product returns.
PIM systems typically integrate to existing company systems, centralizing and optimizing siloed data and making it accessible throughout the enterprise (Exhibit 4). What's more, any PIM data for products will often be easily customizable when populated across different eCommerce channels. For example, merchants can choose to run different promotions and/or offer different product configurations on different channels. However, retailers also greatly benefit from using a PIM to keep subtle but important variations in product data nicely organized using an inheritance model.  Simply stated, PIM users can keep the 99% of their product information the same for display on their eCommerce site and for Amazon, where 1% of the product data can be tailored for special merchandising purposes.  One example is that your product may appear under one category label inside your corporate eCommerce store, where the same product could be set to appear under a different category for your Amazon marketplace
PIM's centralization is crucial for eCommerce retailers that sell across numerous websites. Rather than manually upload product digital assets to multiple eCommerce websites (such as Shopify, Walmart, or eBay), PIM centralization of data means only one centralized database is managed. Even if an eCommerce retailer sells only on one website, using that website to store digital assets introduces risks. For example, if the website crashes or gets hacked, product data can be permanently compromised.
Exhibit 4: PIM systems centralize different product data sets, optimizing product accuracy and accessibility


Current Solutions
Spreadsheets are common and suitable for small businesses. This is because these businesses don't sell hundreds of different products or have complicated supply chains. And although spreadsheets are sometimes used for PIM in larger organizations, spreadsheets are generally not scalable, efficient, and are often either siloed or have too many people with access that can distort PIM data.
eCommerce websites are often used as the product data repository. However, product data becomes unreachable during storefront platform crashes, and after the platform returns online, product data may be damaged or lost.
Product Data Management (PDM) tools centralize design data and engineering processes. PDM has a greater focus on optimising product development and associated technical data.
Digital Asset Management (DAM) solutions target the creating, editing, storage, sharing, centralization, and distribution of digital assets. "Digital assets" include photos, videos, audio used to create online and print campaigns.
Enterprise resource planning (ERP) organize business functions but typically don't store any rich or complex product information. Many PIM solutions ingest and synch with ERP data to enhance and ensure the accuracy of product information.
In general, PIM systems can be aggregators of spreadsheets, PDM, DAM, and ERP. PIM glues together different business systems, acting as the place where companies merchandize their products. Everything needed for a company to list and sell its products can be (and should be) found in a PIM system.
Market Size – Large and Growing Market
As eCommerce continues to grow, PIM will become essential for online retailers, especially those that sell across numerous channels. PIM is already a multi-billion dollar industry; PIM's value in 2019 was estimated at US$9.9 billion and forecasted to grow to over US$59 billion by 2027.
Letting Merchants be Merchants – Jasper Commerce
Sophic Capital client Jasper Commerce (TSXV:JPIM) is a PIM leader that empowers eCommerce merchants to manage and merchandise their products from a single source of truth, allowing them to sell more, sell faster and work smarter. Jasper Commerce's software-as-a-service (SaaS) solution provides invaluable product information management services, helping eCommerce retailers to manage and merchandise their product information so that they can unify their entire technology stack and optimize the way they sell and market their products or services into new channels. Jasper counts several familiar global brands as customers, including Skullcandy, Samsonite, Jurlique, Jamieson Vitamins, and Sennheiser. In addition, Jasper has partnerships with several eCommerce providers including Shopify, Square, BigCommerce and Magento, which means merchants operating on a variety of eCommerce platforms can quickly and easily implement a PIM with Jasper.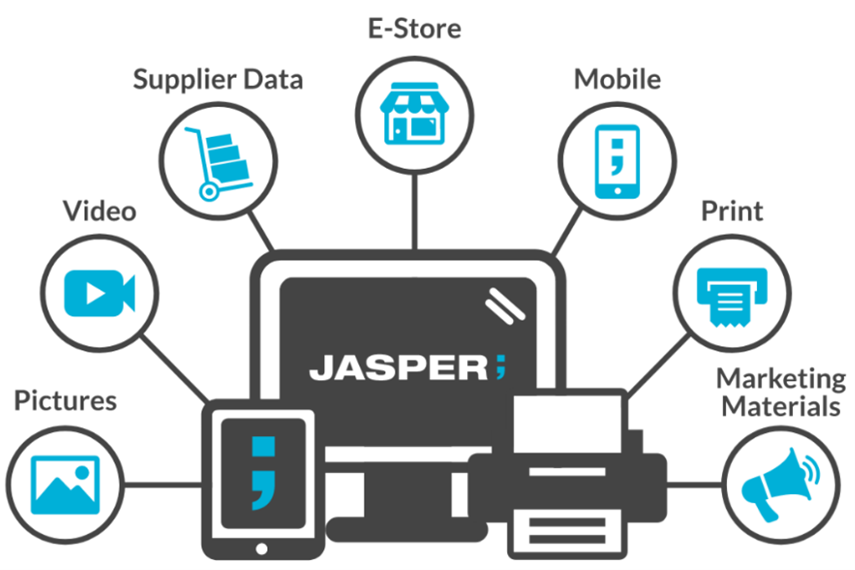 PIMs are complex systems and are not a one-size fits all.  Unique to Jasper's PIM is its simplicity compared to other PIM offerings. That is, Jasper's PIM was designed so merchants can focus on being merchants rather than morphing into IT organizations. Fortunately, Jasper Commerce offers solutions for ALL eCommerce merchants – big and small. Jasper Commerce Commerce offers tiered offerings – from a month-to-month Ultralite solution for US$99 per month, ideal for small businesses, up to a 12-month Enterprise level solution for US$3,750 per month.
As previously mentioned, PIMs centralize spreadsheets PDM, DAM, and ERP. Jasper Commerce, for example, offers DAM functionality that centralizes DAM information across departments, whether the data is stored in-house or on a cloud server.
Jasper Commerce also facilitates product lifecycle management. If eCommerce retailers are thinking about designing a product, they can enter its details in PIM. The same for products in the design phase.  Jasper's PIM captures everything, centralizes it, and makes modification easy and trackable. Even after a company completes product development, it can add marketing information into Jasper's PIM; again, making data centralization, modification, and tracking simple during this phase. External buyers can also integrate with Jasper's PIM to check inventories, for example, and then populate their own eCommerce websites with Jasper's PIM.
Different eCommerce websites require different ways to present product information.  The way an eCommerce retailer posts product information on Amazon, for example, could be vastly different from how the retailer posts it on its own website. It's possible to upload photos to each eCommerce website; but this creates a logistical nightmare. Jasper's PIM is far easier to aggregate, fine tune, and manage product content across omni channels.  Currently, Jasper's PIM supports over 400 marketplaces either directly or through strategic partners.  The result is a seamless syndication experience for eCommerce merchants, an aspect that really assists them in reaching new sales velocity and growth.