A High Growth ESG Sector that is Rapidly Consolidating
Two Problems Creating a $100 Billion Annual Opportunity in North America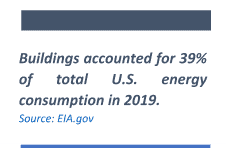 Problem #1: North American buildings waste up to 30% of the energy they consume due to lack of intelligence and technology.
Problem #2: Ask people what the biggest emitter of greenhouse gases ("GHG") is and they'll likely say "cars". Actually, buildings generate about 40% of these gases.
Combined, energy waste and GHG emissions represent an annual addressable market in North America of US $100 billion. Globally these problems scale the addressable market to about US $700 billion.
Most buildings lack real-time intelligence to monitor and control energy consumption and GHGs. And without being able to measure and control what generates waste, building operators cannot solve these problems. While new buildings will more than likely have monitoring and energy efficiency technologies built-in, 2/3 of the today's buildings (that have little to no real-time intelligence) are forecasted to still exist in 2050, so a large automation opportunity exists to reduce their waste.
Current Solutions Lack Unified Intelligence
New building construction typically incorporates technologies that reduce energy consumption and GHG emissions. However, older buildings usually are not connected to these types of solutions, since the purposes of their designs were to provide shelter, temperature control and safety rather than energy efficiency and low GHG discharges. Older buildings can be automated with new technologies (such as lighting, heating and cooling and co-generation); however, these implementations in the past have been ad hoc and generally lack unification and real-time intelligence. A technology platform which is data-driven and provides a single unified operating platform across an entire portfolio of buildings is the next generation of Smart Buildings technology.
There is more than 81 billion square feet of commercial floor space in the U.S, enough to cover Rhode Island 2.5 times. Reducing commercial building energy use would lower operator costs, improve corporate sustainability, and improve the environment. The way to do this is to make buildings "smarter" ("Smart Buildings") – that is, give buildings intelligence and systems that can increase energy efficiency, decrease energy demand, and reduce GHGs. Siemens (XETRA:SIE), Johnson Control (NYSE:JCI), Honeywell (NYSE:HON), and Schneider Electric (PARIS:SU) are large caps that dominate the Smart Buildings industry.
Smart Building Technology Market Forecasted to Grow into the Hundreds of Billions of Dollars
Smart Buildings is a trend that leverages several other on-trend technology themes, including Software-as-a-Service ("SaaS"), Internet of Things ("IoT") and environmental, social, and governance ("ESG"). Smart Buildings is a multi-billion-dollar market opportunity, providing a large enough industry for several entrants to compete. Consider some of the following forecasts:
Smart Building market to grow from US $43.64 billion in 2018 to US $109.48 billion by 2026, a 12.6% CAGR – Fortune Business Insights
Global smart building market is expected to grow at a CAGR of ~15.3% from 2019 to 2026 and reach over US $160 billion of market value by 2026 – Acumen Research and Consulting
Global smart building market was valued at around US $5,800 million in 2016 and is expected to reach about US$ 61,900 million by 2024 – Zion Market Research
It doesn't matter what forecast to pick; what matters is that the market opportunity for Smart Buildings is extremely large and growing.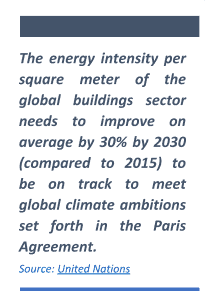 A Consolidating Industry
Globally, the smart building industry is consolidating (Figure 1). Last year saw record levels of M&A and about $5.4 billion of investments in the industry.
A Smart Buildings Leader Unknown to Investors
Kontrol Energy (CSE:KNR, OTC:KNRLF) is an undiscovered Smart Buildings technology and solution provider that is also consolidating the industry. The Company has completed 5 accretive acquisitions and is currently working to acquire a firm that generated $3.7 million in revenue (about 40% recurring) in 2019 and $843,000 of net income. While industry large caps have scale advantages, they generally lack a simple, unified platform that can quickly and easily bring a building on-line. As a small cap disruptor, Kontrol Energy has outcompeted many large-caps for important customer wins.
Learn more about Kontrol Energy, its management team, solutions, and customers like Toyota Tsusho and Beyond Meat in Sophic Capital's next report.
Disclaimer
The information and recommendations made available through our emails, newsletters, website and press releases (collectively referred to as the "Material") by Sophic Capital Inc. ("Sophic" or "Company") is for informational purposes only and shall not be used or construed as an offer to sell or be used as a solicitation of an offer to buy any services or securities. In accessing or consuming the Materials, you hereby acknowledge that any reliance upon any Materials shall be at your sole risk. In particular, none of the information provided in our monthly newsletter and emails or any other Material should be viewed as an invite, and/or induce or encourage any person to make any kind of investment decision. The recommendations and information provided in our Material are not tailored to the needs of particular persons and may not be appropriate for you depending on your financial position or investment goals or needs. You should apply your own judgment in making any use of the information provided in the Company's Material, especially as the basis for any investment decisions. Securities or other investments referred to in the Materials may not be suitable for you and you should not make any kind of investment decision in relation to them without first obtaining independent investment advice from a qualified and registered investment advisor. You further agree that neither Sophic, its, directors, officers, shareholders, employees, affiliates consultants, and/or clients will be liable for any losses or liabilities that may be occasioned as a result of the information provided in any of the Material. By accessing Sophic's website and signing up to receive the Company's monthly newsletter or any other Material, you accept and agree to be bound by and comply with the terms and conditions set out herein. If you do not accept and agree to the terms, you should not use the Company's website or accept the terms and conditions associated to the newsletter signup. Sophic is not registered as an adviser or dealer under the securities legislation of any jurisdiction of Canada or elsewhere and provides Material on behalf of its clients pursuant to an exemption from the registration requirements that is available in respect of generic advice. In no event will Sophic be responsible or liable to you or any other party for any damages of any kind arising out of or relating to the use of, misuse of and/or inability to use the Company's website or Material. The information is directed only at persons resident in Canada. The Company's Material or the information provided in the Material shall not in any form constitute as an offer or solicitation to anyone in the United States of America or any jurisdiction where such offer or solicitation is not authorized or to any person to whom it is unlawful to make such a solicitation. If you choose to access Sophic's website and/or have signed up to receive the Company's monthly newsletter or any other Material, you acknowledge that the information in the Material is intended for use by persons resident in Canada only. Sophic is not an investment advisor nor does it maintain any registrations as such, and Material provided by Sophic shall not be used to make investment decisions. Information provided in the Company's Material is often opinionated and should be considered for information purposes only. No stock exchange or securities regulatory authority anywhere has approved or disapproved of the information contained herein. There is no express or implied solicitation to buy or sell securities. Sophic and/or its principals and employees may have positions in the stocks mentioned in the Company's Material and may trade in the stocks mentioned in the Material. Do not consider buying or selling any stock without conducting your own due diligence and/or without obtaining independent investment advice from a qualified and registered investment advisor. The Company has not independently verified any of the data from third party sources referred to in the Material, including information provided by Sophic clients that are the subject of the report, or ascertained the underlying assumptions relied upon by such sources. The Company does not assume any responsibility for the accuracy or completeness of this information or for any failure by any such other persons to disclose events which may have occurred or may affect the significance or accuracy of any such information.
The Material may contain forward looking information. Forward-looking statements are frequently, but not always, identified by words such as "expects," "anticipates," "believes," "intends," "estimates," "potential," "possible," "projects," "plans," and similar expressions, or statements that events, conditions or results "will," "may," "could," or "should" occur or be achieved or their negatives or other comparable words and include, without limitation, statements regarding, projected revenue, income or earnings or other results of operations, strategy, plans, objectives, goals and targets, plans to increase market share or with respect to anticipated performance compared to competitors, product development and adoption by potential customers. These statements relate to future events and future performance. Forward-looking statements are based on opinions and assumptions as of the date made, and are subject to a variety of risks and other factors that could cause actual events/results to differ materially from these forward looking statements. There can be no assurance that such expectations will prove to be correct; these statements are no guarantee of future performance and involve known and unknown risks, uncertainties and other factors. Sophic provides no assurance as to future results, performance, or achievements and no representations are made that actual results achieved will be as indicated in the forward looking information. Nothing herein can be assumed or predicted, and you are strongly encouraged to learn more and seek independent advice before relying on any information presented.