We understand that investors flee stocks when systematic risk prevails, and the current market meltdown has spared few microcap stocks. Kraken Robotics (TSXV:PNG, OTC: KRKNF), a Sophic Capital client, was no exception. But in our Microcap Investing in a Crisis report we detailed how microcaps (especially those with strong balance sheets) typically outperform large-, mid-, and small-cap stocks after bear markets end.
Coming into this bear market, Kraken's management announced steady contract wins over the past 13 months:
Look into the Abyss and See the Kraken Rising
You may think that Kraken's management was able to execute while the market was ripping higher may come to an end. However, we believe management will continue to execute regardless of whether the markets are good or bad. Even during the recent market volatility, Kraken announced $2.8 million of contracts. Beyond that, Kraken has a robust $300 million pipeline of military and commercial prospects that has caught the attention of investors on both sides of the U.S. / Canada border. Included are some international military contracts that should (you never know with government) be awarded this year.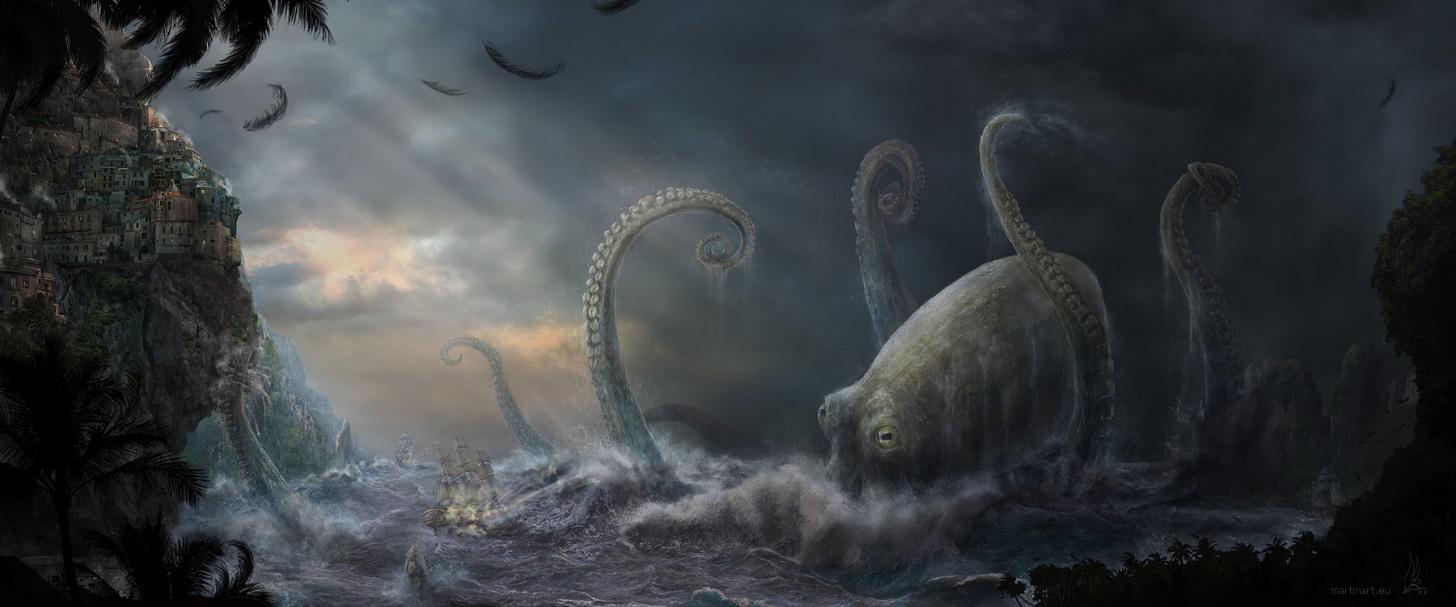 Evolving into A Data Play
Kraken has a real business that continues to evolve. The next stage of growth evolving from its current portfolio of sensors and robotics is robotics-as-a-service ("RaaS"). Under RaaS, Kraken would lease robotics and collect data for clients (likely commercial clients for things such as inspecting undersea cables, pipelines, and oil platforms). With RaaS, Kraken would collect fees for robot deployments while collecting valuable underwater data (mapping, materials degradation) that could be monetized.
Kraken's $18.8 million of Ocean Supercluster funding means RaaS underway. The funding allows Kraken and its partners to develop new technologies and provide high resolution seafloor imaging and mapping covering more than 5,000 square kilometers around Atlantic Canada. Kraken and its partners will leverage key enabling technologies (unmanned maritime vehicles, advanced sensors, robotics, autonomous systems, big data machine learning and predictive analytics) to deploy innovative technology platforms across ocean sectors and extend the global reach and market opportunities for Kraken and our partners.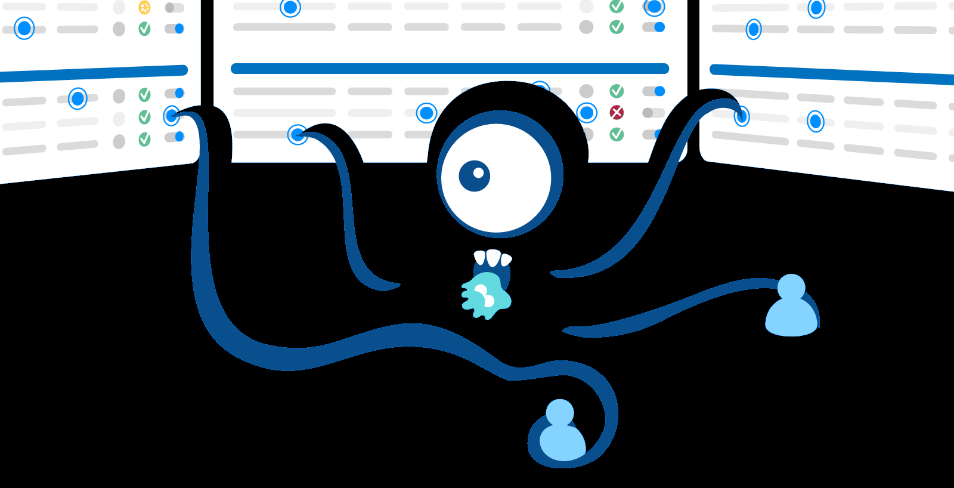 Management's Interests Aligned with Investor Interests
Until then, management and insiders remain highly incentivized to maximize shareholder value (they own over 30% of the Company). Strategic investor/customer Ocean Infinity owns over 15% of the Company. Vice Admiral Michael J. Connor (retired), who was the Commander of the United States Submarine Forces, is a Board Director and well connected to allied militaries.
Remember That Microcaps with Strong Balance Sheets Outperform
Any company with a strong balance sheet can weather periods of market volatility – even microcaps. And our Microcap Investing in a Crisis report shows that microcaps perform when bear markets end. We believe Kraken is strongly positioned for when current market turmoil settles. At the end of September 30, 2019, the Company had:
working capital of $7.7 million (including $2.7 million of cash) compared to $4.9 million at December 31, 2018;
$560K total debt, with $200K current;
Adjusted EBITDA was $1 million, and;
Nine-month cash flow from operations before non-cash working capital changes was $1.9 million.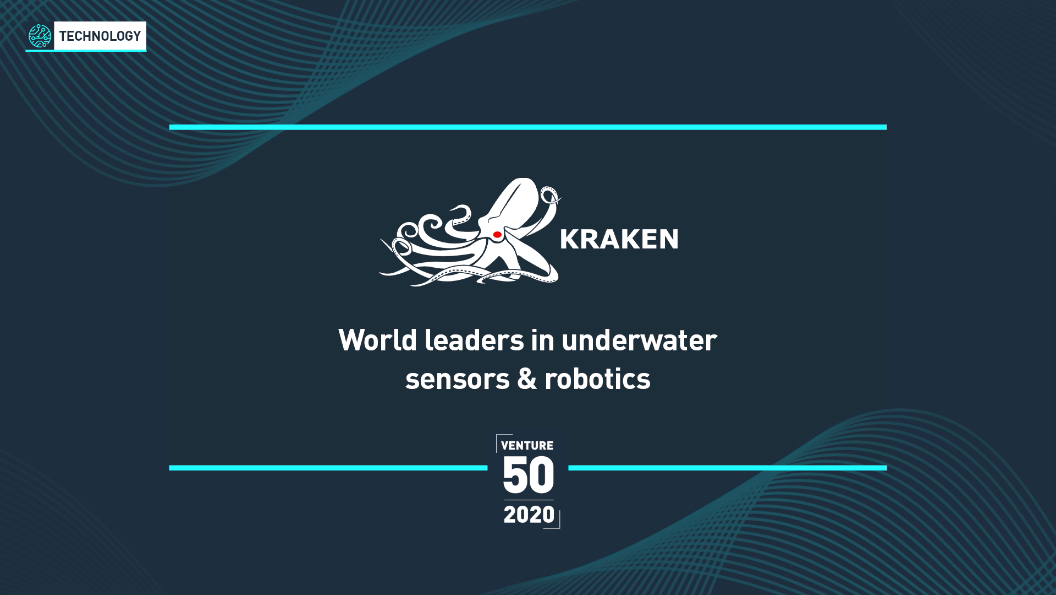 Disclaimer
The information and recommendations made available through our emails, newsletters, website and press releases (collectively referred to as the "Material") by Sophic Capital Inc. ("Sophic" or "Company") is for informational purposes only and shall not be used or construed as an offer to sell or be used as a solicitation of an offer to buy any services or securities. In accessing or consuming the Materials, you hereby acknowledge that any reliance upon any Materials shall be at your sole risk. In particular, none of the information provided in our monthly newsletter and emails or any other Material should be viewed as an invite, and/or induce or encourage any person to make any kind of investment decision. The recommendations and information provided in our Material are not tailored to the needs of particular persons and may not be appropriate for you depending on your financial position or investment goals or needs. You should apply your own judgment in making any use of the information provided in the Company's Material, especially as the basis for any investment decisions. Securities or other investments referred to in the Materials may not be suitable for you and you should not make any kind of investment decision in relation to them without first obtaining independent investment advice from a qualified and registered investment advisor. You further agree that neither Sophic, its, directors, officers, shareholders, employees, affiliates consultants, and/or clients will be liable for any losses or liabilities that may be occasioned as a result of the information provided in any of the Material. By accessing Sophic's website and signing up to receive the Company's monthly newsletter or any other Material, you accept and agree to be bound by and comply with the terms and conditions set out herein. If you do not accept and agree to the terms, you should not use the Company's website or accept the terms and conditions associated to the newsletter signup. Sophic is not registered as an adviser or dealer under the securities legislation of any jurisdiction of Canada or elsewhere and provides Material on behalf of its clients pursuant to an exemption from the registration requirements that is available in respect of generic advice. In no event will Sophic be responsible or liable to you or any other party for any damages of any kind arising out of or relating to the use of, misuse of and/or inability to use the Company's website or Material. The information is directed only at persons resident in Canada. The Company's Material or the information provided in the Material shall not in any form constitute as an offer or solicitation to anyone in the United States of America or any jurisdiction where such offer or solicitation is not authorized or to any person to whom it is unlawful to make such a solicitation. If you choose to access Sophic's website and/or have signed up to receive the Company's monthly newsletter or any other Material, you acknowledge that the information in the Material is intended for use by persons resident in Canada only. Sophic is not an investment advisor nor does it maintain any registrations as such, and Material provided by Sophic shall not be used to make investment decisions. Information provided in the Company's Material is often opinionated and should be considered for information purposes only. No stock exchange or securities regulatory authority anywhere has approved or disapproved of the information contained herein. There is no express or implied solicitation to buy or sell securities. Sophic and/or its principals and employees may have positions in the stocks mentioned in the Company's Material and may trade in the stocks mentioned in the Material. Do not consider buying or selling any stock without conducting your own due diligence and/or without obtaining independent investment advice from a qualified and registered investment advisor. The Company has not independently verified any of the data from third party sources referred to in the Material, including information provided by Sophic clients that are the subject of the report, or ascertained the underlying assumptions relied upon by such sources. The Company does not assume any responsibility for the accuracy or completeness of this information or for any failure by any such other persons to disclose events which may have occurred or may affect the significance or accuracy of any such information.
The Material may contain forward looking information. Forward-looking statements are frequently, but not always, identified by words such as "expects," "anticipates," "believes," "intends," "estimates," "potential," "possible," "projects," "plans," and similar expressions, or statements that events, conditions or results "will," "may," "could," or "should" occur or be achieved or their negatives or other comparable words and include, without limitation, statements regarding, projected revenue, income or earnings or other results of operations, strategy, plans, objectives, goals and targets, plans to increase market share or with respect to anticipated performance compared to competitors, product development and adoption by potential customers. These statements relate to future events and future performance. Forward-looking statements are based on opinions and assumptions as of the date made, and are subject to a variety of risks and other factors that could cause actual events/results to differ materially from these forward looking statements. There can be no assurance that such expectations will prove to be correct; these statements are no guarantee of future performance and involve known and unknown risks, uncertainties and other factors. Sophic provides no assurance as to future results, performance, or achievements and no representations are made that actual results achieved will be as indicated in the forward looking information. Nothing herein can be assumed or predicted, and you are strongly encouraged to learn more and seek independent advice before relying on any information presented.