A Growing and Lucrative Demographic for Brands
According to the United States Census Bureau, 46.7% of Americans were aged 35 years and younger in 2019. This demographic consists of Millennials, Gen-Z and Gen Alpha (the generation younger than Gen-Z). Collectively, we'll call these generations the "Under-35s".
Under-35s is a market segment that brands cannot ignore. PEW Research Center forecasts that the Millennials (whom PEW defines as aged 23 to 38 years) will become the largest U.S. demographic, peaking at 74.9 million by 2033. Brands ignoring the Under-35s will likely die.
But Under-35s don't respond to traditional advertising. Brands have typically focused marketing messages around problems that their product and solutions solve as well as the benefits they offer. This formulaic approach isn't enough for the Under-35s; they know the options to solve their problems are near limitless. This cohort demands a more aspirational approach, which resonates with the lifestyle that resonates with them. What differentiates the options are brands that support causes the Under-35s believe in.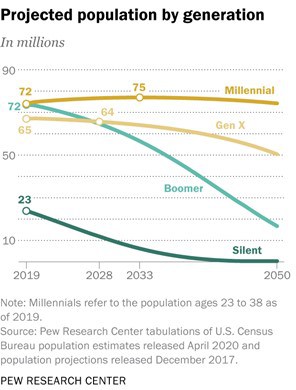 Younger Generations Are Engaged With esports and Gaming
Under-35s don't react to traditional advertising channels either. In some ways, the Under-35s share the same interests as their Gen-X and the Baby Boomers elders. For example, youth research and insights firm YPulse surveyed 13- to 37- year old's and found that their favourite things to do are:
Watch TV
Watch Movies
Play video/mobile games
Read
Watch streaming services
However, Under-35s can flip between channels when commercials interrupt their favourite TV programs; they can check their social media feeds while previews and commercials roll before their movies start; or, they can block out all advertising by paying for streaming services.
What sets Under-35s apart from their elders in the above list is #3 – their interest in playing video and mobile games. OverActive Media, a global esports and entertainment organization, surveyed 13- to 37-year old's in Ontario and found that 69% of them are gamers.
Those 35 years old and younger are crazy for gaming –playing games, and also watching professional gamers compete ("esports"). In fact, the same Overactive Media survey found that the Call of Duty esports league ranked fifth across competitive sports leagues for 13- to 37- year olds in Ontario. And as Exhibit 1 shows, global esports viewership is set to grow at a 10.4% CAGR through 2023 to 646 million people.
An Untapped Marketing Channel for Brands
Although gaming and esports may not be "causes", Under-35s certainly believe in them. Some brands have transitioned their Under-35 marketing strategies by targeting gaming and esports channels. The United States Navy, for example, is allocating 97% of its US$33 million 2020 advertising budget to online channels, with esports and YouTube, the main focuses – even bypassing Super Bowl advertising.

Call of Duty eSports ranked fifth in traditional sports and eSports for 13- to 17-year olds in Ontario.
Source: OverActive Media
Few brands know how to advertise to gaming and esports markets. Under-35's rely upon their social networks to validate brands. They also look to influencers, people who have expertise on specific topics that they trust. Although influencers are not new to the marketing industry, esports and gaming influencers are. It's not enough for marketers to simply know who esports influencers are and then try to court them to represent a brand. Brands must also know what or if any esport is relevant to them and their message.
These are new and evolving challenges for marketers – challenges we believe are greenfield opportunities waiting for leaders to emerge. In our next report, Sophic Capital will introduce you to Reciprocity, a private gaming & esports marketing and media network, GCN. Gaming Community Network ("GCN") designs, creates and distributes custom content to more than 110 million gaming & esports players and fans globally.  Reciprocity also owns premiere esport franchises which includes a robust stable of Influencers.
Exhibit 1: Expanding esports Audience Presents a Lucrative Marketing Channel for Advertisers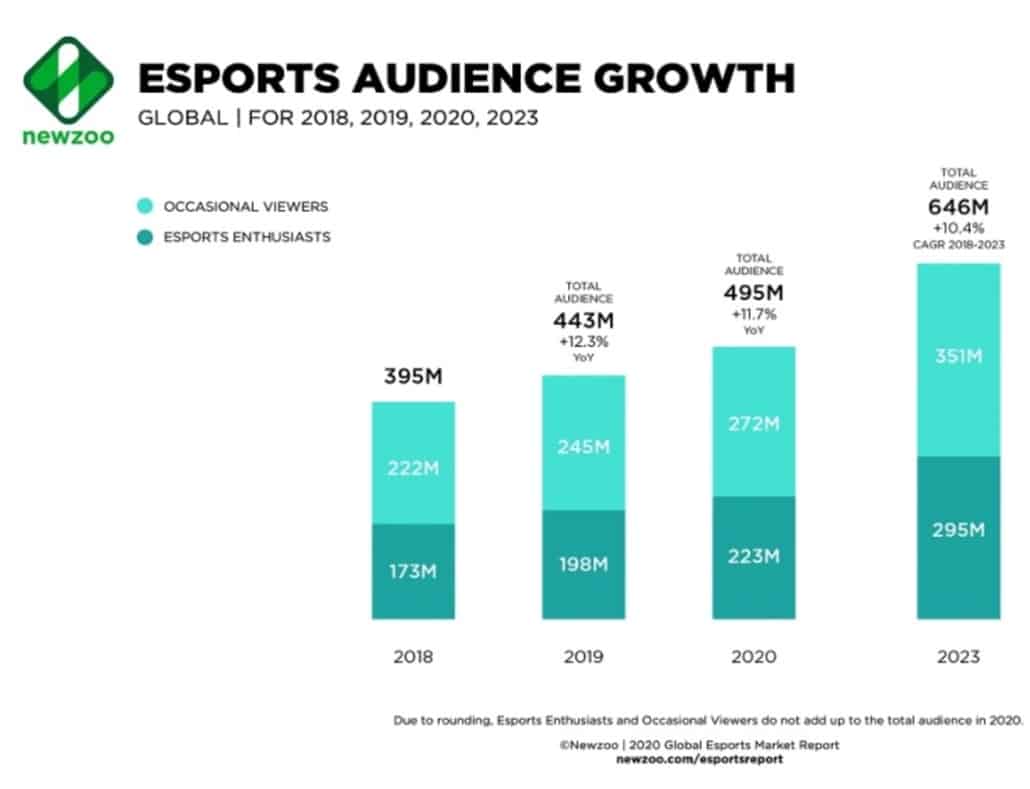 Disclaimer
The information and recommendations made available through our emails, newsletters, website and press releases (collectively referred to as the "Material") by Sophic Capital Inc. ("Sophic" or "Company") is for informational purposes only and shall not be used or construed as an offer to sell or be used as a solicitation of an offer to buy any services or securities. In accessing or consuming the Materials, you hereby acknowledge that any reliance upon any Materials shall be at your sole risk. In particular, none of the information provided in our monthly newsletter and emails or any other Material should be viewed as an invite, and/or induce or encourage any person to make any kind of investment decision. The recommendations and information provided in our Material are not tailored to the needs of particular persons and may not be appropriate for you depending on your financial position or investment goals or needs. You should apply your own judgment in making any use of the information provided in the Company's Material, especially as the basis for any investment decisions. Securities or other investments referred to in the Materials may not be suitable for you and you should not make any kind of investment decision in relation to them without first obtaining independent investment advice from a qualified and registered investment advisor. You further agree that neither Sophic, its, directors, officers, shareholders, employees, affiliates consultants, and/or clients will be liable for any losses or liabilities that may be occasioned as a result of the information provided in any of the Material. By accessing Sophic's website and signing up to receive the Company's monthly newsletter or any other Material, you accept and agree to be bound by and comply with the terms and conditions set out herein. If you do not accept and agree to the terms, you should not use the Company's website or accept the terms and conditions associated to the newsletter signup. Sophic is not registered as an adviser or dealer under the securities legislation of any jurisdiction of Canada or elsewhere and provides Material on behalf of its clients pursuant to an exemption from the registration requirements that is available in respect of generic advice. In no event will Sophic be responsible or liable to you or any other party for any damages of any kind arising out of or relating to the use of, misuse of and/or inability to use the Company's website or Material. The information is directed only at persons resident in Canada. The Company's Material or the information provided in the Material shall not in any form constitute as an offer or solicitation to anyone in the United States of America or any jurisdiction where such offer or solicitation is not authorized or to any person to whom it is unlawful to make such a solicitation. If you choose to access Sophic's website and/or have signed up to receive the Company's monthly newsletter or any other Material, you acknowledge that the information in the Material is intended for use by persons resident in Canada only. Sophic is not an investment advisor nor does it maintain any registrations as such, and Material provided by Sophic shall not be used to make investment decisions. Information provided in the Company's Material is often opinionated and should be considered for information purposes only. No stock exchange or securities regulatory authority anywhere has approved or disapproved of the information contained herein. There is no express or implied solicitation to buy or sell securities. Sophic and/or its principals and employees may have positions in the stocks mentioned in the Company's Material and may trade in the stocks mentioned in the Material. Do not consider buying or selling any stock without conducting your own due diligence and/or without obtaining independent investment advice from a qualified and registered investment advisor. The Company has not independently verified any of the data from third party sources referred to in the Material, including information provided by Sophic clients that are the subject of the report, or ascertained the underlying assumptions relied upon by such sources. The Company does not assume any responsibility for the accuracy or completeness of this information or for any failure by any such other persons to disclose events which may have occurred or may affect the significance or accuracy of any such information.
The Material may contain forward looking information. Forward-looking statements are frequently, but not always, identified by words such as "expects," "anticipates," "believes," "intends," "estimates," "potential," "possible," "projects," "plans," and similar expressions, or statements that events, conditions or results "will," "may," "could," or "should" occur or be achieved or their negatives or other comparable words and include, without limitation, statements regarding, projected revenue, income or earnings or other results of operations, strategy, plans, objectives, goals and targets, plans to increase market share or with respect to anticipated performance compared to competitors, product development and adoption by potential customers. These statements relate to future events and future performance. Forward-looking statements are based on opinions and assumptions as of the date made, and are subject to a variety of risks and other factors that could cause actual events/results to differ materially from these forward looking statements. There can be no assurance that such expectations will prove to be correct; these statements are no guarantee of future performance and involve known and unknown risks, uncertainties and other factors. Sophic provides no assurance as to future results, performance, or achievements and no representations are made that actual results achieved will be as indicated in the forward looking information. Nothing herein can be assumed or predicted, and you are strongly encouraged to learn more and seek independent advice before relying on any information presented.