In our first interview with HIRE Technologies Inc. [TSXV:HIRE, OTC:HIRRF] CEO Simon Dealy, we learned:
The Work From Home ("WFH") trend has benefitted HIRE's current and future prospects as well as its candidates;
Exiting the COVID-19 pandemic, several industries cannot find qualified candidates and how HIRE can help, and;
HIRE Technologies is poised to benefit from both WFH and return to office trends.
We continue our discussion with Mr. Dealy to understand how HIRE Technologies fits into the HR staffing and consulting industry and how its acquisition strategy (including Pulsify, HIRE's most recent acquisition) positions the Company for growth. 
Q: Simon, we can name a few industries that have been slow to adopt Software-as-a-Service ("SaaS"). Is the HR industry slow to adopt as well?
A: Certain segments have been slow to adapt. We see large portals like LinkedIn that recruiters gravitated to years ago. On the short term or "gig" side, Fiverr and Upwork are popular in a market segment we currently do not serve. However, several established companies like Trinet, Paycom, Workday, Recruit holdings, and Paylocity have successfully extended SaaS technologies to the larger HR industry.
Q: Interesting. Soto confirm, HIRE does not compete against platforms like Upwork and Fiverr?
A: That is correct. Those businesses do not compete with us; Fiver, Upwork, and Toptal are essentially dis-intermediating the traditional the gig economy staffing business. In the short-term we are moving our business mix towards more on-occurrence permanent placement staffing, which characteristically offers higher margins than contract staffing, and which will see significant growth as economies start to recover from impact of COVID-19. With the addition of Pulsify, we have begun to add high-margin, recurring revenue, human capital related SaaS products into our "hidden" distribution network made up of managers and executives that we have placed into client operations.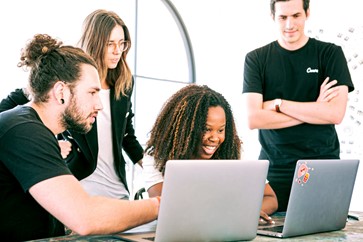 Q: Can you shed some more light on SaaS delivered, value-added solutions that can be offered through your platform in the medium term?
A: We have the foundation to build several, HR-relevant, value-added solutions that we can sell through our existing customer relationships. By virtue of our business, we already have deep relationships with key decision makers. They provide us with the ideal sales channel to generate incremental revenue. With Pulsify for example, managers can better engage their teams and manage performance. Proprietary tools on the platform, such as the Net Manager Score, give managers predictive metrics to drive engagement and reduce turnover. With WFH expected to continue in some form even after COVID, this use case should remain relevant across our customer base.
Q: Beyond partnerships with major HR industry firms, HIRE also has been active on an acquisition strategy.
A: Human Resources is an industry ripe for consolidation, and it's fair to categorize HIRE as a Human Capital industry consolidator. In the last two quarters of 2020, we closed three acquisitions. Our most recent acquisition was Pulsify, a cloud-based people management platform that makes it easier for businesses to build engaged and high-performing teams. Strategically, Pulsify gives HIRE a foundation for our SaaS aspirations. We have more opportunities in our acquisition pipeline, which is only growing.

HIRE Technologies acquisitions
Q: Your most recent acquisition was Pulsify in April. Can you give us some of your thoughts about that acquisition?
A: Pulsify is an important foundational acquisition for us. Pulsify raised US$1.1 million in an initial funding round led by prominent tech executives, including the co-founders of Okta (NASDAQ:OKTA) and Hubspot (NYSE:HUBS) — two of the largest SaaS companies in North America, highlighting the credibility and quality of the team at Pulsify. In a previous life, the founder of Pulsify was the CEO of a VC-backed company. The company grew quickly to almost 50 employees. As a first-time CEO he realized that he had to learn how to manage people and got help aligning people around strategic goals, doing regular 1-on-1s, the importance of understanding morale, and managing perception. It was a crash course on how to manage a team by plugging into a structured, easy to follow, and effective operating system. This operating system changed the way he thought about team management. And this operating system became Pulsify.  Pulsify facilitates and guides the touch points between a manager and an employee in an easy to use, intelligent and actionable way. Pulsify gives managers predictive insights which makes manager to employee communications better. 
Q: How does Pulsify fit into today's employment model?
A: Whereas WFH has created opportunities for candidates, it has also created challenges for managers and team leaders. Today, many companies have embraced a hybrid work environment increasing the need for more choreographed communication between managers and employees.. Pulsify helps companies parametrically  understand employee morale across the organizational chart by using data driven approaches to guide decision making. Over the past 15 months, individuals and teams have become more siloed due to WFH. How they operate, engage, and get motivated has also changed with the lack of daily office interactions.. Being in an office helps leaders naturally identify dissatisfied workers and how to resolve their frustrations. This is far more difficult under WFH, and Pulsify helps mitigate these risks for our clients.
Coming Up…
In Part 3 of our interview with HIRE Technologies Inc. [TSXV:HIRE, OTC:HIRRF] CEO Simon Dealy, we'll discuss:
What the three acquisitions that closed in the back half of 2020 bring to HIRE;
How HIRE values acquisition targets and how it structures deals, and;
Details about HIRE's revenue profile.