Continuing the Conversation with General Assembly's CEO
In part 1 of our interview with GA Pizza's CEO Ali Khan Lalani, we learned that: 
The global frozen pizza market is expected to exceed over $25 billion by 2027;
GA Pizza has evolved to become a brand-focused consumer packaged goods (CPG) play;
A push into food, drug, and mass (FDM), specifically grocery retail will drive significant growth for the Company, and;
After starting with Ontario, the company recently launched in BC and sees further retail expansion across the country.
In this report, we our continue our conversation with Mr. Lalani.
Ali, can you talk a bit more about the restaurant side?
Retail is a great brand-building tool, and we believe stores can be profitable in their first year. Our flagship restaurant near the corner of Adelaide and Spadina in Toronto has undergone a significant renovation in recent months and recently re-opened in early December. We also had plans to open a second restaurant location at the First Canadian Place in Toronto's Financial District in the coming year. We have the retail space but are moving cautiously, as we want to see a certain level of foot traffic in the food court before proceeding. For those who don't know Toronto well, this second location is in the heart of the Financial District with a significant volume opportunity. Plus, it provides the dual benefit of continuing to build the brand with a core group of Canadian investors.
Do you expect to continue to add new locations?
Right now, our focus is on CPG. However, continued retail expansion is certainly part of our long-term plan, and we see an opportunity for over 15+ locations in the Canadian market over time – but only after we have fully vetted the model, the returns, and have strong potential master franchisees to lead the expansion. It will take us some time to get there.
You mentioned "franchisees" – why does GA Pizza think franchising could be successful?
One of the things that came out of our first restaurant was a high level of confidence in the take-out, small-store model. Within the restaurant, we have a small takeout counter that backs onto the kitchen. It does substantial business, and I think it has a lot of compelling expansion potential, with a possible franchise model in the future. Based on some very early work, we think the build cost would come in at about $300,000 to $400,000, with potentially a three-year payback. From a franchise economics perspective, that would be in the 90th percentile.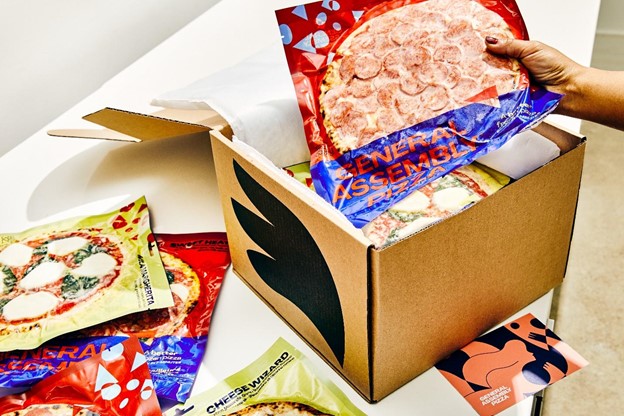 You also mentioned how the direct-to-consumer (DTC) business acts as a great brand awareness tool. Can you further elaborate? 
Sure. Direct-to-consumer, as we have mentioned, is not a big money-maker. While we do quite well with our most seasoned and loyal subscribers, the cost of acquisition is high and the brand awareness, in general, remains low. But that's just the reality of building a new CPG brand that happens to have only one location in Toronto so far. When we start operating in British Columbia, the locals simply won't know us very well. That's why it's important to think about direct-to-consumer as a lever for growth as it relates to brand awareness and trial. We launch a new market and our acquisition cost is high. Those customers aren't first-order profitable, and we need to put certain tactics in place to retain them. However, DTC remains a great tool to get the consumers trying our pizza and putting the brand front and center for them. Now when we expand in grocery, add new products, launch a restaurant, or hit them with a highly targeted DTC offer down the line, we see profitable growth. 
This is all to say that 'yes,' we believe our DTC sales channel is more of a marketing tool than a profit generator. But we do anticipate that as the brand awareness grows over time, and as more and more people are introduced to our brand, the stickiness of this revenue stream will grow, and we should be able to bring down our cost of customer acquisition. 
Talk about your sustainability initiatives and how they are impacting your plans. 
Sustainability is at the heart of our business. As the Company continues to scale, GA Pizza remains steadfast in its commitment to be 'better' and contribute to a healthy planet. We look to measure and offset all carbon emissions for our home delivery business and aim to implement a Company-wide carbon neutral strategy by the end of 2022. And we've already implemented parts of the strategy. 
For example, we retrofitted some chicken heat racks — there's my Swiss Chalet background coming up again! — to work with pizza, which allows us to leave hot and fresh pies for takeout, minimizing the time needed to collect orders and thereby reducing traffic congestion. 
Beyond the carbon footprint of our delivery business, we are always looking at improving the sustainability of our products through the constant evaluation of our key suppliers. 
What other initiatives are you and the team currently working on? 
We currently have a Good Manufacturing Practice (GMP) audit booked for our new production facility in the first half of 2022. This is imperative for partnering with some of the larger retailers we are in discussions with. Because our facility is new and because we already have the audit booked, most of these retailers are assuming it will get approved and are looking past this. However, it requires a lot of work, and it is front-and-center for us right now. 
We are also looking into a Global Food Safety Inspection (GFSI) audit as there are several large multinational retailers that require this standard since it effectively means we would meet the required U.S. Food and Drug Administration standards (FDA). This would have the dual benefit of clearing a path for us to potentially expand into the U.S. market. 
We have placed a strong emphasis on our relationship with Impossible Foods, and as our companies continue to grow and work alongside one another, we hope to one day leverage that connection into new revenue growth opportunities. 
What about product innovations? 
Product innovation, such as our plant-based pepperoni pizza, which is scheduled for a Q2 launch, is also a critical piece. We are constantly looking to create new and exciting menu options for our customers as well as developing a pizza experience from dough to sauce for shelves. As the GA Pizza brand continues to grow, we see plenty of opportunities to expand our offering into other complementary product items. But that remains a little way away. There is a lot of opportunity right now for us to continue to grow these next few years simply on the back of our incredible pizzas. 
Do you have sufficient access to capital to support your future growth plans? 
We are fine to execute against our CPG, retail, restaurant, and product development strategies for the time being. We just did a small debt deal with current investors at reasonable terms, so that helped fill a more immediate gap, but we anticipate we will likely have to raise additional capital in the coming quarters to support our growth plans.  That said, we are always evaluating potential creative financing solutions, such as our recent debt deal and other non-dilutive financing options that could help strengthen the Company's financial position. We are so incredibly excited about what we have ahead of us, but we are going to be smart and return focused. So 'yes'; we will likely raise capital but only because there is a positive return project or opportunity we want to go after. 
What were the use of proceeds for the capital GA Pizza raised across all financings? 
We just finished building a bespoke, purpose-built, frozen pizza facility with the proceeds from our go-public raise. That facility required significant capital, and we continue to identify opportunities to improve throughput and long-term unit economics. However, most of that uses automated machinery which often comes with a large upfront capital cost.  
For future capital allocations, we have a robust pipeline of potential revenue opportunities ahead of us, and we want to be able to go after what appears to be a very significant total addressable market. We are quite confident that once we move past this initial ramp-up phase the business should be moving towards being cash flow positive and we can be selective with future capital raises, choosing to bolster the balance sheet when we have high-return growth investments we want to go after.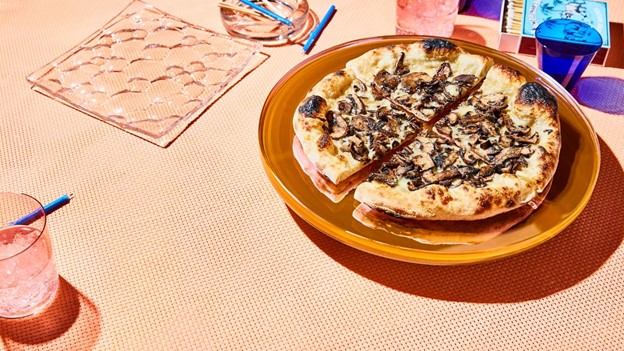 Clearly there are a lot of long-term opportunities for the business to continue to grow, but what about the near-term? What should investors be focused on to help gauge your success? 
The key thing will be the number of grocery locations. Our facility can produce up to 200,000 pizzas per month given its current configuration. We can currently produce up to 100,000 per month and expect to hit 150,000 per month by the end of Q2, before moving towards full capacity of 200,000 by the end of the year. The key to this ramp is our retail partners. As we continue to gain shelf-space, we expect our production will ramp. And this has the ancillary benefit of driving down our per unit cost and improving our overall efficiency.  
We expect to update the market on both short-term and long-term goals in the coming weeks and will be looking for opportunities to provide updates on retail wins as we go. We know the revenue is going to come, but the best leading indication by far will be those retail wins.
Sign up for all Sophic Capital's reports at https://sophiccapital.com/subscribe/