Opportunities for Electrifying Growth
Recent news from Sophic Capital client Legend Power Systems Inc. [TSXV:LPS,  OTC:LPSIF] reveals the potential for significant future growth. In March 2021 alone, the Company:
Commercial real estate owners are concerned that grid instability will continue to worsen due to increased electricity demand and unstable renewable energy generation. Intuitively, they also understand that their businesses will incur increased financial costs. However, before Legend Power SmartGATE Insights service became available (announced Oct. 23, 2020), commercial property owners could not quantify their excessive costs due to grid instability and electrical power waste. Nor could they properly plan for future capital investments and operating expenses.
Compounding these power, investment, and maintenance related costs is additional pressure for companies to increase their environmental, social, and governance ("ESG") scores. The number of investment managers that have adopted the United Nations' Principles for Responsible Investment reached 2,245 as of September 2020, with about 66% having joined in the past 5 years. The youngest retail investors, who will be investors for decades to come, are a generation that demand transparency, accountability, and credibility – especially when it comes to conserving resources and safeguarding the environment. It's incumbent upon commercial property owners to quantify and reduce the amount of energy their properties consume, especially should they need to attract capital.
Finally, Governments are putting pressure on building owners to improve energy efficiency measures and reduce greenhouse gas emissions. For example, New York City (one of Legend's primary targeted markets) passed Local Law 97 as part of its Climate Mobilization Act, which places annual carbon caps for buildings larger than 25,000 square feet and  two or more buildings on the same tax lot that together exceed 50,000 square feet. These carbon caps begin in 2024 and aim to reduce current carbon emissions from buildings by 80% in 2050. Buildings not in compliance could face penalties of up to US$268 per ton of carbon.  We expect these types of initiatives to expand across North America.
SmartGATE Insights Adoption Ramping
Legend Power Systems' management has guided for 90 SmartGATE Insights deployments in the current quarter ending March 31, 2021. SmartGATE Insights is the analysis service that quantifies how much grid instability is costing a commercial property owner at a specific building. As mentioned before, building owners never had a determinant way to measure this waste, and according to Legend's management, these costs often exceed what operators' "guesstimates" (not bad for a $1,500 assessment cost). According to management's comments on its last conference call, about 50% of SmartGATE Insights deployments convert to Legend Power's SmartGATE platform sales. This platform stabilizes incoming voltage from the building's grid connection, and sales average $110,000 per unit.  Plus, each SmartGATE platform can generate an annual recurring revenue component that ranges from $1,000 to $4,000 per year, depending on the level of service and data analytics package.
Partnerships Could Accelerate Growth
Increased interest in the SmartGATE platform has not only been driven by the SmartGATE Insights grid power analysis and cost quantification. In the past, Legend Power relied upon direct sales and did well, selling over 300 SmartGATE platforms. However, management realized that to scale sales faster, they'd have to implement a partner strategy.  The question was: What type of partner? 
In September 2020, Legend Power Systems announced it had partnered with an Energy Services Company ("ESCO") that was a division of a Fortune 100 company.  ESCOs provide energy project design and deployment services on behalf of public and private building operators. Energy savings projects, retrofitting, and energy conservation are typically an increasing part of ESCO business. Becoming an approved ESCO vendor (like Legend Power) is not a trivial endeavour; but once approved vendor solutions are offered to the ESCOs customer base. Plus, vendor sales and marketing costs and sales cycles are reduced as ESCOs take on much of this work. Legend's management has said that they are in discussions with several other ESCOs, potentially giving the Company access to thousands of external salespeople. These are channels that could ramp sales quickly.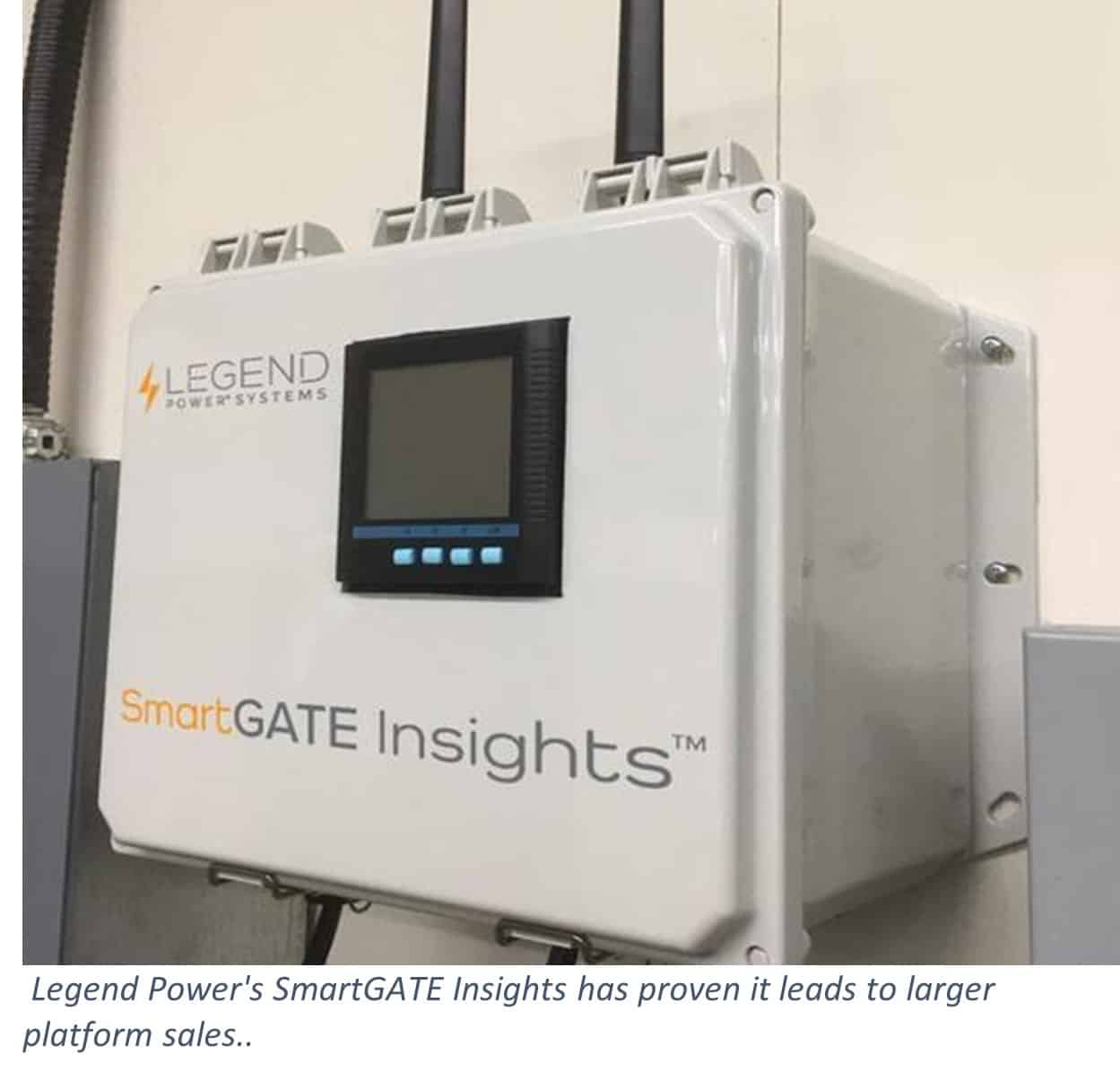 Current Capacity
Legend Power Systems can easily scale its manufacturing up as demand continued to increase. Building a SmartGATE Insights or SmartGATE platform requires no specialized equipment or single-sourced components. Currently, Legend's assembly facility in Vancouver, British Columbia has capacity for the Company to generate annual revenues of about $30 million. Should demand surpass current assembly facility capabilities, Legend only has to lease more property, and not necessarily in Vancouver.  Legend can easily duplicate production on the East Coast of the United States, closer to its New York City targeted market. Capital investments for any production expansion would be minimal.
Looking Ahead Investors Should Keep an Eye on Backlog
Management has guided for 90 SmartGATE Insight services per quarter over the next several quarters and then growing from there.  They have also said the conversion rate they are seeing is about 50%, which means 90 Insights should lead to purchase orders for 45 SmartGATE platforms or approximately $4.5 million in backlog. If Legend Power can announce 90 SmartGATE insights deployment a quarter beginning in the quarter ending March 31, 2021 through the next 4 quarters and hit the 50% conversion estimate, backlog could range from $18 million to $20 million over the next 12 months.  Given that revenue can only be recognized once a unit is installed, we believe investors will need to look at backlog as a way to measure the growth of the business and future revenue and earnings growth.  Management has guided to $100 million run rate revenue in the next three years and expects at that rate would generate 25%-30% EBITDA margins.  Historically the Company has broke-even on $2.5 million of quarterly revenue. 
Investors should watch to see if management can hit its Insights targets in the coming quarters and also that these Insight deployments are converting to SmartGATE purchase orders.  Recently, we have seen some larger Insights orders along with the largest order in the Company's history for 19 SmartGATE systems.  If this momentum continues small cap investors should continue to be rewarded for owning Legend Power Systems stock.