Increasing Need to Care for Existing Infrastructure
Back in our February 2020 Fossil Fuels Aren't Going Away – Not Your Typical ESG Investment report, Sophic Capital made the case (based on EIA energy production/consumption data) that the United States is decades away from transitioning to renewable energy and that reliance on American fossil fuel pipelines will continue. Recent developments in the pipeline industry support our thesis, and why investors should consider investing in OneSoft Solutions (TSXV:OSS, OTC:OSSIF), a Sophic Capital client.
Hydrocarbon Protestors Focused on Blocking New Pipeline Infrastructure
To reduce hydrocarbon dependency, many green energy activists are targeting oil and liquified natural gas ("LNG") pipelines. This focus shift away from energy producers aims to prevent the expansion of and upgrades to America's 2.7 million miles of pipeline infrastructure. One reason is that unlike oil and gas deposits, pipelines typically cross state, county, and city boundaries. This translates into more permitting requirements and legal reviews which, in some cases, can lead to a decade or more of project delays.
Perhaps the most famous pipeline delay is the TC Energy (NYSE:TRP, TSX:TRP), Keystone XL expansion, running 1,210 miles from Hardisty, Alberta, to Steele City, Nebraska with a planned capacity of 830,000 barrels of oil per day. Pipeline constuction was delayed for over a decade by opposition from landowners, environmental groups, and indigenous tribes. President Obama twice rejected the pipeline, but President Trump approved its construction. Three states and the Province of Alberta have begun construction. However, on July 6, 2020, the U.S. Supreme Court upheld a lower court ruling that blocked a key permit, which likely delays Keystone XL at least until 2021. The attorney representing one of the environmental groups involved in the case acknowledged that the plaintiffs had hoped to hamper oil and gas projects nationwide. The environmental groups could gain an ally in November; Democratic President candidate Joe Biden said he would rescind Keystone XL permitting.
Hydrocarbon Protestors Focused on Blocking Current Pipeline Infrastructure
Similarly, Enbridge's (NYSE:ENB, TSX:ENB) Line 3 and 5 pipelines remain mired in legal battles and regulatory pushback. Line 3 currently is a 1,097-mile crude oil pipeline extending from Edmonton, Alberta to Superior, Wisconsin. Enbridge plans to replace Line 3 with 1,031 miles of 36-inch diameter pipeline from Hardisty, Alberta to Superior, Wisconsin. However, Minnesota regulators are delaying the project, pending an extension of a permitting review.
On July 5, 2020, the United States District Court for the District of Columbia ordered that the Dakota Access Pipeline must shut down and be emptied by August 5 in order to complete an environmental impact report. The $3.8 billion, 1,172-mile crude oil transport system was denied permitting by the Obama administration in December 2016, a decision that President Trump reversed during his first week in Office. Construction was completed in June 2017.
Operators Throw in the Towel
On July 5, 2020, Dominion Energy (NYSE:D) and Duke Energy (NYSE:DUK) threw in the towel and canceled their Atlantic Coast Pipeline project. Although the U.S. Supreme Court ruled by a 7-2 margin that the natural gas pipeline could proceed, the companies cited ongoing delays, litigation and an expected increase in costs threatened the economic viability of the project. According to The New York Times, these lawsuits inflated the original project cost of $4.5 to $5 billion in 2014 to almost $8 billion.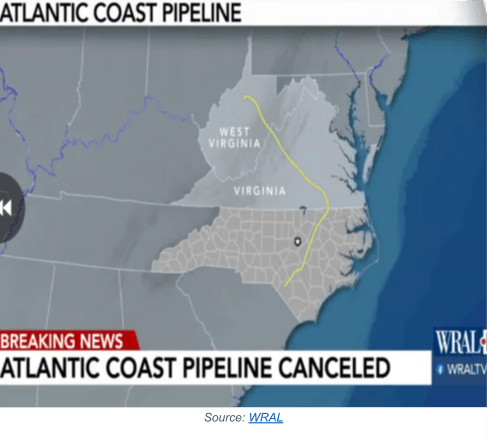 The World's Most Famous Value Investors Go Long on Natural Gas Pipelines
Without a doubt, building or upgrading pipeline infrastructure is difficult because the social license for operators has evaporated. We think this is why Warren Buffett and Charlie Munger invested approximately $9.7 billion of Berkshire Hathaway's (NYSE:BRK-A) money to acquire Dominion Energy's gas transmission and storage business. Energy pipelines operate regardless of commodity costs and combined with the environmental backlash against new construction and upgrades, activists have created a competitive moat for America's current pipeline network.
To maintain this competitive moat, pipeline operators will have to ensure that their infrastructure lasts and safeguards the environment. The Pipeline and Hazardous Materials Safety Administration ("PHMSA"), America's pipeline regulator, mandates that operators must inspect their pipelines every 5 to 7 years (depending upon what the pipeline transports). Current analysis tools (manual inspection of Excel spreadsheet data) are woefully inadequate, as evidenced by the number of annual pipeline incidents really have not improved over the past twenty years (see chart on right). Neither have the numbers of worker injuries and deaths caused by pipeline incidents gotten better; according to PHMSA, 1.8  pipeline incidents occur every day on average in the U.S., and with the industry's stated goal of "zero pipeline incidents", better analysis methods are needed.
OneSoft Solutions (TSXV:OSS, OTC:OSSIF), a Sophic Capital client, has a machine learning/predictive analytics SaaS platform that identifies threats to potential pipeline failures before they occur. With Phillips 66 (NYSE:PSX), an energy Super Major, and several other Fortune 500 clients, OneSoft's machine learning solution is currently keeping about 51,000 miles of America's pipeline corridors safe. OneSoft's sales pipeline continues growing, insiders own 34% of issued and outstanding shares, and OneSoft is fully financed and has no debt.
ESG investors may want to consider OneSoft Solutions (click HERE for a software demo). OneSoft has vastly improved its clients' ability to detect potential pipeline leaks and explosions (the "environmental" in "ESG"), keeping communities safe (the "social" in "ESG") as well as exceeding regulatory compliance requirements (the "governance" in "ESG"). And if pipelines are here to stay for the next few decades, it's imperative that all stakeholders – activists, governments, regulators, operators, and investors – adopt OneSoft's mission: "We predict pipeline failures, save lives and protect the environment … with the assistance of data science and machine learning" in order to maximize safety and protect lives and the environment.
Disclaimer
The information and recommendations made available through our emails, newsletters, website and press releases (collectively referred to as the "Material") by Sophic Capital Inc. ("Sophic" or "Company") is for informational purposes only and shall not be used or construed as an offer to sell or be used as a solicitation of an offer to buy any services or securities. In accessing or consuming the Materials, you hereby acknowledge that any reliance upon any Materials shall be at your sole risk. In particular, none of the information provided in our monthly newsletter and emails or any other Material should be viewed as an invite, and/or induce or encourage any person to make any kind of investment decision. The recommendations and information provided in our Material are not tailored to the needs of particular persons and may not be appropriate for you depending on your financial position or investment goals or needs. You should apply your own judgment in making any use of the information provided in the Company's Material, especially as the basis for any investment decisions. Securities or other investments referred to in the Materials may not be suitable for you and you should not make any kind of investment decision in relation to them without first obtaining independent investment advice from a qualified and registered investment advisor. You further agree that neither Sophic, its, directors, officers, shareholders, employees, affiliates consultants, and/or clients will be liable for any losses or liabilities that may be occasioned as a result of the information provided in any of the Material. By accessing Sophic's website and signing up to receive the Company's monthly newsletter or any other Material, you accept and agree to be bound by and comply with the terms and conditions set out herein. If you do not accept and agree to the terms, you should not use the Company's website or accept the terms and conditions associated to the newsletter signup. Sophic is not registered as an adviser or dealer under the securities legislation of any jurisdiction of Canada or elsewhere and provides Material on behalf of its clients pursuant to an exemption from the registration requirements that is available in respect of generic advice. In no event will Sophic be responsible or liable to you or any other party for any damages of any kind arising out of or relating to the use of, misuse of and/or inability to use the Company's website or Material. The information is directed only at persons resident in Canada. The Company's Material or the information provided in the Material shall not in any form constitute as an offer or solicitation to anyone in the United States of America or any jurisdiction where such offer or solicitation is not authorized or to any person to whom it is unlawful to make such a solicitation. If you choose to access Sophic's website and/or have signed up to receive the Company's monthly newsletter or any other Material, you acknowledge that the information in the Material is intended for use by persons resident in Canada only. Sophic is not an investment advisor nor does it maintain any registrations as such, and Material provided by Sophic shall not be used to make investment decisions. Information provided in the Company's Material is often opinionated and should be considered for information purposes only. No stock exchange or securities regulatory authority anywhere has approved or disapproved of the information contained herein. There is no express or implied solicitation to buy or sell securities. Sophic and/or its principals and employees may have positions in the stocks mentioned in the Company's Material and may trade in the stocks mentioned in the Material. Do not consider buying or selling any stock without conducting your own due diligence and/or without obtaining independent investment advice from a qualified and registered investment advisor. The Company has not independently verified any of the data from third party sources referred to in the Material, including information provided by Sophic clients that are the subject of the report, or ascertained the underlying assumptions relied upon by such sources. The Company does not assume any responsibility for the accuracy or completeness of this information or for any failure by any such other persons to disclose events which may have occurred or may affect the significance or accuracy of any such information.
The Material may contain forward looking information. Forward-looking statements are frequently, but not always, identified by words such as "expects," "anticipates," "believes," "intends," "estimates," "potential," "possible," "projects," "plans," and similar expressions, or statements that events, conditions or results "will," "may," "could," or "should" occur or be achieved or their negatives or other comparable words and include, without limitation, statements regarding, projected revenue, income or earnings or other results of operations, strategy, plans, objectives, goals and targets, plans to increase market share or with respect to anticipated performance compared to competitors, product development and adoption by potential customers. These statements relate to future events and future performance. Forward-looking statements are based on opinions and assumptions as of the date made, and are subject to a variety of risks and other factors that could cause actual events/results to differ materially from these forward looking statements. There can be no assurance that such expectations will prove to be correct; these statements are no guarantee of future performance and involve known and unknown risks, uncertainties and other factors. Sophic provides no assurance as to future results, performance, or achievements and no representations are made that actual results achieved will be as indicated in the forward looking information. Nothing herein can be assumed or predicted, and you are strongly encouraged to learn more and seek independent advice before relying on any information presented.