Renoworks Software Inc. (TSXV:RW, OTC:ROWKF) is a business-to-business ("B2B") software company that develops digital visualization solutions for the home renovation and new home construction industry. Its marketing efforts presently focus selling on its building product visualization platform to the top manufacturers, distributors, retailers and contractors in the United States and Canada. We recently spoke with CEO Doug Vickerson to learn more about the company. Doug has spent the past year focused on diligently executing his business strategy and reaching record revenue growth; however, the stock remains under the radar of the capital markets community.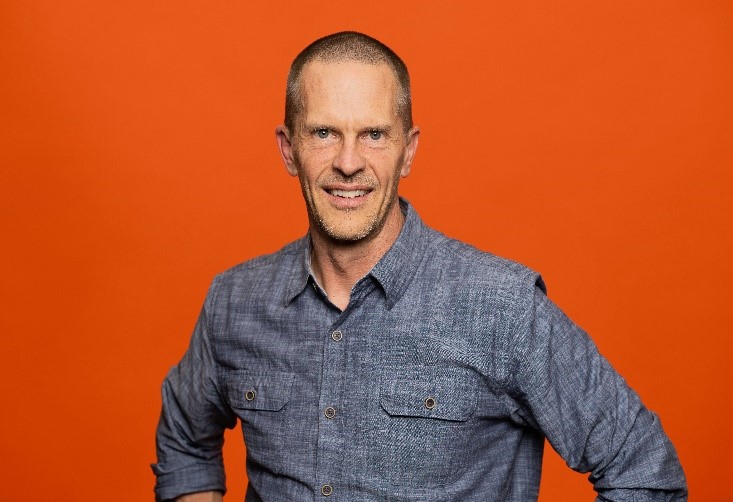 Renoworks CEO Doug Vickerson
Q: Doug, Renoworks provides digital visualization solutions for the residential construction industry and home renovators. Please explain what "digital visualization" means.
A: Most people can't envision, or imagine with a high degree of fidelity, what their planned home renovations or new home build will look like. This often leads to lost sales opportunities and a less than satisfactory homeowner experience due to wasted time, money, and perhaps lower added value to the consumer's home. Renoworks' "digital visualization" platform and services allow homeowners to "see" what a completed project will look like using extensive libraries of manufacturer products. Homeowners, designers, and contractors all use Renoworks' platform to experiment with various ideas, and eventually pick a design that best meets the homeowners' needs so they can make a better design decision. This is the problem Renoworks solves.
Q: You mentioned your end users include homeowners. Are they your customers?
A: The homeowner is our primary end-user, and we focus our efforts on giving the homeowner the best design and product-selection experience possible. However, we're a B2B software company, meaning we sell our software to other businesses. Our actual customers are large manufacturers, distributors, and retailers who want a branded visualization platform on their websites that homeowners can use to visualize their products on their own homes and, as a result, be more likely to buy those products. Our customers purchase these "powered by Renoworks" visualizer platforms to increase their sales, by using our platform as a way to generate qualified leads, help consumers visualize their products and influence their decision to purchase, and provide a tool to enable their dealer, builder, and contractor customers to better sell their products on to the homeowner.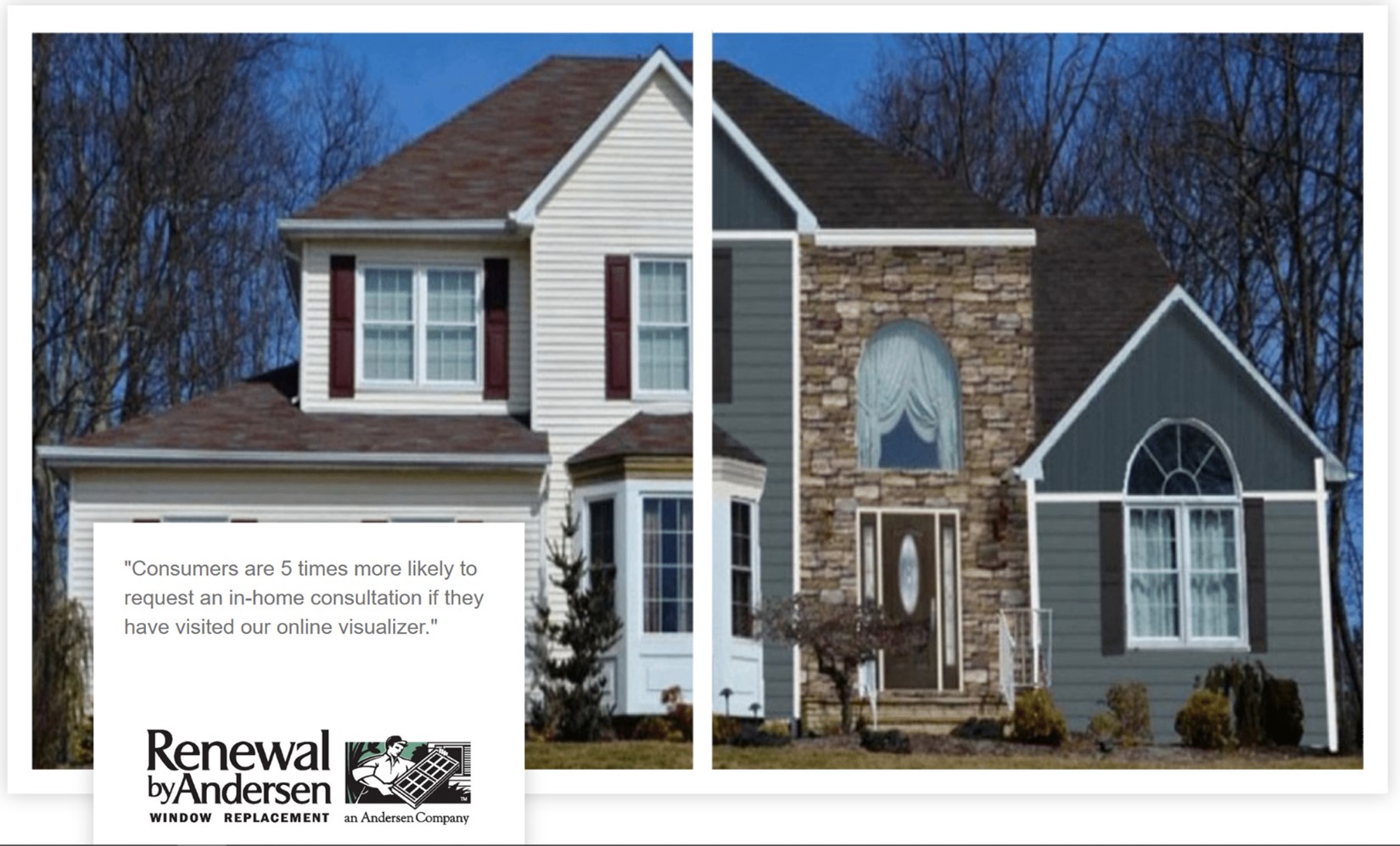 Q: How does a homeowner engage with Renoworks' digital visualization software?
A: They engage with one of our clients' branded visualizer platforms, either remotely or at our clients' brick-and-mortar locations. We have on average 3 million "interested" homeowners who engage with our platform each year. "Interested" is key because they actively engage with the Renoworks' platform through a client's website or brick-and-mortar location. This means they are effectively a warm lead that our clients can follow up with or the software has already influenced their decision and they have made a purchase.
Q: That's interesting that homeowners engaging with your platform are potential customers for your partners. What does Renoworks do to help turn that warm lead into a paying lead for your partners?
A: It's all about increasing engagement, giving homeowners the tools to define and visualize their project. Our tool is unique and helps the homeowner to see how various products and designs will look on their home. Compare our digital visualization tool to how homeowners typically select building materials – they often go online and input search options that return a list of products, or they look on Pinterest or Instagram at pictures of similar homes with those products. However, they don't know how those specific products will look on their own homes and how these changes will fit into their existing designs. Same thing if the homeowner goes to a home center – there, they can physically scrutinize building materials, but they don't know how their project will look once completed. By making that choice easy to visualize on their homes, we increase the likelihood of the homeowner lead converting into a sale.
Q: Is the broader construction industry a laggard industry for adopting new technologies?
A: When it comes to product innovation, tools, materials, and construction techniques, it is an industry that has continually embraced new technologies for decades. However, when it comes to digital adoption, the industry has embraced it slower than others, particularly when it comes to sales and workflow tools that end-consumers interact with.
Q: How do you get a laggard industry to adopt Renoworks' solution then?
A: We approach them by telling them that we have an average of 3 million homeowners per year who are actively using our client's visualizer tools to make a purchase decision. These are highly qualified leads from a sales perspective who very well might never have the confidence or assurance to buy your product if you're not able to show them exactly what it will look like on their home. In addition to influencing purchase decisions and generating qualified leads, our platform also provides detailed behavioral analytics on the products and designs the consumer engaged with, as well as demographics, sources and more. This data is very important to our clients because it informs their product development, marketing, and sales strategies.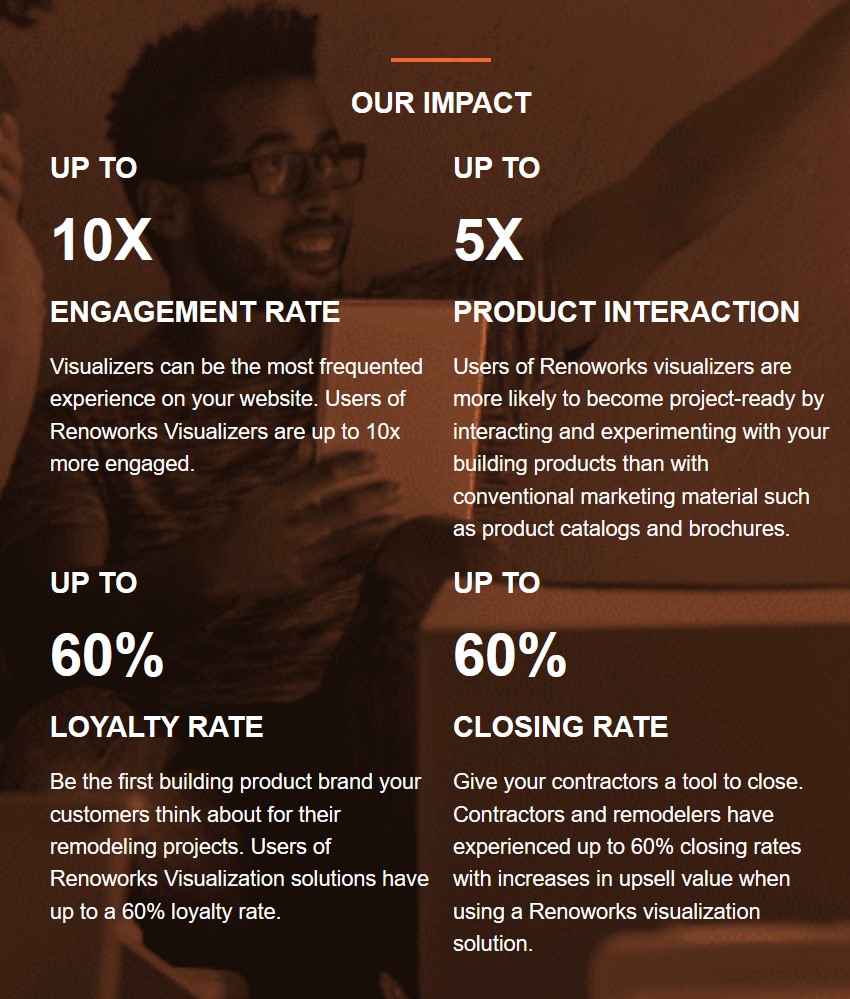 Q: It sounds like an important part of Renoworks' digital visualization workflow tools and services is to help manage the home remodelling process. Let's dig into this a bit more; can you discuss the phases in the remodelling process where Renoworks comes in as a solution?
A: Our approach to designing the platform is to look at the entire customer journey, or what we call the "value chain", of how a homeowner initiates and completes a remodelling project. The incumbent remodelling process demands a lot of attention to ensure projects are completed correctly, safely, on time, and on budget. It is a long and tedious process rife with indecision, lack of accountability, and miscommunication due to the lack of centralization. In simple terms, the homeowner and contractor are the value chain participants (Exhibit 1). The homeowner is responsible for idea creation, selecting the contractor, and then approving the completion of the project. The contractor translates the homeowner's remodeling ideas into a design with measurements and a bill of materials needed to provide a quote and contract, purchases the building materials from our clients (the manufacturers), and then brings the project to fruition. If the contractor did a good job, the homeowner gives a referral which drives more business for the contractor. That's the value chain.
Exhibit 1: Home Remodeling Value Chain


Q: Where does Renoworks fit in the remodeling value chain?
A: We enable our clients to capture more value throughout the value chain. At the very start, we inspire and engage the homeowner to undertake a project through one of our clients' visualizer platforms. We then send the homeowner to the client who links them with a certified contractor or dealer. We provide the tools for the homeowner to start designing their project and collaborating with their contractor. We provide the contractor with the tools to remotely measure the property without the home visit, hold a virtual or in-home presentation and close the sale. Finally, we provide design reports, services, and consultations to help the homeowner make a final decision post-sale and visually facilitate the communication between the contractor and their installation team in respect of what needs to be installed on the home and where. We then provide all of the analytics data on these events to the client who can use them to achieve their business objectives, whether it's better understanding their customer's journey, shortening the time from initial inspiration to purchasing their product, or anything else they want to accomplish with better data.
Q: Earlier you mentioned the problem you solve for homeowners. Can you briefly tell us about Renoworks' value propositions for construction material manufacturers, material supplies, builders, and contractors?
A: Sure. Renoworks' product visualization solutions are used by over 3 million users annually, so construction material manufacturers benefit from increased exposure, qualified leads, engagement, sales, and analytics insights. Material suppliers use our platform as a sales tool to help their customers visualize home renovation and construction options. Builders get to showcase their design options to potential new home buyers. Finally, contractors use our platform as a lead generation and sales tool to make more sales, upsell customers and distinguish themselves from the competition. We also deal with a lot of marketing agencies who represent one or more of these types of clients. They use our solution to help their clients sell more products as part of a larger marketing campaign.
Q: What types of home visualization technology does Renoworks use?
A: Our flagship product is photo-realistic visualization. The user uploads a photo of their home and either manually or with the assistance of our artificial intelligence ("AI") auto-recognition software. Then they prepare and design their home with building product overlays, so the final rendering looks very realistic. A user can also use our professional design service, and we will do it for them. We also offer interactive 3D models with accurate measurements, which allows the homeowner to view the design from all angles.
Q: How does Renoworks create a 3D model of the homeowner's home?
A: We have a partnership with EagleView, an aerial imagery and property data provider owned by Vista Equity Partners and Clearlake Capital Group. They do aerial imagery mapping and provide roof, wall, and even gutter measurements on homes, which we translate into design-ready, interactive 3D models of the home. All of this is done just by typing in the home address with no home visit required.
Q: Walk me through how you work with EagleView when one of your end-users wants to renovate their home.
A: An example might be the best way to illustrate this. Let's say, for example, a homeowner wants a new roof. All they have to do is type in their home's address into our platform (or one of our client's branded platforms) and EagleView's technology will provide the measurements for the roof's area, pitch, length of ridges, hips, valleys, rakes, eaves, flashing, and step flashing. We receive the roof data from EagleView and use it to generate a 3D model that is displayed in our platform.
 Q: Once Renoworks has created a 3D model from EagleView's data, how does the project proceed?
A: The customer can then use the model to visualize how their renovations will look using our library of construction material products. We have access to the digital models of products from most of the largest providers of building materials in North America. Renoworks' customers select several product options – roofing shingles for example – and see how their roofs will look with different materials and colours. They can look at their roof and home from all angles and choose the option that best meets their needs and suits their design aesthetics and functional requirements. Beyond roofing, we can also do the same thing for siding, windows, and doors.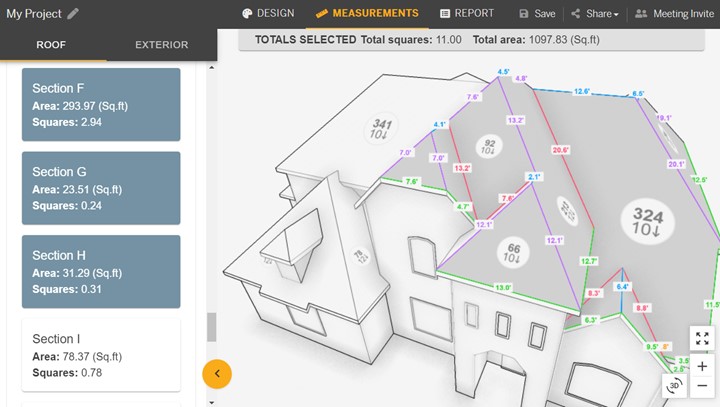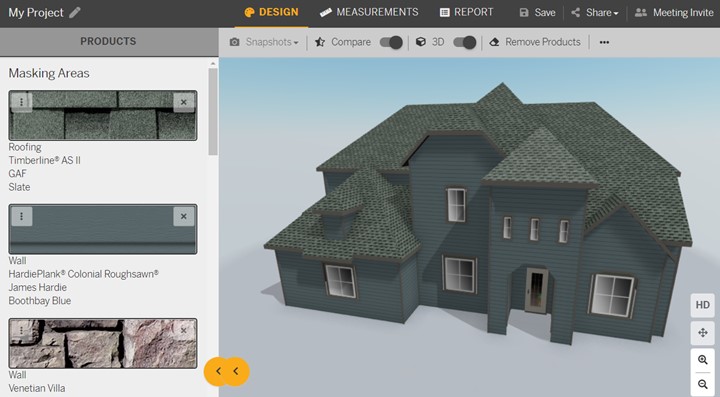 Q: Is there anything else that the homeowners get besides a model of what the completed project will look like with the selected building materials?
A: The homeowner gets all of their home's measurements. Furthermore, Renoworks can introduce them to local contractors either through a Renoworks-branded platform or one of our branded client platforms.
Q: What you described sounds like a customized marketplace enabled by your software.
A: That's a good way to describe it. The homeowner is the marketplace customer and the construction material manufacturers, material suppliers, builders, contractors, and marketing agencies using our platform are the marketplace providers.  Our customers purchase these "powered by Renoworks" visualizer platforms to increase their sales, by using our platform as a way to generate qualified leads, help consumers visualize their products and influence their decision to purchase, and provide a tool to enable their dealer, builder, and contractor customers to better sell their products on to the homeowner. Our manufacturing customers purchase these "powered by Renoworks" visualizer platforms to increase their sales by helping consumers visualize specific products on their homes.  The platform acts as a lead generator that puts the dealers, builders, and contractors to be in a better position to sell their products to the homeowner.  The data trail along the way can be very useful from the perspective of how qualified the lead may be to actually purchase in the next 30, 60 and 90 days.  
Q: How many building product manufacturer libraries does Renoworks have access to?
A: We have partnerships with about 350 different manufacturers to use their product libraries. This gives our users a tremendous selection of products to design and visualize their projects. In fact, a far broader selection than they can get in person at any physical store. Remember, we get on average 3 million unique users per year accessing our platform. On average, those unique users have 32 million product interactions annually, this also provides us with a rich data set as to customer preferences and trends.