What is Community Solar?
Community solar provides equal access to the economic and environmental benefits of solar energy, allowing individuals and businesses to unlock power bill savings without having to install their own solar systems. Solar energy has become extremely affordable and community solar enables everyone to access the benefits of green and cheap energy production.
A significant factor driving the adoption of community solar is that 80% of U.S. households and over 90 percent of businesses cannot install solar themselves. For households, that is because they are renters, live in condos, have shading issues, or just can't afford it. For businesses, it's because they lease their premises and/or are in a multi-tenant environment. This is the primary reason why community solar represents a massive market opportunity, much bigger than residential or commercial on their own.
Community solar is simple. People who want access to clean energy can subscribe to larger solar projects built on commercial property rooftops, unused industrial land, or public spaces and receive credits to offset their utility bill. Energy generated by community solar projects feed the utility grid. The utility will then credit each community solar subscriber's electricity bill with the energy generated from the subscriber's share of the community solar project, thus lowering the subscriber electricity bill (also known as virtual net metering).
Solar's Increasing Popularity and Sector Growth
U.S. solar energy generation has been rising since 2018 (Figure 1) with community solar among the fastest growing segments for competitive energy (Figure 2). In fact, solar has been close to half of all new energy capacity built in the U.S. over the past three years as solar costs continue to fall.
Exhibit 1: New U.S. Electricity-Generating Capacity Additions, 2010-2021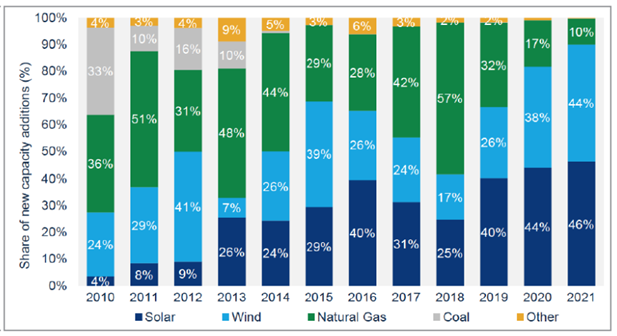 Exhibit 2: Cumulative U.S. Community Solar Installations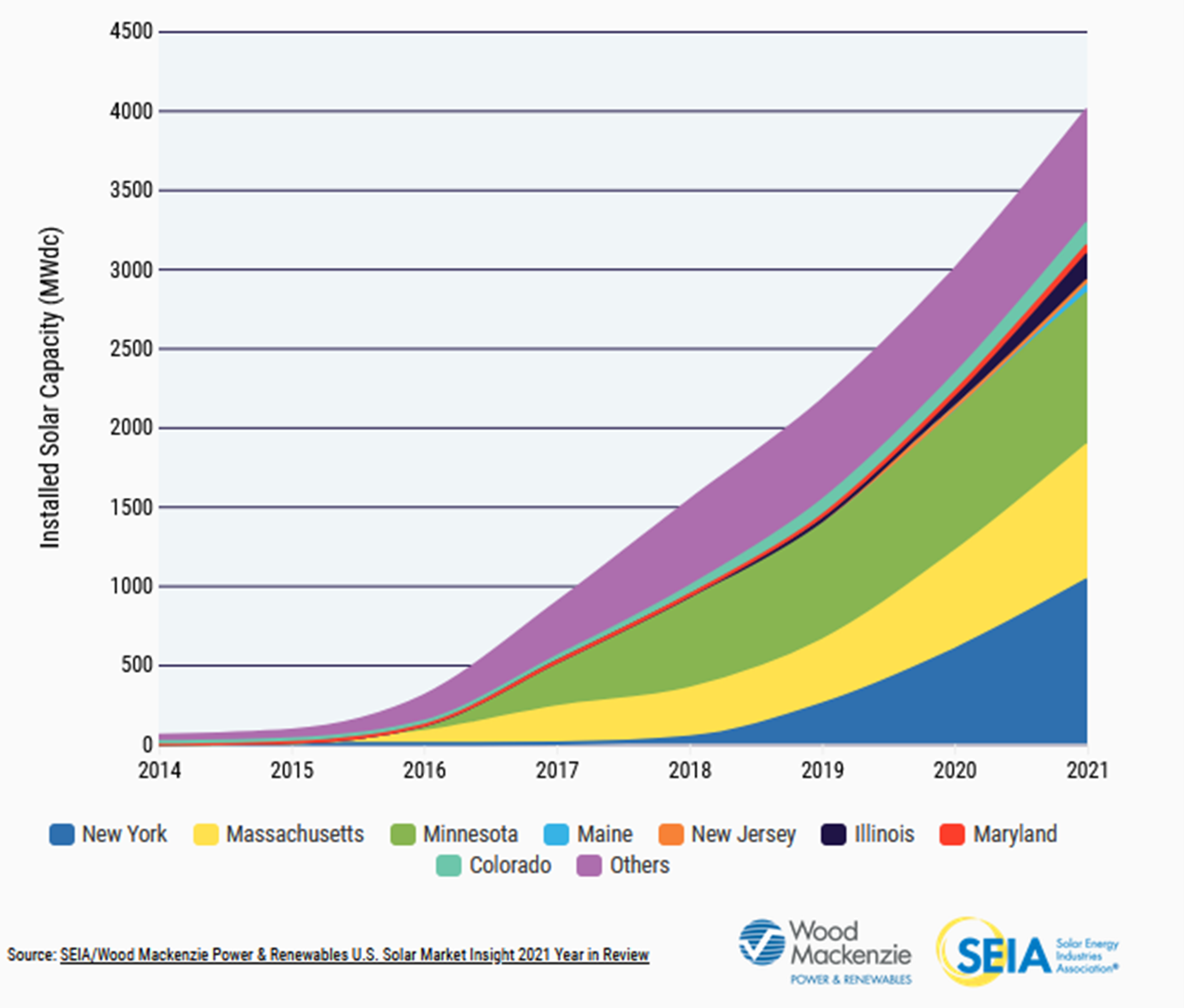 The U.S. solar market installed a record 23.6 GW of solar capacity in 2021, a 19% increase over 2020. Of that, community solar was 957 MW, representing 7% year-over-year growth.  Growth is expected to pick up from here: in October 2021, the U.S. Department of Energy (DOE) announced its National Community Solar Partnership (NCSP) target. This program was designed to enable community solar systems to power the equivalent of 5 million households by 2025 and create US$1 billion in energy bill savings. Upon program inception there were roughly 600,000 households, so reaching the DOE's NSCP 5 million household target would equate to a more than a 700% increase in just four years. With 75% of community solar projects installed thus far in just four states but 22 states passing enabling legislation in 2021, this sector appears ready for rapid growth.
Incentives to Develop Community Solar Projects in the U.S.
Achieving the DOE's goal of powering 5 million homes with community solar by 2025 requires significant commitments from state and federal policy makers.
In 2006, the U.S. Government enacted the solar Investment Tax Credit (ITC), contributing to the industry's 33% average annual growth rate over the last 10 years. The ITC provides a one-time tax credit for qualified installed costs equivalent to 26% for systems installed in 2020-2022 and 22% for systems installed in 2023.  To incentivize community solar adoption, the IRS also allows taxpayers to claim tax credits.
As of now, the ITC is set to sunset to a permanent 10% level in 2024 but has received bipartisan extensions several times over the years. The Biden Administration has publicly stated support for a 10-year extension at the 30% level which, if passed, would be a further boon to the industry.
Recently, the U.S. Commerce Department was investigating whether imports of solar panels from Cambodia, Malaysia, Thailand, and Vietnam were circumventing tariffs on goods made in China. On June 5, 2022, President Biden declared a 24-month tariff exemption to further encourage expansion of America's solar power generating capabilities, while leveraging the Defense Production Act to spur domestic manufacturing. In time we will be able to measure the significance of these moves on further lowering the costs of solar in the U.S.
In addition, several states provide additional incentives for community solar, providing solar credits at or lower than current retail electricity rates.
NY – Advancing low-income solar access via the Reforming the Energy Vision (REV) initiative, Energy Affordability Policy (EAP), and its Green New Deal initiative (goal for 100% of the state's power to be carbon-neutral by 2040), increasing the Clean Energy Standard to 70% renewable electricity by 2030.
MA – Community solar in Massachusetts is supported by the Green Communities Act of 2008, subsequent revisions to that law, and regulatory implementation. The new incentive structure is the Solar Massachusetts Renewable Target (

SMART

) program, which aims to incentivize an additional 1,600 megawatts of solar development.
ME – In 2019, the Maine Legislature passed legislation to encourage the development of solar and other small renewable energy projects. As a result, programs now provide opportunities for both residential and non-residential customers to participate and share the costs and benefits.
MD – Maryland's Renewable Portfolio Standard was established in 2004 to capture renewable energy's economic, environmental, fuel diversity, and security benefits. In response, Maryland's Public Service Commission has adopted regulations to accelerate community solar adoption and enacted community solar pilots and programs to encourage up to

418 MW of community solar power development.
CA – California's State Assembly has recently passed AB 2316, which would boost low-income community solar and storage projects.
These incentives and tax credits are advancing the nascent but growing community solar energy industry. As of December 31, 2021, community solar projects could be found across 39 states plus Washington D.C.  Twenty-two of those 39 states plus D.C. have programs and policies that support community solar, and over 3,200 MWac  has been developed. About 74% of the total market is concentrated in the top four states, showing the potential as additional states scale: Florida (1,636 MWac), Minnesota (834 MWac), New York (731 MWac), and Massachusetts (674 MWac).
For solar developers, one of the advantages of community solar is that such projects generate energy credits that offset retail electricity rates. By comparison, utility scale projects will in most cases contract to sell their energy at wholesale rates, which are significantly lower. The result is significantly higher revenue-per-MW for community solar projects, which help to drive higher investment returns, as well.
Risks
Disruptions in the global supply chain are having industry wide impacts. Fluctuating costs of components, labour, and freight are being coupled with uncertainty in China.
Permitting and studies can delay projects; however, the Biden Administration is seeking to streamline the process for renewable energy infrastructure projects.
Competitive labour market driven by skills gap and labour shortage

.
Ensuring subscriber demand: companies are responsible for ensuring that energy credits produced by solar facilities are subscribed to by energy users, the price of which may vary.
Regulatory compliance and laws vary by state regarding net metering and interconnection.
Competitive Landscape
Community solar is the smallest segment of the U.S. solar market; however, it is growing rapidly and would undeniably represent the fastest growing segment should the DOE's 2025 goal be met. As such, there are not many ways for investors to participate outside of the following companies:
Altus Power (NYSE:AMPS) offers commercial, industrial, and community solar customer-focused solutions across the U.S. At the end of Q1 2022, the company had about 40MW of community solar power generation serving 5,000 customers and had another 55MW under construction.
ReneSola (NYSE:SOL) is a developer of solar energy projects. In the U.S., Renesola Power has late-stage community solar projects in Minnesota, Maine, and New York. It also has projects under development in California, Florida, Pennsylvania, and Illinois.
UGE International (TSXV:UGE, OTCQB:UGEIF), a Sophic Capital client, develops, builds, finances, and operates commercial and community solar projects in the U.S. as well as provide engineering and consulting services worldwide. UGE has over 500 MW of solar project experience since its founding in 2010 and currently has 334MW of projects in development, the vast majority of which are community solar. UGE also develops commercial solar projects in the Philippines.
UGE's Value Proposition
UGE seeks unused rooftops or plots of land, becomes a tenant, and develops community solar projects to operate long-term. Energy users then subscribe to buy the energy credits generated by the community solar projects, which are used to offset subscribers' energy bills. The primary incentive for real estate owners comes by way of lease payments, while energy users benefit from accessing cheaper energy (that is also green). Certain regions, like New York City where UGE is very active, have mandated that solar energy must be installed on new commercial buildings. By deploying a robust community solar strategy, UGE realizes multiple revenue and cost benefits:
Utilize unused and inexpensive "land". UGE leases unused commercial real estate (CRE) roof space from owners to generate power at lower cost than prevailing utility rates. These roof tops, plots of land, and the space above parking lots (for solar canopies) are analogous to cheap "land" and serve as low cost, key capital inputs.
Provide inexpensive electricity. By locating community projects in dense urban areas where energy demand is high, UGE optimizes "land" use. Lower transmission costs for localized projects mean UGE projects provide power cheaper versus established utilities. CRE owners leasing roof tops can also arrange to purchase the solar power from UGE's projects through Power Purchase Agreements, usually at rates 20-50% below utility rates. For example, in New York, by UGE leasing roof space for US$1 per square foot, energy consumers on the community solar programs could save 10% off their electricity costs. This provides CRE owners with a new source of revenue and lowers electrical costs for energy consumers, with no additional burden placed on either group.
UGE's business model removes risk for property owners. CRE property owners do not have to involve themselves in the design, deployment, financing, selling, or operation of generated solar power.
Provide new revenues for CRE owners. By leasing CRE roof tops to install solar projects, UGE provides building owners with new revenues without placing additional burdens on them.
Long term, recurring revenues. Typically, project durations are at least 25 years in the U.S. and often include one-way options allowing UGE to extend the project up to 40 years. Once the project is deployed and commissioned, it begins generating high margin recurring revenue for UGE.
UGE International is small but growing. The Company has 1.4MW of operating assets, 1.5MW of projects under construction, 173MW of project backlog, 334MW in development, and over 1GW in its pipeline. UGE is targeting 100MW of operating assets by 2024 and adding 100MW of project development capacity annually thereafter. Each MW of operating assets could provide US$500,000 to US$1 million of net retained value (the Company's current market capitalization is about CAD$35 million) (Figure 3).
Exhibit 3: UGE International's Capital Structure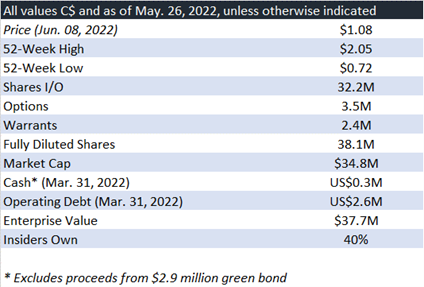 Source: Company reports, Sophic Capital
Exhibit 4: One of UGE International's Community Solar Installations