Sophic Capital is pleased to introduce you to our new client UGE International (UGE:TSXV; UGEIF:OTC).
UGE International ("UGE" or the "Company") is a solar and renewable energy solutions company leading the renewable energy transition. The Company is a turnkey developer of community and commercial solar projects. UGE also finances, owns, and operates its own solar projects. Led by a management team with decades of accumulated experience in renewables, capital markets, and real estate, we believe this is a company that will appeal to investors interested in ESG, renewables, and solar power generation. Insiders own over 50% of shares, which should appeal to investors who believe an owner/operator mindset aligns with shareholder interests.
We spoke with CEO Nick Blitterswyk, to learn more about the Company and its opportunities.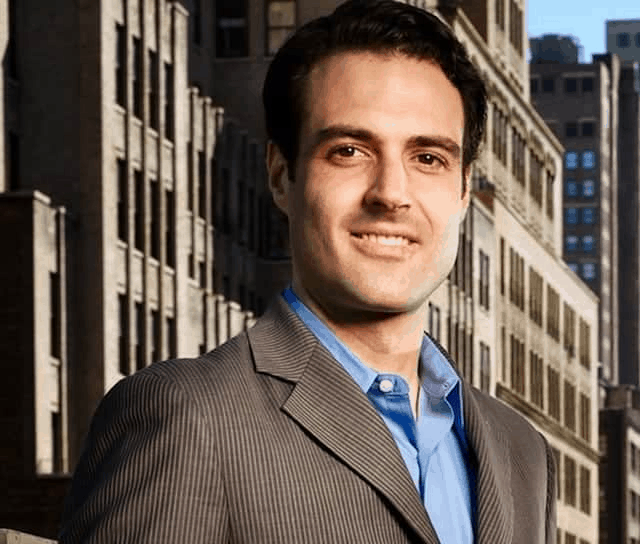 Q: Nick, tell us about what problems UGE solves?
A: Commercial solar, that is the installation of solar energy systems to generate power in the mid-scale market, is growing rapidly due to improving economics for solar. Hardware, software solutions, and project capital have all seen costs decrease significantly over the past couple decades and, at the same time, regulatory support and incentives to promote solar have continued to increase, leading to solar being the cheapest form of energy in much of the world, as witnessed by solar accounting for 40% of all new energy in the U.S. last year. UGE has taken advantage of these secular trends to establish its position as a leading developer, builder, and financier of commercial solar projects.
Q: How does UGE generate revenue from its projects?
A: There are two ways UGE generates revenue. The first is to develop, finance, and build our own end-to-end projects. This provides the highest margins due to the recurring nature of the revenues. Second, some of our projects are developed, built, and then sold, usually to entities like an investment fund. Previously, we also built projects for other solar developers, but we exited this business in 2019 as margins are lowest in this area of the sector.
Q: What are your typical gross margins across UGE's revenues?
A: Across our revenue mix we look to average gross margins of at least 23% but have seen actual results average over 25% over the past year and a half after exiting the build-for-others business.
Q: So, to clarify, do you manufacture solar panels and the systems to connect them?
A: No. We are not a manufacturer. We procure third-party components from Bloomberg Tier 1 manufacturers to build our projects, so on the build-out side we are an integrator of technology.
Q: What's driving your clients to adopt solar solutions?
A: There are two things that immediately resonate. The first is that our clients immediately benefit, without needing to put any money down; they just have to give us space to build, such as their rooftop, a parking lot, or open land. We take care of the rest, making it a very simple proposition for them.
And second, solar energy is simply cheaper than energy from the grid, meaning that the consumers of the electricity we generate – whether the host building or other off-takers – don't pay anything up front, and then get lower energy bills.
Q: How much cheaper is the electricity from solar versus the grid?
A: Different utilities have different rates, and projects have different structures, but we only focus on markets where we save every client money. If the host building is directly consuming the energy, their savings usually range between 20 to 40%. But one of the fastest growing aspects of our business is community solar, wherein any consumer of energy within the same utility zone can subscribe to buy electricity from our solar systems. By increasing the field of potential energy users, our pricing power increases, meaning we increase the value of our projects, as well.
Q: What's the incentive for customers that elect to move forward with UGE?
A: For our clients, it is quite simple. In the case of community solar, we are becoming a new tenant, often on an otherwise unused rooftop, and therefore increasing the client's rental income. For clients that are consuming the energy directly, the primary incentive is a cheaper cost of power.
Governments across the United States and Canada also provide all kinds of economic incentives for both these clients and UGE, including: investment tax credits, property tax abatements, SRECS (solar renewable energy certificates), and other performance-based incentives. Some regions even mandate that solar energy must be installed on new commercial buildings, such as in New York City.
Q: Going back to your rooftop projects, are they becoming a bigger part of your business?
A: Absolutely. Commercial rooftops are the core component of our business, especially in places like New York City, where last year, New York's city council passed The Climate Mobilization Act. This Act amends the building code such that roofs of large commercial buildings will have to either be equipped with either a) green roofs (a garden), or b) solar photovoltaic systems.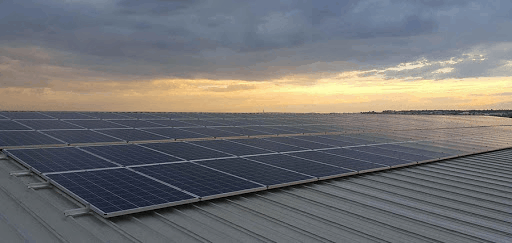 Q: How big could New York City be?
A: Our analysis is ongoing, but we've identified a $1.2 billion total addressable market so far, just in NYC. Most exciting is that just a few percentage points have been captured so far, with UGE as one of the leading players; we expect a lot of growth in the commercial solar market throughout the decade.
Q: Is there a forward-looking metric like bookings or backlog that investors can utilize to monitor the progress your business is making?
A: We believe backlog, which we regularly update in our quarterly financials, is a good forward-looking metric as a measure of our future growth. Based on backlog, our business is scaling very well this year, even with the shutdowns due to the COVID 19 pandemic. At the beginning of the year, our backlog was about US$30 million. We exited our first quarter (ending March 31) with a backlog of approximately US$72 million, making it the strongest quarter for new bookings in the Company's history. In general, we expect to convert this backlog into revenue over approximately 24 months.
Q: How has the coronavirus pandemic affected your pipeline and your business?
A: There are multiple components to our business, and not all were affected in the same way. On the one hand, construction slowed down from about mid-March to late May, which slowed the conversion of backlog into revenue. We've now seen restrictions ease, and we are back on site in all our markets.
On the other hand, new bookings have been very strong, as witnessed by our first quarter backlog growth which was the highest in the Company's history. We believe this is being driven by the overall climate for solar, but also a drive for real estate owners to seek new sources of revenue, and cut costs, both of which we help with.
Q: How much of a revenue impact did COVID 19 have on your most recent quarter, which ended March 31, 2020?
A: Q1 revenue declined year-over-year for three reasons. First, in late 2018 we decided to exit the low margin "EPC" business, in which we built projects for other developers, and the comparable quarter was the last one in which we recognized material revenue from that business unit. Second, our self-financed projects, which are higher margin and a bigger share of our current revenue, generally result in revenue once the project is operational; in other words, slower initially. And finally, COVID 19 did prevent the Company from making construction progress starting in March. We believe this should improve from the September quarter, all else equal.
Q: What type of businesses have you worked with?
A: Generally speaking, we target large, preferably flat rooftops, but within that the variety is quite large. We've done schools in Toronto, warehouses in New York, and bottled water plants in the Philippines. With the growth of online shopping and retailers like Amazon, distribution centers have become a growing part of our business.
Q: How did you find opportunities in the Philippines?
A: There's a story there. Earlier in UGE's history we had quite a wide international footprint, though at a smaller scale. During that time, we met Ramon Fernandez, a retired basketball star, in the Philippines and found we had a shared interest in solar. As we researched the market we found a large country, that mostly conducts business in English, with strong economics for solar.
We've been working in the Philippines since July of 2016. We initially developed a relationship, through Ramon, with Philippine Spring Water Resources, the country's largest bottled water company. That initial opportunity led to several additional projects with the client in the following years, and eventually other clients followed suit.
We've since developed several commercial solar projects there and will continue to expand our customer base through the simple fact that solar is significantly cheaper than the grid – as much as half the cost in many cases. This is a strong and growing market for UGE – in 2019, the Philippines generated over 18% of our revenue – and is consistently profitable for us, as well.
Q: Turning to the competitive landscape, how does UGE stand out from its competitors?
A: The commercial solar market is still very fragmented. Against our peers, we really stand out for having our turnkey platform, that allows our clients to work with one party from the project's origination all the way through to project operation. This makes us more efficient, allows us to capture higher margins, and gives us an enhanced opportunity to build repeat business with our clients, almost all of which own multiple buildings.
Within the capital markets, this comparison is also apt, as our peers are generally focused on the EPC portion of the business which is a tough area to make a profit in, as we've learned from experience. In this industry it's true that not all revenue is created equal.
Q: What would you say is your secret sauce to winning new business?
A: We find that investors really underappreciate what it means to be a solar developer: it's not like we're selling a product or solution! Being hyper focused on good local solar markets, being in those markets and putting together all the secret ingredients to make a profitable solar project is how we earn outsized returns. Whenever you cross a state line the economics change drastically, so you really need to know your markets.
Q: Turning to your shares, what has really impressed Sophic Capital is management's equity stake. Could you walk us through your shareholder philosophy?
A: Insiders own over 50% of the shares, with management, our board of directors, and my initial investors showing a lot of support in our vision throughout the Company's history. We think that if a management team believes in an opportunity then their money should be alongside investor money. We're focused on building a profitable company, with a strong and growing recurring revenue base, and have a lot of growth opportunities ahead of us that should benefit all stakeholders.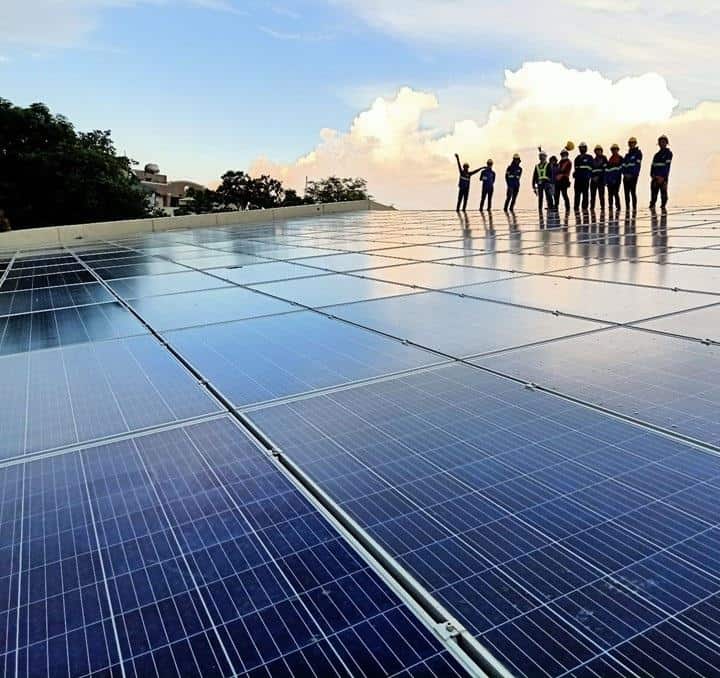 Q: That's a high level of insider ownership.
A: Yes. As of May 28, 2020, there were only about 24.1 million shares issued and outstanding. We also have limited corporate debt on the balance sheet, so as our business scales, this should give some torque to investor returns.