A good Navy is not a provocation to war. It is the surest guaranty of peace.
President Theodore Roosevelt
History
Naval power is a foundation to prosperity. History has shown us that empires were established by dominating the sea. The Dutch, Spanish, and English gained global economic dominance by commanding the sea. And as demonstrated in March 2021 Suez Canal blockage by the Evergreen ship, unobstructed flow of commercial ships is crucial to the global economy.
Ruling the seas often came with infrequent disruptions to marine capabilities.  During World War II, Nazi Germany and Imperial Japan were major sea powers, largely through the additions of submarines to their fleets (the first known submarine plans date back to 1578 with the first prototype developed at the start of the 17th century).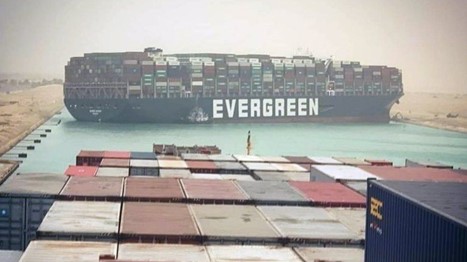 $9.6 billion of goods were held up each day by the Evergreen blockage of the Suez Canal.
Source: BBC
Today, the United States controls the seas, especially underwater. America's Navy operates 68 submarines, but China is a contender to the U.S. title. The U.S. Office of Naval Intelligence notes that in 2015 the Chinese navy had 57 diesel-electric submarines and five nuclear attack submarines. By 2030, China could have 60 diesel-electric subs and a minimum of 16 nuclear attack submarines.  Russia is perhaps America's closest submarine peer – not by number (approximately 58) but by the fact that almost half are nuclear powered (versus 52 in the U.S. Navy) and have similar capabilities to the American fleet.  
Going forward, ruling the seas won't be about operating manned ships above and below the surface – we believe robotics will determine superiority.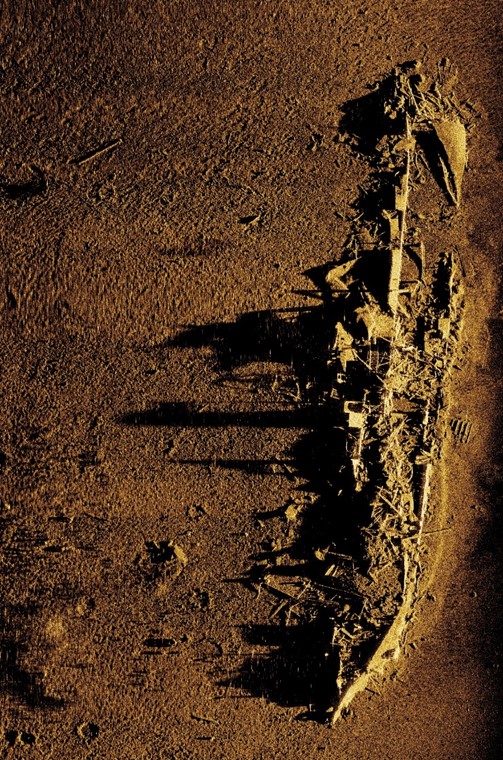 Kraken Robotics SAS sensors provide some of the highest sub-sea resolutions available. 
Disrupting the Sea
Unmanned Undersea Vehicles ("UUV") – underwater robots – are the next emerging, disruptive technology that will  establish maritime dominance. There are plenty of UUV use cases that are crucial to national security and economic prosperity. These include:
Mine counter measures: the deployment, detection, or disposal of naval mines meant to destroy military ships, commercial vessels, and underwater infrastructure;
Anti-submarine warfare: the detection, tracking, damaging, or destruction of enemy submarines;
Reconnaissance and seabed mapping: intelligence collection to develop strategic initiatives and locations for potential attack. Can also be used to help find and potentially recover lost assets.
Going to Space is Easier
Underwater autonomous missions are far more complicated than space missions:
Space: pressure of 14 pound per square inch ("psi"), great wireless communications, energy source (sun and radioisotope thermoelectric generators);
Ocean: up to 10,000 psi, no wireless communication, no energy source, corrosive environment.
UVV tech complexity and its technology disruption to naval operations are reasons why the underwater robotics market is set to grow rapidly. Markets Research Future forecasts that the global underwater robotics market could grow at a 12.5% CAGR from US$2.47 billion in 2019 to US$4.91 billion by 2025.  
Exhibit 1: Forecasted Global Underwater Robotics Market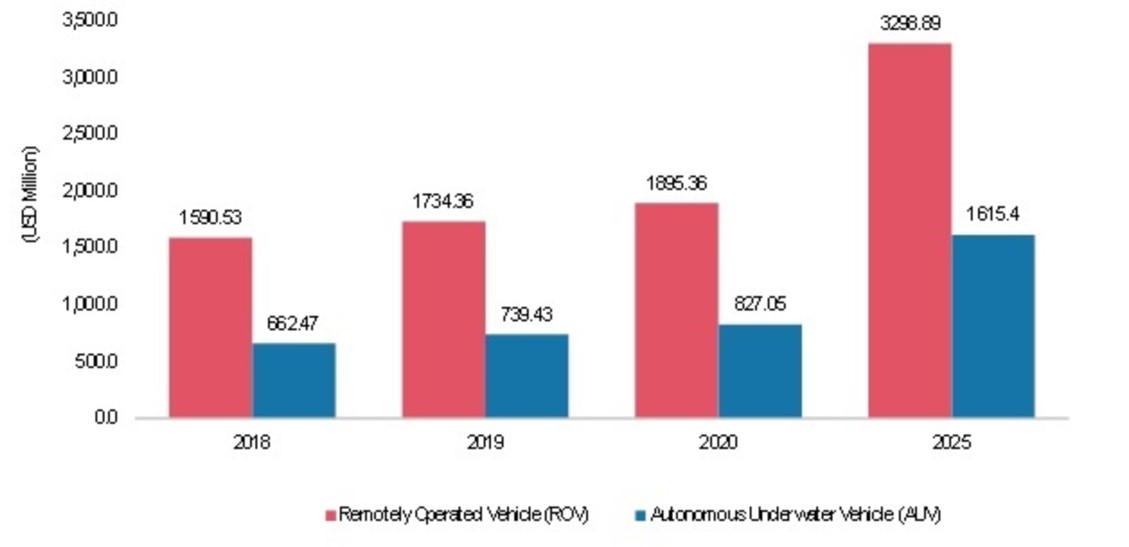 More Military Developments
The Ukraine war has increased focus on defense spending. Germany for example, announced that it would increase defense spending to 2% of GDP (up from 1.53% in 2021). This is a historic announcement, given the country's militaristic history means it has a special responsibility to foster peace. Poland, which borders Ukraine, is boosting its military spend to 3% of GDP. Even Sweden, a neutral country, also announced plans to raise its military spend to 2% of GDP "as soon as possible".  Italy is also targeting the 2% of GDP spending. Canada is looking at options for  spending more on its military, possibly 2% of GDP. And on March 28, 2022, President Biden proposed a $5.8 trillion budget that includes over $770 billion of military spending. How governments allocate spending to underwater vehicles is undetermined – but investments in naval systems are underway throughout the world.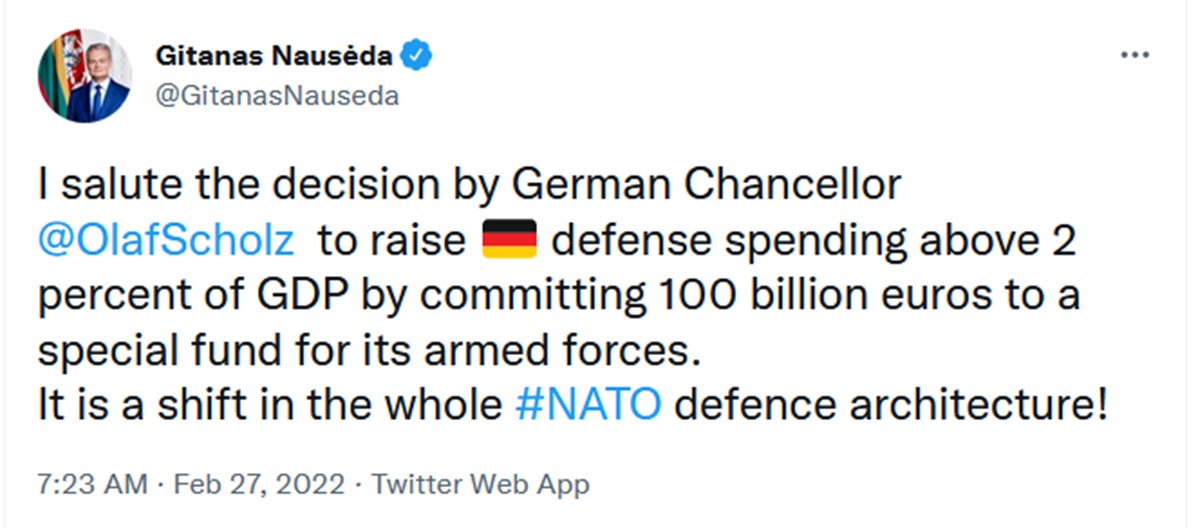 Lithuania's President applauded Germany's plans to increase military spending.
Source: Twitter
In 2009, the Russian Ministry of Defense established the specifications to the second generation of a UUV called "Клавесин"-1P (Russian for "harpsichord"). The goal of the first-generation Harpsichord was to perform various tasks (including studying objects) at different depths for both scientific and military purposes. The second-generation harpsichord is designed for military purposes and evolves the system into an autonomous underwater vehicle ("AUV") – a vehicle that isn't tethered to and controlled by a ship. The Harpsichord AUV's first sea trials commenced in Crimea in 2018, and more recent trials were planned in the Far East. Harpsichord can dive to 2km and has a 50km range.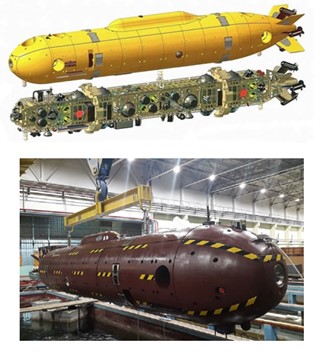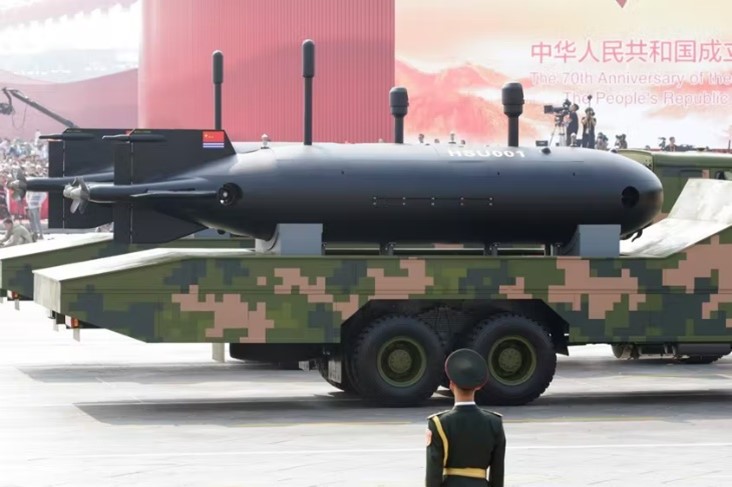 Australia also has a maritime mine countermeasures program (SEA 1905). Patrol vessels will deploy unmanned autonomous systems for mine-hunting and military survey capabilities.   The program was announced in April 2019 and could be worth A$1 billion. However, according to Australia's Vice Admiral Michael Noonan, the mine warfare and hydrographic vessels could be worth A$3.3 –A$5 billion.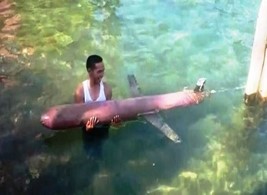 Indonesian fisherman catches a sea drone in 2019
Source: Twitter
Canada's Department of Defence has a tender notice for "Remote Minehunting and Disposal Systems". As per Section 3.2 in the Request for Proposal, autonomous underwater vehicles form the foundation for Canada's proposed systems (Exhibit 2). Bid submission closed in November 2021 and the project should be awarded in 2022.
Exhibit 2: Statement of Work for Canada's Remote Minehunting and Disposal Systems (TCC=Transportable Command Center)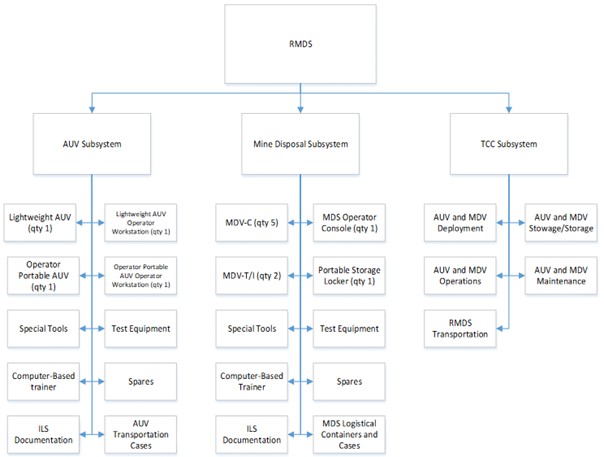 When it Comes to Seabots, Get Kraken
Kraken Robotics (TSXV:PNG, OTC:KRKNF) ("Kraken" or the "Company"), a Sophic Capital client, is one of a handful of companies that builds underwater robots, leading the rare maritime tech disruptions. The firm started as a developer of advanced sonar systems that the U.S. Navy tested and approved. Building on that foundation, Kraken developed the underwater robotics needed to do things like map the seabed and search for naval mines. Add in superior underwater batteries, and you have leading firms like strategic investor Ocean Infinity[1] (a marine robotics company that deploys autonomous robots, typically in fleet formation, to obtain large amounts information from the oceans and seabed) purchasing $9 million of the technology. Kraken also won $40 million of contract with the Danish and Polish navies (details at the end of this report), cementing wins with 2 NATO members. These, combined with tests with the U.S. Navy, and two NATO Navy deals won in 2020, have helped cement Kraken's reputation as a leading manufacturer and supplier of underwater sensors, batteries and full robotic systems.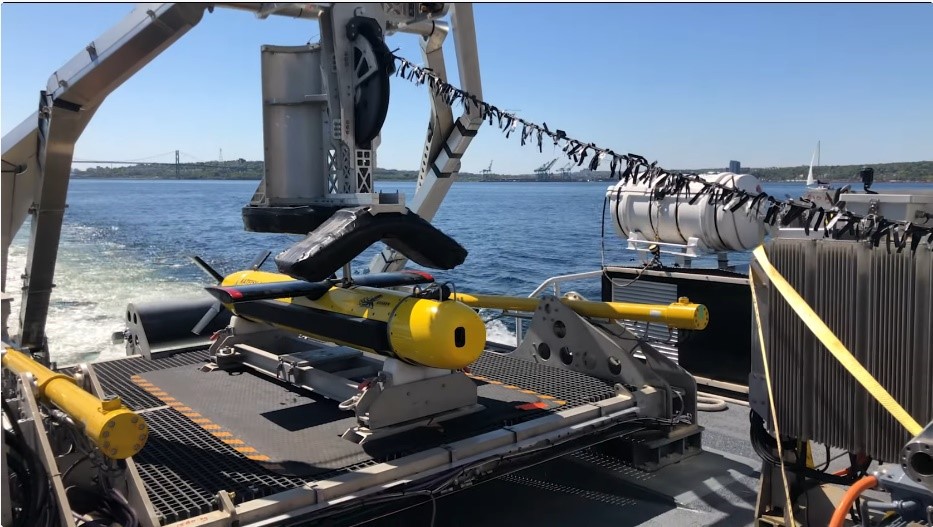 Kraken Robotics' tethered KATFISH UUV
Currently, Kraken offers two UUVs. KATFISH™ is a high speed towfish (it is tethered to a surface vehicle). ThunderFish® is fully autonomous and can operate as a subsea resident, perform hovering maneuvers for inspection, and carry significant payload for long-range survey missions.
And speaking of technical disruption, Kraken recently announced that it has signed a cooperation agreement with SH Defense of Denmark for the design and sale of containerized mine countermeasure and other subsea surveillance sensor and robotic solutions.  Change the mission – change the container, an active trend in the naval defense industry.  This video from SH Defense shows what they envision with Kraken's KATFISH.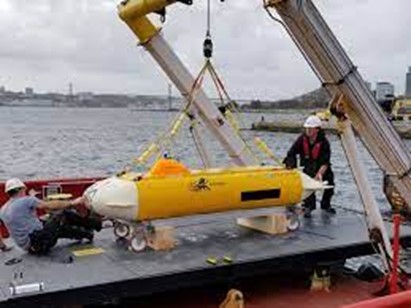 Kraken Robotics' fully autonomous ThunderFish UUV
BONUS – Don't Forget about Kraken's Commercial Business
Commercial services are generating recurring revenues for Kraken Robotics. For security reasons, defense departments want to own and operate their equipment and analyze the data they collect.  Commercial industries like offshore wind and offshore oil, don't want to own, operate and maintain equipment.  They prefer to contract services or lease equipment, and to address this issue, Kraken offers it's Robotics-as-a-Service ("RaaS") platform.
Kraken's RaaS rental/licensing model enables customers to incorporate the robotic capabilities they need when they need them, upgrade or downgrade systems as requirements change and deploy robotics without the necessary costs required by more traditional robotics implementations. RaaS works by allowing customers to access Kraken's IP, including its subsea sensors, robotics hardware, artificial intelligence algorithms and cloud-based data analytics. This allows customers to rapidly spool up and deploy operations, significantly reduce upfront capital equipment and operational expenditures and adjust survey and inspection capabilities on the fly. For customers trying to improve productivity and reduce risk but have thought robots were out of their price range, Kraken's RaaS offers a very compelling alternative for both underwater defence and commercial applications.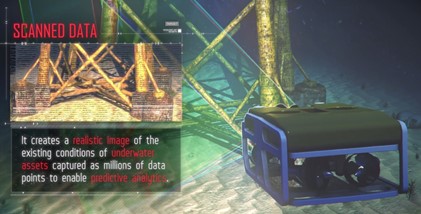 To further accelerate RaaS, Kraken acquired PanGeo Subsea, a services company specializing in high-resolution 3D acoustic imaging solutions for the sub-seabed. The acquisition accelerated Kraken's service capabilities, generating more recurring revenue, and diversifying Kraken's revenue streams. PanGeo has worked with the major wind developers, including Ørsted and  TenneT.
Just this morning (March 30, 2022), Pangeo Subsea announced a $5 million contract for a 90-day campaign in the U.S. Gulf of Mexico. Also in the press release was disclosure of a Letter of Intent for a 50-day, multi-million-dollar campaign for an offshore wind farm in the Baltic. Back of the envelope math from the first contract suggests a $55,556 daily rate ($5 million ÷ 90).  Applying this estimate to the Baltic LOI implies (but does not guarantee) a potential contract value of $2.8 million.

And RaaS resonates with commercial industries. In a November 2021 update, Kraken noted that:
it completed its first commercial RaaS campaign with its KATFISH™ towed underwater vehicle, undertaking a subsea cable inspection campaign in the Strait of Bell Isle;
signed a RaaS contract for the Canadian Navy, and;
received contracts in North America, Europe, Africa, and Brazil for paid demonstrations of the Company's SeaVision® technology.
Get Your Portfolio Cracking with Kraken Robotics
Investors who believe that robotics will become more prevalent during our lifetimes should look at Kraken Robotics, a firm monetizing several military and commercial use cases for the sea. Management and insiders own 27% of the Company; strategic partner Ocean Infinity owns 13%; and Kraken has announced over $50 million of product-focused defense contracts. In addition, Kraken also has Robotics-as-a-Service and Data-as-a-Service (not discussed in this report) revenue models targeting commercial industries. Last year the Company raised $10 million in cash and is well capitalized to execute on its growth plan.  
Kraken should be reporting it's Q4 and 2021 financial results in the coming month.  Recall management has guided for revenue for 2021 to be between $28 million and $30 million, up from $12 million last year and for adjusted EBITDA to be between $3 million and $4.5 million.
Remember – Kraken's technology just isn't a science experiment. In fact, it is a leader in the naval minehunting industry. Both the Polish navy and Danish navy have entrusted Kraken to provide about $40 million worth of reliable minehunting systems. And since then, the Polish Ministry of Defense has stated that it would procure an additional 3 more mine countermeasure vessels this year – and this press release mentions integrating Kraken's KATFISH on these vessels.  We believe that this is the beginning for significant adoption of Kraken technology as defense departments across the world increase their budgets.