In Sophic Capital's Renoworks Software Inc. (RW) – Visualizing the Growth in a Successful Business report, Doug Vickerson, the CEO of Renoworks Software, told us how Renoworks:
Gives homeowners more control of the home renovation value chain, thereby removing stresses and costs;
Has licensed its solution to several of the construction industry's largest building product manufacturers and distributors;
How Renoworks technology works by leveraging manufacturer product libraries and aerial imagery.
Renoworks, [TSXV:RW, OTC:ROWKF], a business-to-business software firm that develops digital visualization solutions for the home renovation and new home construction industry, is set to continue disrupting the hot, North American home renovation industry. In this report, we look at the North American home renovation industry and delve into who Renoworks customers are [Hint: some of North America's largest construction material manufacturers, distributors, and retailers].
Q: Doug, during our previous conversation, you described in great detail the Renoworks platform and its value propositions. I wanted to delve deeper into your target market and some broader industry considerations. Geographically, where does most of Renoworks' business come from?
A:About  90% of our business comes from the U.S. with the other 10% coming from Canada and other countries.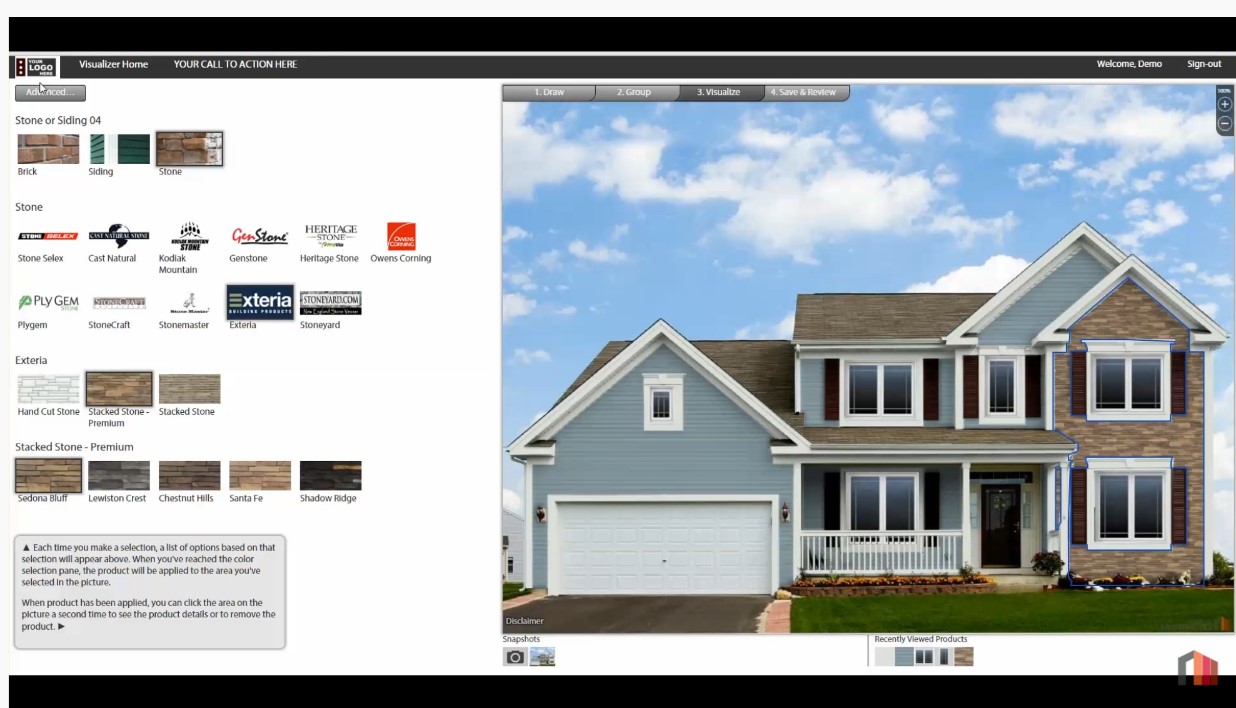 Q: Is demand for your solution driven by broader market trends? For example, would a hot residential remodeling and construction market result in increased demand for your solutions?
A: Yes. When the residential and new-build markets heat up, so does the demand for home visualization and design solutions. More people start trying to figure out what their new project will look like when it's done, and the usage on our clients' visualizers increases. These market factors also result in more homeowner and dealer demand for visualization solutions from manufacturers, distributors, and retailers. When manufacturers start receiving an influx of homeowner and dealer inquires about what X or Y color will look like on their home, that's usually when they reach out to Renoworks to develop a branded visualization platform.
Q: To put some context around the market opportunity, how did U.S. residential housing construction fare during the COVID pandemic, and how is it performing today?
A: Residential housing held strongly during the pandemic and continues to do so during 2021. In the U.S., housing starts surged 22.6% in July 2020, following the initial disruptions the pandemic caused the construction industry. Since then, housing permits, starts, and completions have all continued to grow. For March 2021 (the most recent data from the U.S. Department of Commerce), U.S. permits for privately-owned houses grew 30.2% year-over-year; housing starts rose 37.0% annually; and housing completions were up 23.4% since March 2020. U.S. residential housing construction has done fantastically.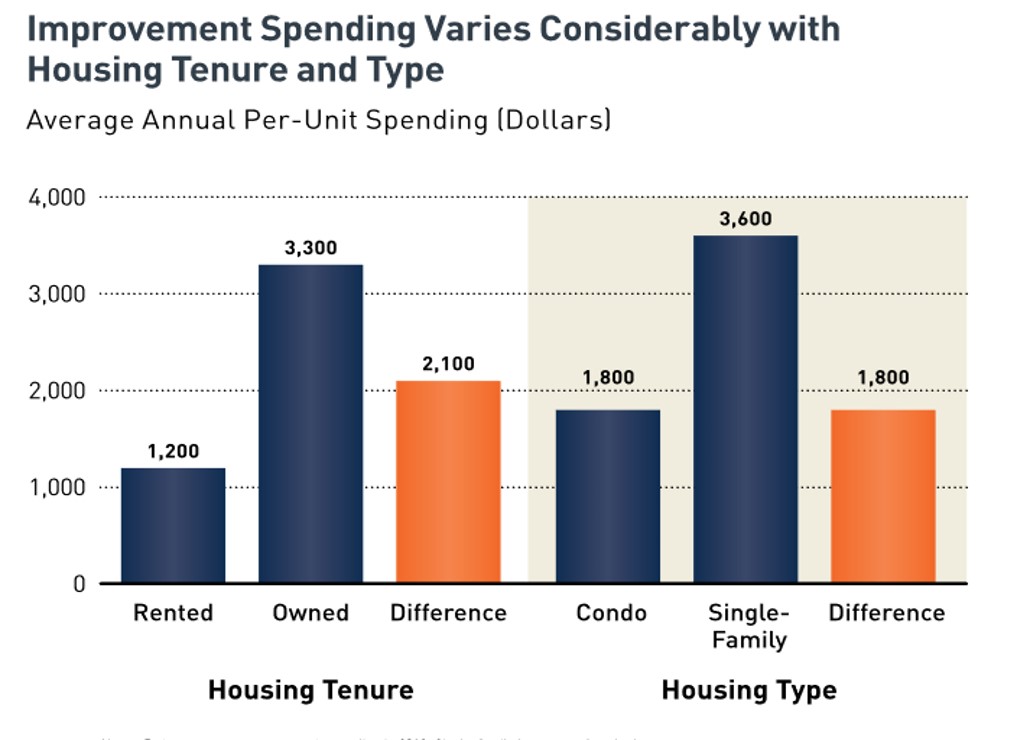 Q: Has the strength of U.S. residential housing construction carried over to the home renovation market?
A: Absolutely. When restrictions forced people into their homes, families realized that they needed home offices since offices were closed; decks to relax, because they couldn't go out for walks, playgrounds for their kids since parks were closed; new kitchens, since restaurants were closed. In addition, landlords needed to maintain their properties, and many landlords chose to make property improvements in order to stem the urban exodus to rural areas.  That said, we find that homeowners typically spend almost 3x more on home renovations than landlords do on their rental properties.
Q: How big could the U.S. home renovation market become in 2021?
A: The Joint Center for Housing Studies of Harvard University estimates that the total U.S. home renovation market could be worth US$419 billion in 2020. They forecast that the market could grow to US$433 billion in 2021 (Exhibit 1).
Exhibit 1: Americans Continued to Spend on Home Renovations through the 2020 COVID-19 Pandemic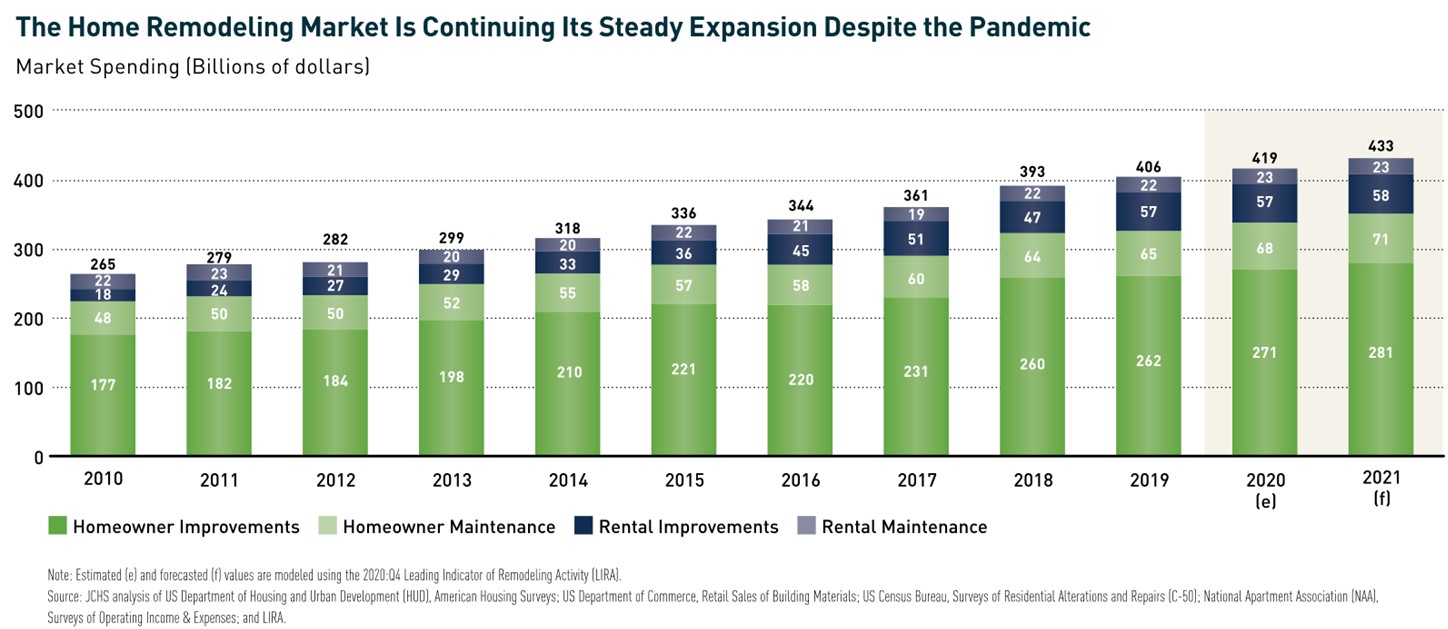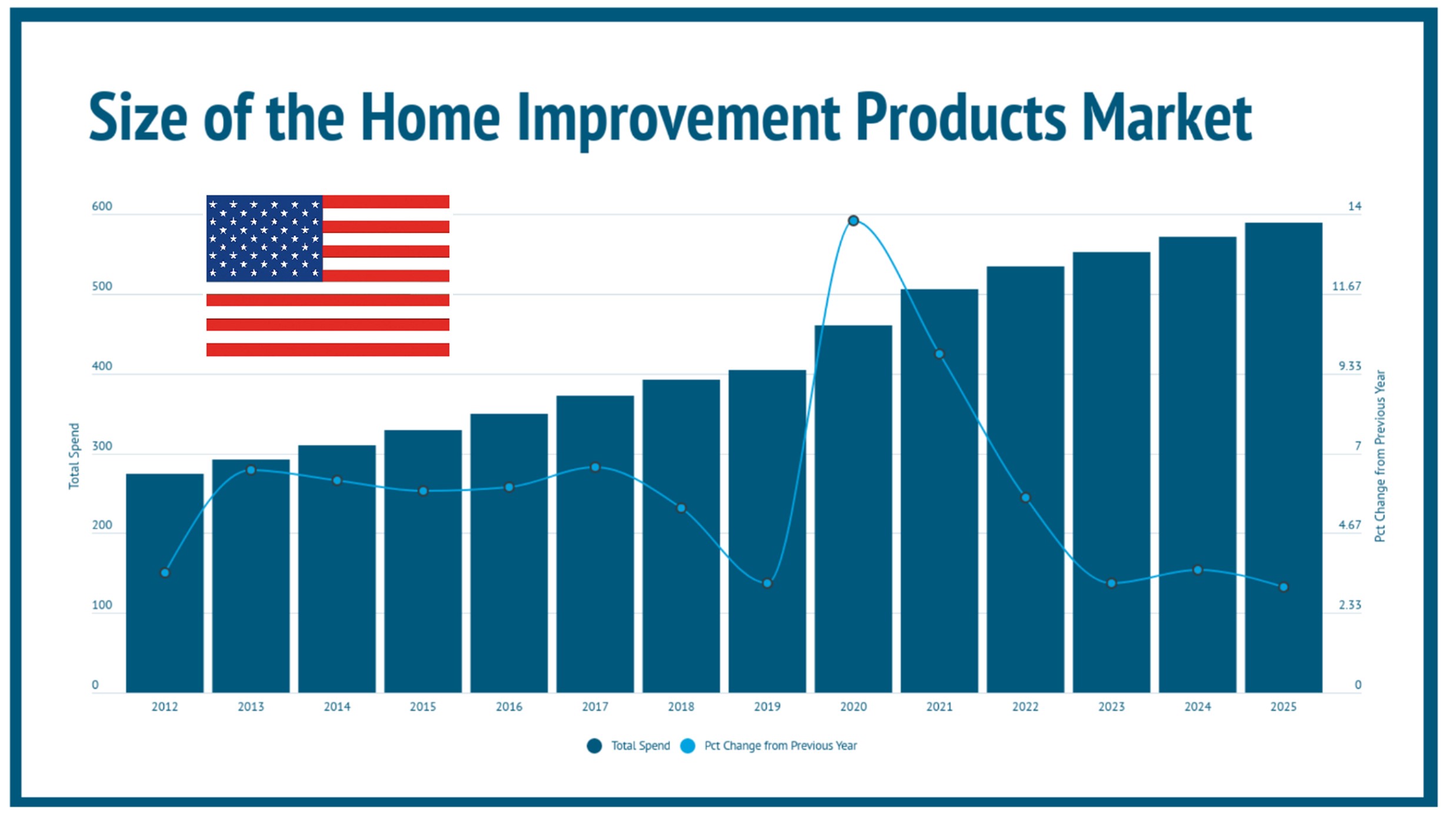 Source: Home Improvement Research Institute and IHS Markit U.S. Size of Market Report
Q: Renoworks is primarily targeting the American and Canadian markets; did Canada's home construction and renovation dynamics mirror those of the United States?
A: Canadian activity was robust as well, following the onset of the COVID pandemic. Month-over-month, July 2020 housing starts rose 16% to 246,000 versus June 2020. Canadian housing starts rose 21.6% month-over-month in March 2021 to 335,000. The Canadian home renovation market was worth over $80.1 billion in 2019 but expected to decline 5.2% in 2020 due to the pandemic. However, Canadians are expected to accelerate home renovation spending in 2021.
Q: Why do you think Canadian home renovation spending will accelerate this year?
A: There are several reasons: i) lower renovation spend in 2020 has created pent-up demand; ii) Canadians are returning to work and many will actually have more savings from not going on vacations in the past year, so they will have more disposable income; iii) many homes need renovations, due to our harsh winters; iv) work-from-home will be at least semi-permanent for many or at least a more prevalent option (i.e. work from home a certain number of days a week), so people are planning to upgrade their backyards to relax and let the kids and dogs play. Even if the Canadian market falls short, it and the rest of the world are about 10% of our overall business.
Q: Did the 2020 pandemic accelerate the adoption of technology in your end markets?
A: In 2020, and into 2021 construction and remodeling projects boomed in the U.S., where 90% of our revenues come from. At the onset of the pandemic, everything was shut down and people could not go to their home centers. They had to go online to purchase project materials. Our partners that were already using our technology saw increased business. Even as the economy and restrictions eased, our numbers showed a significant increase in homeowners visiting our platform via our client's visualizer platforms. Enterprises who did not adopt our technology, but were looking at it, now have an added interest in our technology driven by evolving consumer behaviour. Additionally, many of their competitors already have and are gaining market share during the current construction and renovation boom. Overall, 2020 was a good year for Renoworks.
Q: Who are some of Renoworks' customers?
A: We are fortunate to have several of the industry's largest brands as customers. Menards is a home improvement chain that's been around since 1958. They have over 300 home improvement stores throughout the U.S. Midwest. CertainTeed has helped shape the building products industry for more than 110 years and is North America's leading brand of exterior and interior building products, including roofing, siding, fence, decking, railing, trim, insulation, gypsum, and ceilings. CertainTeed and its affiliates have more than 6,300 employees and more than 60 manufacturing facilities throughout the United States and Canada. Alside serves the residential and commercial remodeling and new construction markets. It manufactures vinyl, aluminum and steel siding, soffit and accessories, vinyl windows, and vinyl patio doors. Alside has more than 3,000 employees in its 10 manufacturing facilities.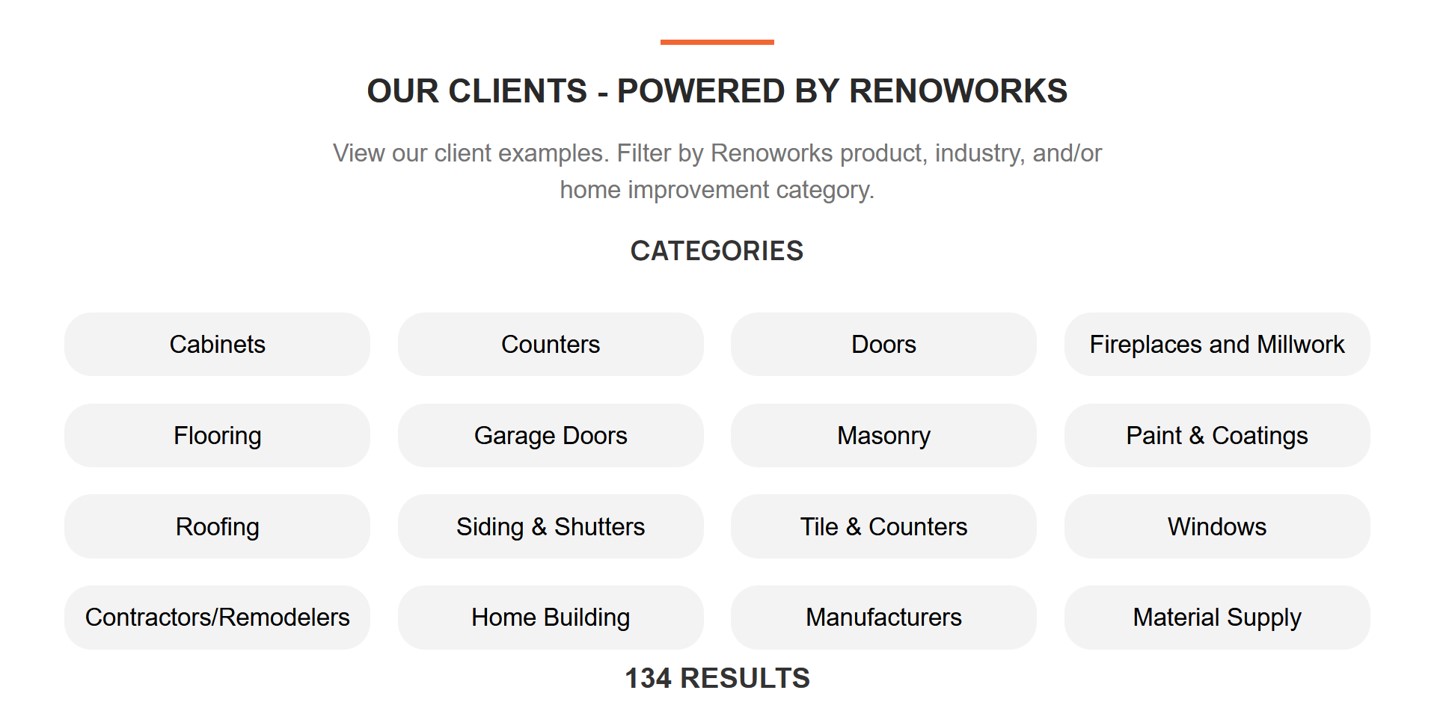 Want to see Renoworks' home renovation solution?
Do you want to see Renoworks solution in action?  Or are you in the process of renovating the exterior of your home? Here are some Renoworks customer websites where you can demo the platform:
Coming Up…
In our next report, we'll look at Renoworks' recent financials, revenue model, and how it's access to customer data could unlock future revenue streams.