Sophic Capital client GameSquare Esports further strengthened its roster with leading esports streamer, TimTheTatman. After teasing an announcement to his 2.6 million Twitter followers, on September 20th Timothy Betar (TimTheTatman) announced that he would be joining Complexity Gaming [a leading esports organization] and GameSquare Esports. TimTheTatman brings 18 million gaming and esports fans on multiple media platforms, which already is increasing audience reach and engagement for GameSquare – attributes the Company's advertising customers should value highly. GameSquare management noted that: "TimTheTatman brings immediate revenue opportunities to Complexity  through merchandise sales, marketing activations, personal appearances, and branded content. It is expected that TimTheTatman, as a member of Complexity, will increase viewership and engagement with the team and positions Complexity as a leading streaming organization."
TimTheTatman's massive, growing audience reach and engagement aligned with the larger influencer trend. Since starting in 2012, TimTheTatman has built an audience of more than 4 million YouTube subscribers, 3.4 million Instagram followers, and 2.6 million Twitter followers. These impressive numbers make this partnership very attractive to GameSquare and its customers. Before recently announcing that he would stream his content exclusively on YouTube Gaming, TimTheTatman streamed on Twitch for 45 hours over the prior 30 days. In this time, he generated 1.63 million watched hours and gained 38,100 new followers. Betar's followers, the Tatman Army ranks him #7 in the world for total followers, and his average viewers per stream of 36,216 is roughly 3 times higher than Ninja, who currently has the largest following on Twitch. Seeing that Betar's average streams receives 3x more viewers than Ninja, Betar's relevance and growth could put him on track to becoming even more popular. On YouTube, Betar has gained 330,000 subscribers in the last 30 days and had 34,415,000 viewers. Betar's large audience, continued audience growth, and high viewership bodes well for GameSquare.
Influencer advertising is growing as it gains acceptance with marketers. Influencer advertising is forecasted to grow from US$7.7 billion in 2020 to about US$84.9 billion by 2028.  Importantly, 63% of marketers plan to increase their influencer marketing budget in 2022, according to Influencer Marketing Hub (an online resource for influencers, agencies & platforms). This continued growth suggests the value that influencers can provide to brands. On the esports side, #1 Twitch streamer "Ninja" has deals with companies like Uber Eats, Red Bull and Adidas. TimTheTatman has also begun working with mainstream companies, recently partnering with Chipotle to be involved in tasting their new quesadilla and giving away 30,000 quesadillas during streams. These deals are also lucrative for influencers; for example, the PUMA and Kylie Jenner partnership paid Jenner US$1 million, which suggests brands see value in this marketing channel. For example, when Google was promoting its new Pixelbook laptop, the company worked with two influencers to run a giveaway that required the entrants to like an Instagram post and comment about how they would use the new laptop. The campaign resulted in an engagement rate of 59.4%, compared to an average engagement rate of 4.59% for Instagram (experts acknowledge an engagement of 1-5% is considered good). Another example of a successful influencer campaign involves Marriott teaming up with YouTube influencer Jeana Smith to surprise the millionth customer on Marriott's app. The video they made together went viral and has had nearly 4 million views.
GameSquare has made numerous announcements in 2021 with established personalities in order to increase its audience reach and engagement as well as its investor base. Betar will be the newest influencer to come aboard the GameSquare team and investor base, which currently includes figures like Jerry Jones, Jordan Belfort, Paradigm Sports, Tony Hawk, and Goff Capital.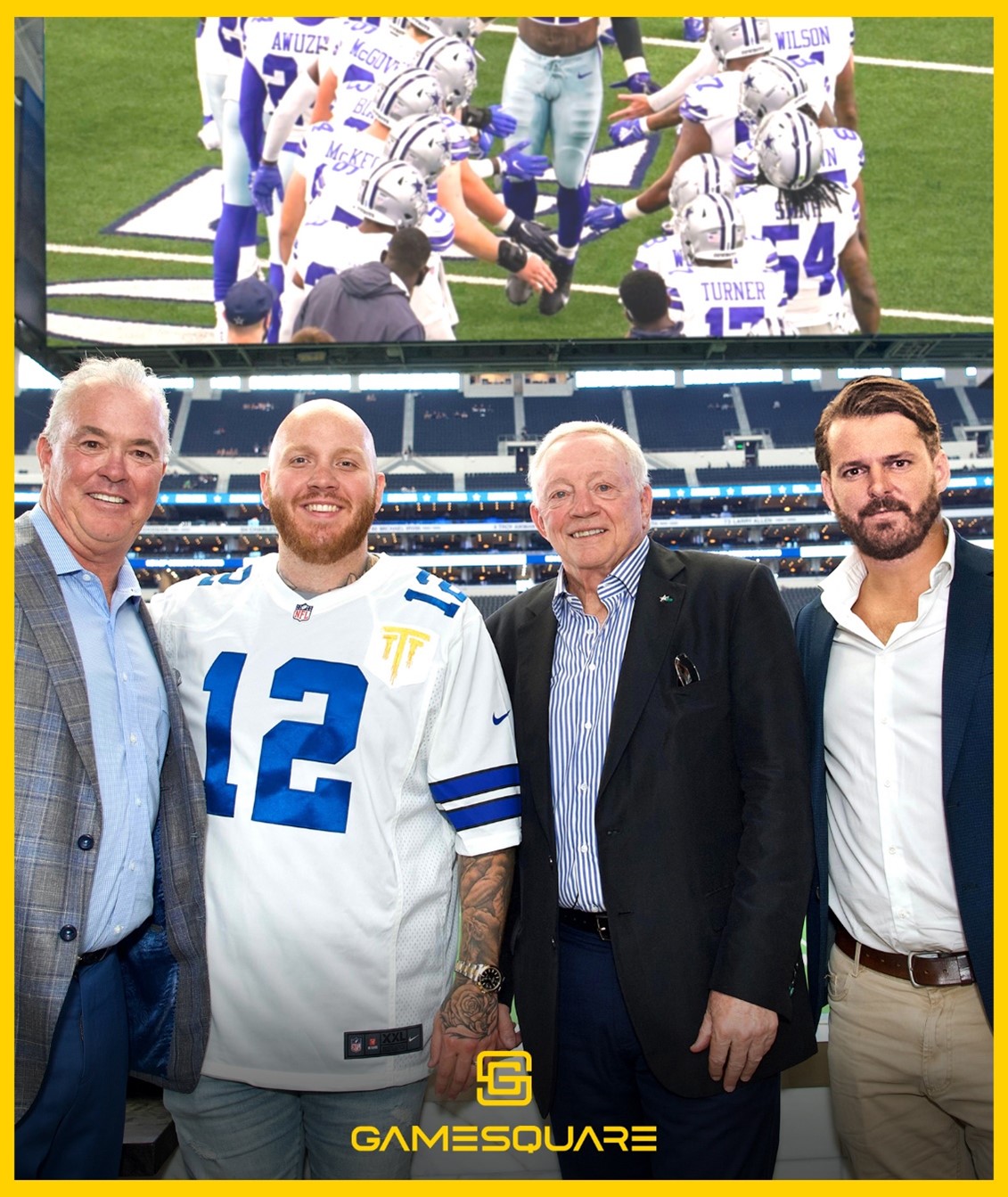 A growing roster, including TimTheTatman could attract new streamers to GameSquare. The esports industry is still young, so unlike other pro sports, a path to success for streamers and players isn't clearly defined. GameSquare could benefit from working with iconic streamers such as Betar, as they could cross promote streams amongst channels and streamers – doing so could enhance the reach of up-and-coming streamers and help them get "discovered" by newer audiences and gaming teams, and brand sponsors enhancing the value of GameSquare's ecosystem to its customers.
Coming Up…
The addition of another well recognized name to the GameSquare platform creates excitement. Adding another big name in TimTheTatman to an already stacked roster should bring some excitement for shareholders and customers, as evidenced by GameSquare's stock which is up about a third since the announcement. We will examine some potentially specific benefits for GameSquare in a follow up report. Stay tuned for more investor updates in the coming weeks as we highlight the significance of GameSquare's recent progress.
Looking for More Info About GameSquare?
For more info about Sophic Capital client Body and Mind Inc. [CSE:GSQ], please refer to our prior Company reports:
Disclaimer
The information and recommendations made available through our emails, newsletters, website and press releases (collectively referred to as the "Material") by Sophic Capital Inc. ("Sophic" or "Company") is for informational purposes only and shall not be used or construed as an offer to sell or be used as a solicitation of an offer to buy any services or securities. In accessing or consuming the Materials, you hereby acknowledge that any reliance upon any Materials shall be at your sole risk. In particular, none of the information provided in our monthly newsletter and emails or any other Material should be viewed as an invite, and/or induce or encourage any person to make any kind of investment decision. The recommendations and information provided in our Material are not tailored to the needs of particular persons and may not be appropriate for you depending on your financial position or investment goals or needs. You should apply your own judgment in making any use of the information provided in the Company's Material, especially as the basis for any investment decisions. Securities or other investments referred to in the Materials may not be suitable for you and you should not make any kind of investment decision in relation to them without first obtaining independent investment advice from a qualified and registered investment advisor. You further agree that neither Sophic, its, directors, officers, shareholders, employees, affiliates consultants, and/or clients will be liable for any losses or liabilities that may be occasioned as a result of the information provided in any of the Material. By accessing Sophic's website and signing up to receive the Company's monthly newsletter or any other Material, you accept and agree to be bound by and comply with the terms and conditions set out herein. If you do not accept and agree to the terms, you should not use the Company's website or accept the terms and conditions associated to the newsletter signup. Sophic is not registered as an adviser or dealer under the securities legislation of any jurisdiction of Canada or elsewhere and provides Material on behalf of its clients pursuant to an exemption from the registration requirements that is available in respect of generic advice. In no event will Sophic be responsible or liable to you or any other party for any damages of any kind arising out of or relating to the use of, misuse of and/or inability to use the Company's website or Material. The information is directed only at persons resident in Canada. The Company's Material or the information provided in the Material shall not in any form constitute as an offer or solicitation to anyone in the United States of America or any jurisdiction where such offer or solicitation is not authorized or to any person to whom it is unlawful to make such a solicitation. If you choose to access Sophic's website and/or have signed up to receive the Company's monthly newsletter or any other Material, you acknowledge that the information in the Material is intended for use by persons resident in Canada only. Sophic is not an investment advisor nor does it maintain any registrations as such, and Material provided by Sophic shall not be used to make investment decisions. Information provided in the Company's Material is often opinionated and should be considered for information purposes only. No stock exchange or securities regulatory authority anywhere has approved or disapproved of the information contained herein. There is no express or implied solicitation to buy or sell securities. Sophic and/or its principals and employees may have positions in the stocks mentioned in the Company's Material and may trade in the stocks mentioned in the Material. Do not consider buying or selling any stock without conducting your own due diligence and/or without obtaining independent investment advice from a qualified and registered investment advisor. The Company has not independently verified any of the data from third party sources referred to in the Material, including information provided by Sophic clients that are the subject of the report, or ascertained the underlying assumptions relied upon by such sources. The Company does not assume any responsibility for the accuracy or completeness of this information or for any failure by any such other persons to disclose events which may have occurred or may affect the significance or accuracy of any such information.
The Material may contain forward looking information. Forward-looking statements are frequently, but not always, identified by words such as "expects," "anticipates," "believes," "intends," "estimates," "potential," "possible," "projects," "plans," and similar expressions, or statements that events, conditions or results "will," "may," "could," or "should" occur or be achieved or their negatives or other comparable words and include, without limitation, statements regarding, projected revenue, income or earnings or other results of operations, strategy, plans, objectives, goals and targets, plans to increase market share or with respect to anticipated performance compared to competitors, product development and adoption by potential customers. These statements relate to future events and future performance. Forward-looking statements are based on opinions and assumptions as of the date made, and are subject to a variety of risks and other factors that could cause actual events/results to differ materially from these forward looking statements. There can be no assurance that such expectations will prove to be correct; these statements are no guarantee of future performance and involve known and unknown risks, uncertainties and other factors. Sophic provides no assurance as to future results, performance, or achievements and no representations are made that actual results achieved will be as indicated in the forward looking information. Nothing herein can be assumed or predicted, and you are strongly encouraged to learn more and seek independent advice before relying on any information presented.