Current Status of Cannabis in Nevada
The Battle Born State is the 33rd most populous in the United States with over 3.1 million people. Despite almost 2/3 of the population residing in what we lovingly refer to as Sin City (aka Las Vegas), Nevada was not, as some would expect, the first state to turn full recreational on cannabis. That honor was bestowed upon Washington and Colorado, which went full recreational in 2012. Although Nevada legalized medicinal cannabis in 2000, it didn't go fully legal until 2017 through a ballot initiative.
The Nevada retail cannabis market continues to see strong growth, with sales on pace to reach over US$900M by the end of 2021. This is despite a global pandemic which halved the 40+ million annual tourists to Las Vegas. Tourism has bounced back strongly throughout 2020 and into 2021, as pandemic restrictions have eased, and this has led to a renewal in cannabis sales across the state. What's more, there is some belief that the pandemic might have kick-started a new wave of daily cannabis consumers, as consumption increased substantially during the pandemic. This could bode well for the cannabis tourism industry as well. Beyond gambling, hockey and pool parties, cannabis has weaved itself into the very fabric of the Las Vegas tourism industry, with signage seen all across the strip and new tour companies popping up daily.
Nevada should continue to show strength through 2021 with industry projections suggesting this could just be the beginning of a multi-year growth cycle. According to the 2020 Marijuana Economic & Fiscal Benefits Analysis report issued by the Nevada Dispensary Association (NDA), the Nevada cannabis industry was previously expected to see retail sales grow by an 8.5% CAGR to US$956 million in sales by 2024. However, with 2020 and 2021 sales coming in well ahead of expectations, this projection will likely move meaningfully higher. This would help drive per capita sales to by far the highest levels amongst adult recreational states (over $300 per capita). This is likely due to the very important Las Vegas tourism industry, which plays an important role providing additional brand exposure for BAMM that can be leveraged into tourists' home states where BAMM currently (and potentially could in the future) operate. It's a powerful brand awareness tool that is often underappreciated.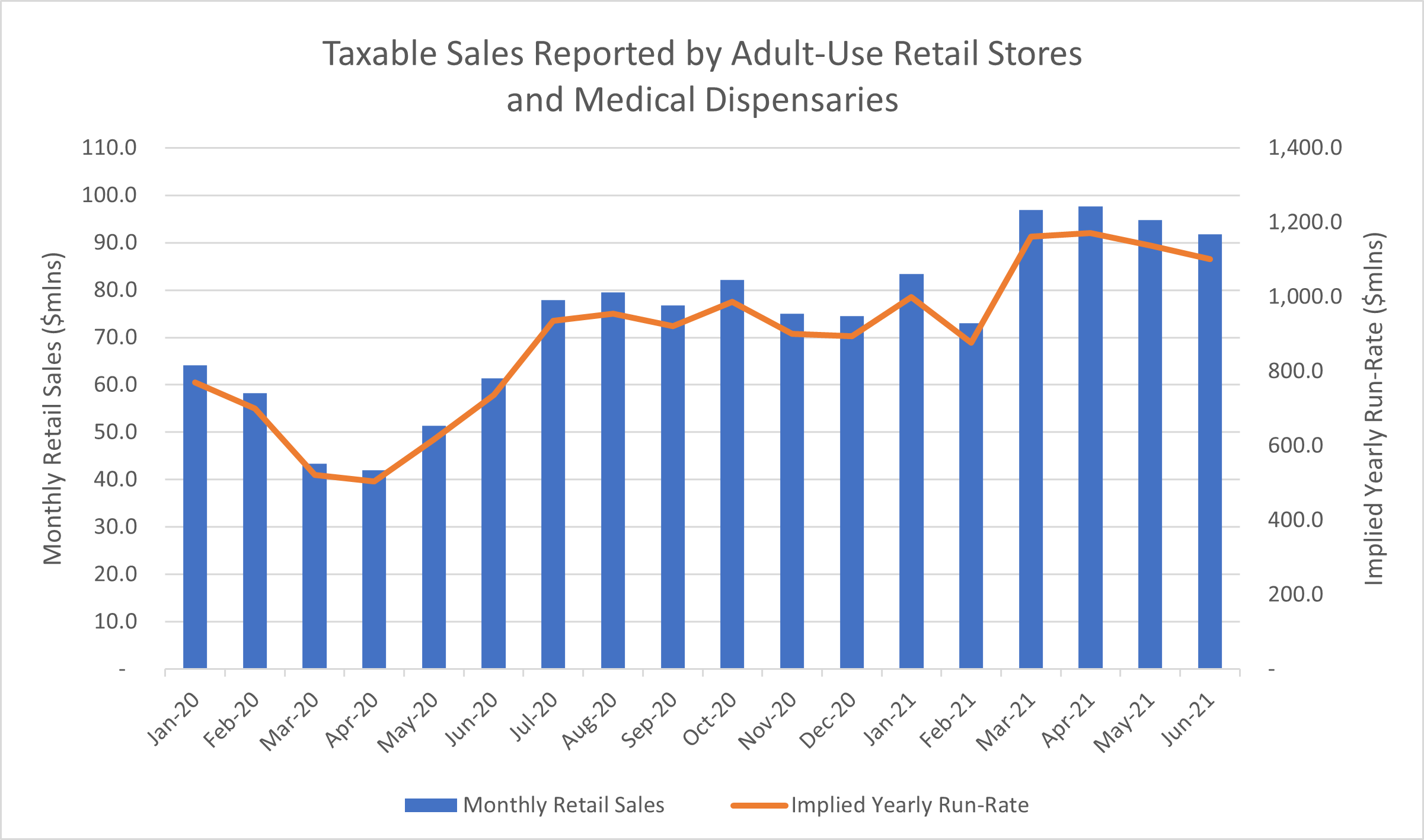 State of Nevada, Department of Taxation
Banking restrictions similar in Nevada as every other state. Access to capital, along with simple day-to-day operational aspects like payment processing and depository institutions remains limited. Cannabis is largely a cash business in Nevada and across the U.S. However, as we have referred to in past reports, this appears set to change in the coming months through the introduction of the SAFE banking act, which was just recently added to the Defense Bill. Passing of the bill would be a net positive with regards to the day-to-day operational costs of doing business in the state and have an even greater impact on the industries overall cost of capital.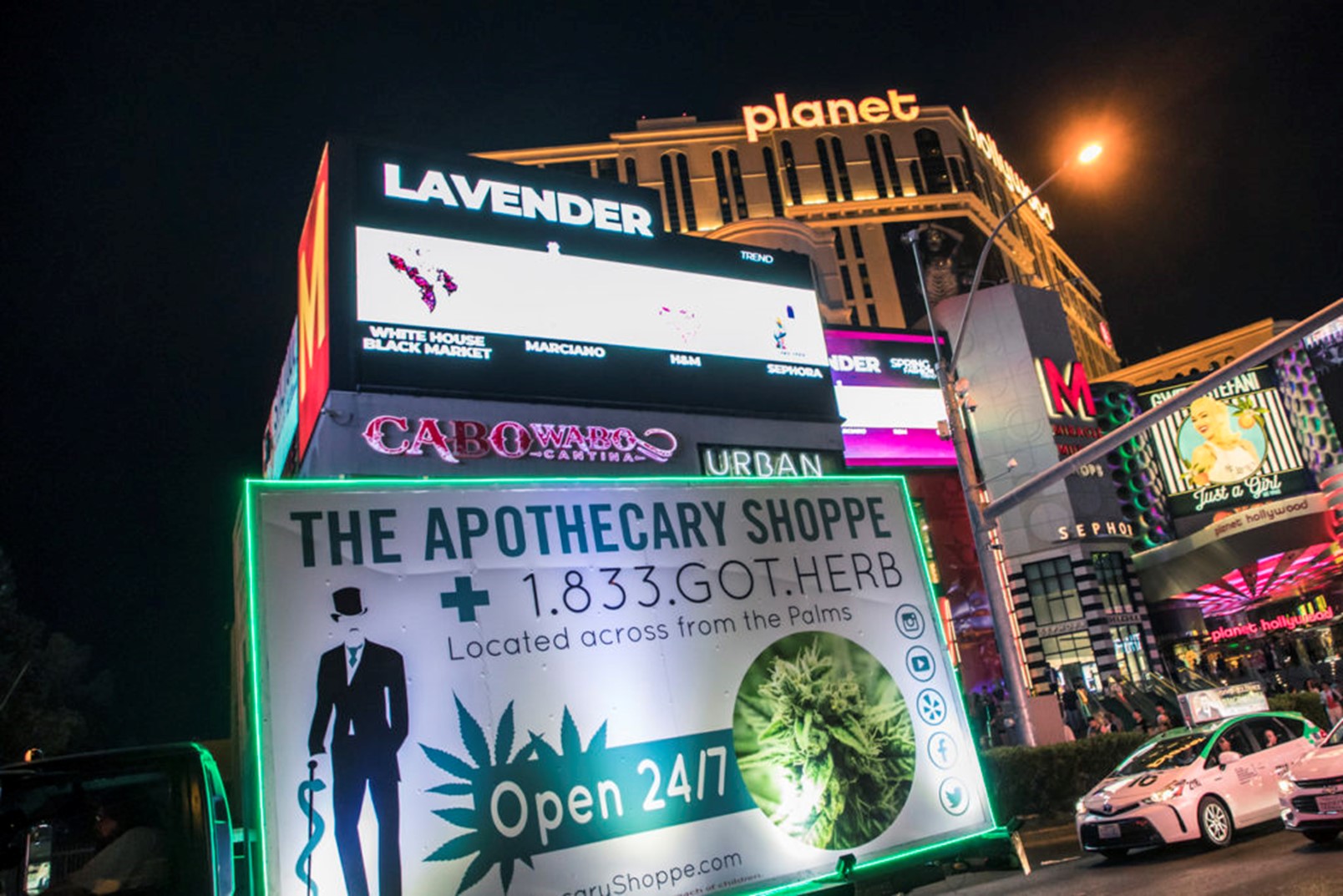 A Tight Market for a Budding Industry
Cannabis licenses in Nevada are scarce, with only 84 retail licenses currently in use across the state, 39 of which are within the Las Vegas County lines. While BAMM does not currently have any retail licenses, it does maintain a strong presence at retail. The Company aspires to be vertically integrated in all of the states where it operates, and should a new wave of retail license applications become available, BAMM could leverage its operating and regulatory expertise accumulated in other states to try and win a dispensary location. M&A could also play a role; however, because of the current highly limited license environment pricing remains rather elevated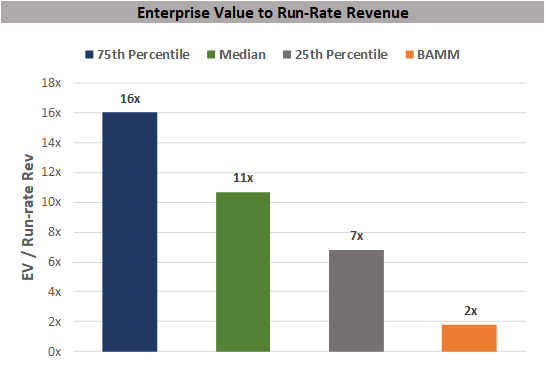 Valuation Research Corporation, Company Reports
Newly introduced cannabis lounges could pave the way for more growth. These lounges give consumers more places to consume cannabis instead of solely at private residences. With the introduction of casual consumption locations and the support of knowledgeable staff, a new group of consumers could be introduced to the market in the coming years. The current proposed regulations stipulate that the products can only be sold in single-use quantities or ready-to-consume packages and must be consumed inside the lounge, as public consumption is still illegal. Current expectations are that the lounges could become operational as early as the first half of 2022.
BAMM Operations in Nevada
BAMM has a strong track record and well recognized brand within Nevada. With 6+ years of experience in the Nevada market, BAMM has established its brand with cannabis consumers and proven itself to be a savvy operator capable of making the necessary adjustments when the need arises. The progression of the business is a testament to this fact – the Company started with a very small footprint of roughly 18,000 sq. ft. but leveraged its excess real estate to expand capacity over time. This reflects strong foresight by management, as the location was picked because of its ability to grow. With over 18,000 sq. ft. for cultivation and 8,000 sq. ft. for production today, BAMM will surely look to expand further as the market grows and conditions allow.
Strong margins throughout the supply chain give BAMM ample space for growth. With Nevada heavily constrained on the supply side (even BAMM recently announced they expanded their cultivation operations by 20% to keep up with demand) pricing for cannabis has been increasing as demand rushes back post-covid. With license supply continuing to be tight and expansion being conservative the profitability expansion may persist in the future.
BAMM is driving community involvement in Nevada as well. BAMM is involved in many initiatives in the area such as bringing the Her Highness brand into Nevada through a production partnership, which is working with the Last Prison Project to help women with reintegration into society post-prison. Along with the social outreach, BAMM also does regular pop-up events at various dispensaries throughout Nevada to help showcase its wonderful products hands-on. With these initiatives, the Company is increasing awareness around cannabis consumption. This is helping to attract potential customers to their brand in specific, and increasing their standing in the community.
What's Next for BAMM in Nevada?
Twenty additional licenses will be up for grabs with the new cannabis lounge initiative. Nevada continues to show restraint in offering retail licenses with the 20 new locations specifically earmarked for independent consumption lounges. This could provide BAMM with an opportunity to enter the retail market or at the very least expand potential distribution points for one of Nevada's strongest cannabis brands. Of the 20 new licenses becoming available, 10 have been designated for social equity applicants, which rely on larger corporate operations like BAMM to supply their product.
With its experience acquiring licenses in other states and extensive experience in Nevada, BAMM should be in a strong position to get involved in the next round of license issuance should it choose to. Coupled with its grass-roots approach to community engagement, this could provide ample opportunity for BAMM to continue to flex their cannabis expertise in the Battle Bong Born state. 
Looking for More Info About BAMM?
For more info about Sophic Capital client Body and Mind Inc. [CSE:BAMM, OTC:BMMJ], please refer to our prior Company reports:
Disclaimer
The information and recommendations made available through our emails, newsletters, website and press releases (collectively referred to as the "Material") by Sophic Capital Inc. ("Sophic" or "Company") is for informational purposes only and shall not be used or construed as an offer to sell or be used as a solicitation of an offer to buy any services or securities. In accessing or consuming the Materials, you hereby acknowledge that any reliance upon any Materials shall be at your sole risk. In particular, none of the information provided in our monthly newsletter and emails or any other Material should be viewed as an invite, and/or induce or encourage any person to make any kind of investment decision. The recommendations and information provided in our Material are not tailored to the needs of particular persons and may not be appropriate for you depending on your financial position or investment goals or needs. You should apply your own judgment in making any use of the information provided in the Company's Material, especially as the basis for any investment decisions. Securities or other investments referred to in the Materials may not be suitable for you and you should not make any kind of investment decision in relation to them without first obtaining independent investment advice from a qualified and registered investment advisor. You further agree that neither Sophic, its, directors, officers, shareholders, employees, affiliates consultants, and/or clients will be liable for any losses or liabilities that may be occasioned as a result of the information provided in any of the Material. By accessing Sophic's website and signing up to receive the Company's monthly newsletter or any other Material, you accept and agree to be bound by and comply with the terms and conditions set out herein. If you do not accept and agree to the terms, you should not use the Company's website or accept the terms and conditions associated to the newsletter signup. Sophic is not registered as an adviser or dealer under the securities legislation of any jurisdiction of Canada or elsewhere and provides Material on behalf of its clients pursuant to an exemption from the registration requirements that is available in respect of generic advice. In no event will Sophic be responsible or liable to you or any other party for any damages of any kind arising out of or relating to the use of, misuse of and/or inability to use the Company's website or Material. The information is directed only at persons resident in Canada. The Company's Material or the information provided in the Material shall not in any form constitute as an offer or solicitation to anyone in the United States of America or any jurisdiction where such offer or solicitation is not authorized or to any person to whom it is unlawful to make such a solicitation. If you choose to access Sophic's website and/or have signed up to receive the Company's monthly newsletter or any other Material, you acknowledge that the information in the Material is intended for use by persons resident in Canada only. Sophic is not an investment advisor nor does it maintain any registrations as such, and Material provided by Sophic shall not be used to make investment decisions. Information provided in the Company's Material is often opinionated and should be considered for information purposes only. No stock exchange or securities regulatory authority anywhere has approved or disapproved of the information contained herein. There is no express or implied solicitation to buy or sell securities. Sophic and/or its principals and employees may have positions in the stocks mentioned in the Company's Material and may trade in the stocks mentioned in the Material. Do not consider buying or selling any stock without conducting your own due diligence and/or without obtaining independent investment advice from a qualified and registered investment advisor. The Company has not independently verified any of the data from third party sources referred to in the Material, including information provided by Sophic clients that are the subject of the report, or ascertained the underlying assumptions relied upon by such sources. The Company does not assume any responsibility for the accuracy or completeness of this information or for any failure by any such other persons to disclose events which may have occurred or may affect the significance or accuracy of any such information.
The Material may contain forward looking information. Forward-looking statements are frequently, but not always, identified by words such as "expects," "anticipates," "believes," "intends," "estimates," "potential," "possible," "projects," "plans," and similar expressions, or statements that events, conditions or results "will," "may," "could," or "should" occur or be achieved or their negatives or other comparable words and include, without limitation, statements regarding, projected revenue, income or earnings or other results of operations, strategy, plans, objectives, goals and targets, plans to increase market share or with respect to anticipated performance compared to competitors, product development and adoption by potential customers. These statements relate to future events and future performance. Forward-looking statements are based on opinions and assumptions as of the date made, and are subject to a variety of risks and other factors that could cause actual events/results to differ materially from these forward looking statements. There can be no assurance that such expectations will prove to be correct; these statements are no guarantee of future performance and involve known and unknown risks, uncertainties and other factors. Sophic provides no assurance as to future results, performance, or achievements and no representations are made that actual results achieved will be as indicated in the forward looking information. Nothing herein can be assumed or predicted, and you are strongly encouraged to learn more and seek independent advice before relying on any information presented.